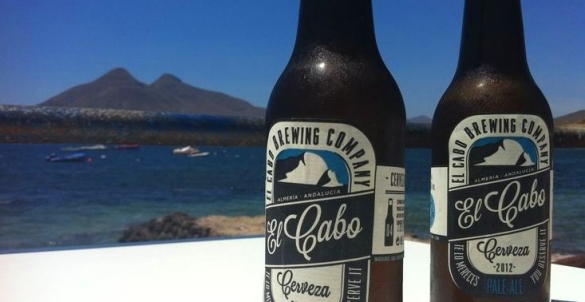 Artisanal Andalucia: on the Craft Beer Trail in Spain…
Over the past couple of years, the number of Spanish microbreweries in Andalucia has doubled (see map) The region´s been slow to catch on, but now Andalucian craft beer is here to stay...!
Spain is the 3rd largest producer of beer in Europe (behind Germany & UK), with a monopoly of giant-brewers Mahou, San Miguel, Cruzcampo (owned by Heineken) and Estrella Damm etc. But there has been no "beer culture" for anything except cold lager until very recently. Spain has been slow to follow the global craft beer movement – with only a handful of microbreweries in the whole country 5 years ago - but it is gaining momentum, with well over 300 breweries now creating more than 1000 different brews.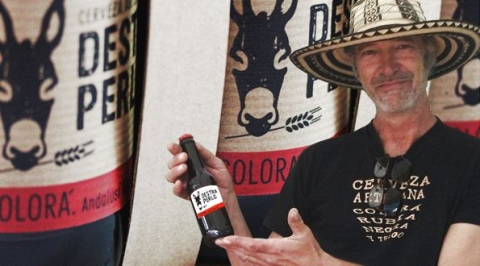 Within Spain, the northern region of Catalunya leads the way, with approximately a third of the country´s craft breweries. In contrast, Andalucia has been one of the last regions to catch on, but momentum is building fast here too – with over 30 micro-breweries set up in past few years (see MAP) and craft beer shops/bars opening up all the time - eg Málaga (Cerveza con Arte), Frigliana (La Domadura y Leon), Seville (Taifa), Córdoba (Califa) etc.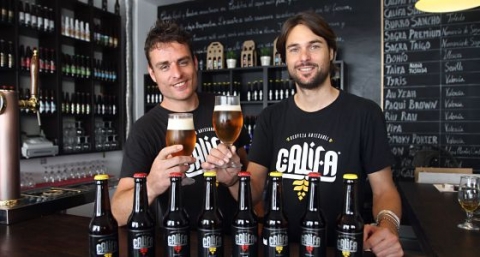 "The craft beer movement is starting to catch on in Andalucia, at last"! says a real ale loving Brit, Tim Murray-Walker, owner of Casa Olea in Andalucia. "When we first came to live here 8 years ago there were no microbreweries at all in Andalucia and I couldn´t find a "proper beer" anywhere! Now, it´s exciting to see new craft beers emerging every few months and from all corners of Andalucia (see Map below)".
So, now´s the time to help put the word out and tell fellow beer-lovers travelling to southern Spain – instead of ordering a tubo (the Spanish term for a glass of lager), why not ask for a cerveza artesenal  (craft beer). As things stand, very few bars outside of the big cities in Andalucia stock Spanish craft beers, but the more people that ask, the more bar owners may start to think of supporting their local brewery…
Economic crisis boosts entrepreneurial spirit…  
The timing of this recent boom in new microbreweries is interesting too given that Spain has, over the past decade, been suffering its worst ever economic crisis. With high unemployment and little job security out there, many of Spain´s educated, design/tech-savvy young have taken the initiative and set up their own small businesses.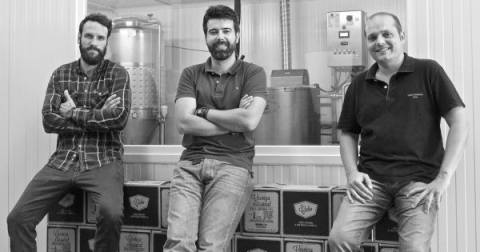 Photo: the founders of El Cabo Brewing Company, Cabo de Gata (Almeria).
Boosted by the relatively low start-up costs and limitless opportunities for creativity, the Spanish micro-brewery scene has emerged as one of the few winners of "La Crisis" in recent years – with locally-made craft beers becoming more and more attractive to an inquisitive market looking for something different. All the more surprising perhaps in Spain, when household incomes have being dropping and the price of a craft beer is often double that of a standard tubo in a bar.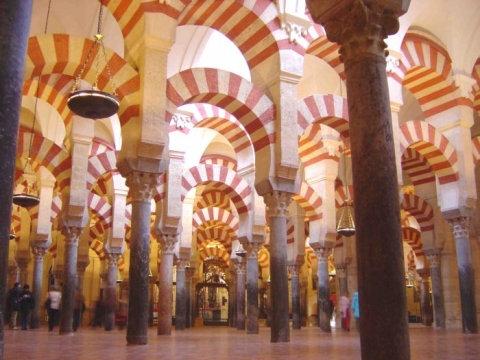 * THE CRAFT BEER TRAIL IN ANDALUCIA *
Don´t miss the mesmerizing Moorish sites – the Mezquita in Cordoba (see photo above), the Alhambra palace in Granada and the Alcazar in Seville, the setting for Game of Thrones season 6! Sample the tasty tapas and the world´s best olive oils (from Priego de Cordoba, it´s official!). And of course, marvel at the moody, flirtatious moves of flamenco. But also, try to get off-the-beaten-track and experience rural Andalucia at its best – a Tuscany without the crowds - hidden medieval white villages, ancient olive groves, and stunning karst scenery for walking and biking. Stay in some great family-run B&Bs & Inns along the way; try out the local Andalucian wines (from super-dry finos to full-bodied reds) and sample a few of the following craft beers as you go...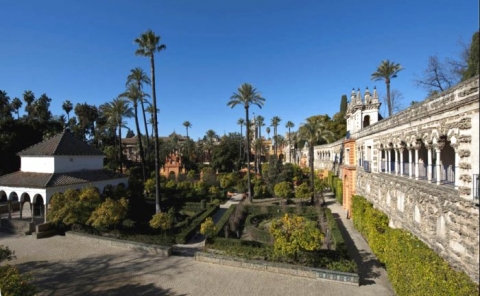 Photo: Alcazar palace gardens in Seville.
* SEVILLE *
Son – probably the most established of Andalucia´s craft beers, originally founded in Cordoba, now based Seville. A good range of ales with funky, modern labels.
Taifa – Seville´s first micro brew-pub, located in the popular Triana Food Market. A great option for tasting a few different beers, amid a nice foodie environment.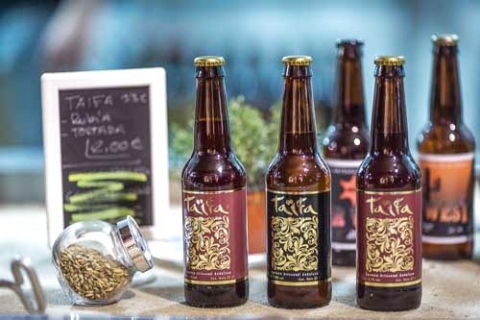 Other microbreweries in Seville province include Debla (Utrera), Albero (Seville), Desiderata (Seville), Los Filabres (Seville), Cardenas (Seville).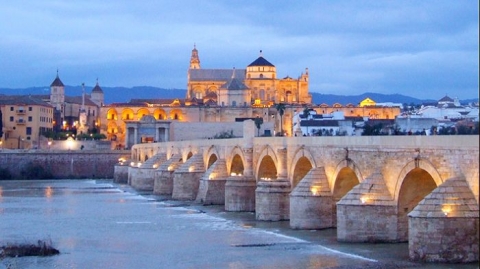 Photo: Roman bridge & Mezquita (cathedral) in Cordoba.
* CORDOBA *
Califa – microbrewery with a busy bar, conveniently located a few blocks from the Mezquita in the Juderia (Jewish Quarter). Established in 2012, they have their own ales on tap and a good selection of bottled craft beers from other countries.
Cordobeer – from Los Pedroches near Cordoba, a region famous for its top-notch artisan hams and cheeses. Their beers range from a tasty Pilsner (on tap soon at Casa Olea) and full-strength IPA, to a limited-edition Pumpkin & Cinnamon Ale for Halloween.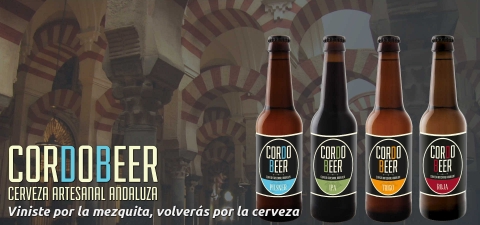 Other microbreweries in Cordoba province include Bandolera del Sur.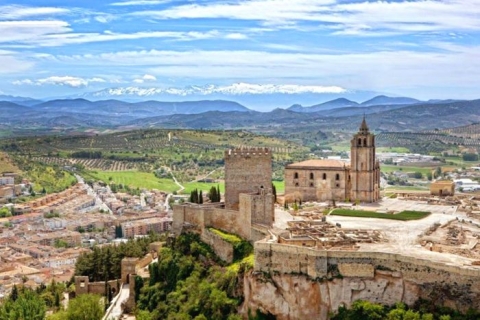 Photo: Fortaleza La Mota, Alcala La Real (Jaen).
* JAEN *
Tierra de Frontera – from Alcala La Real (Jaen) and one of the first microbreweries in Andalucia, starting up in 2009. We´ve stocked their three main ales here at Casa Olea since we opened – Pale, Golden (MariLoli) and Porter (Piconera). They also offer bottled beers with personalized labels for special events (eg weddings).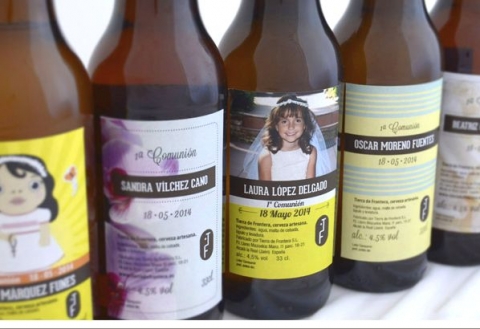 Photo: Spanish craft beers with personalized labels, Tierra de Frontera (Alcala La Real).
Photo: the Alhambra palace at night, Granada.
* GRANADA *
Mammooth – from Padul (near Granada), the first microbrewery in Andalucia (since 2009) now with have 10 different beers using spring water from the Sierra Nevada mountains, including a popular Halloween ale made with pumpkin, orange, cinnamon and ginger.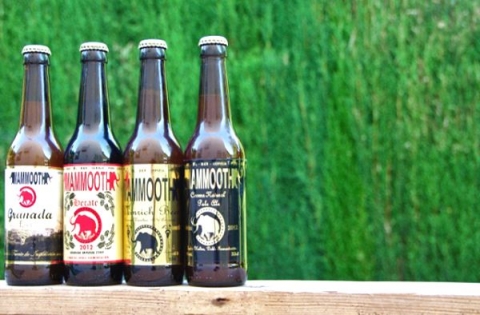 Sativa – from the Alpujarras, made with local cañamo (cannabis) extract. The first hemp ale beer in Andalucia. Not my favourite taste, but high in novelty value!
Other microbreweries in Granada province include Vega from Motril, on Granada´s Costa Tropical), using local cane sugar and experimenting with other fruits grown there, from chirimoya to mango.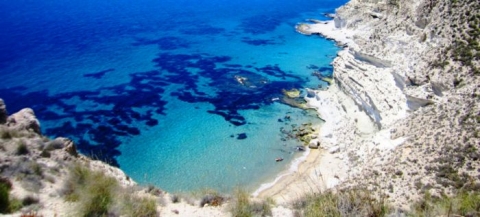 Photo: deserted coves in Cabo de Gata national park, Almeria.  
* ALMERIA *
Far West – from Tabernas, the desert region of Almeria where Sergio Leone´s classic Spaghetti Westerns were filmed. Fun cowboy-themed branding.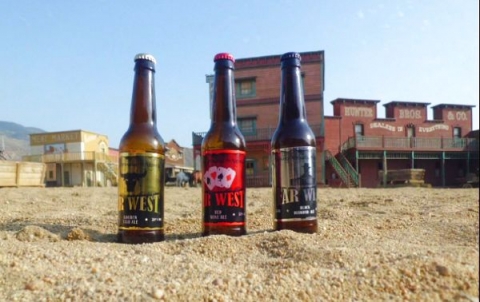 El Cabo – from Cabo de Gata (Almeria), set up in 2013. Like most of these new micro-breweries, founded by motivated, educated young guys from diverse backgrounds – a graphic designer, an agro-engineer and a chemist!
Other microbreweries in Almeria province include: Origen 1905 (Almeria), La Cala (Almeria).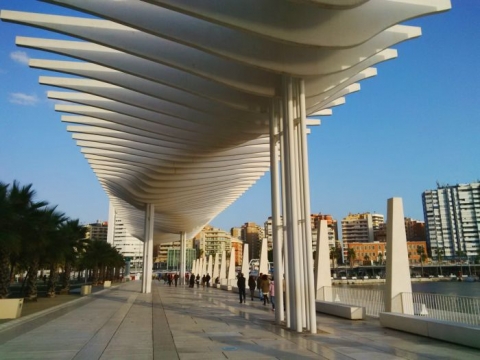 Photo: Malaga´s smart waterfront area, with the new Pompidou Centre gallery.
* MALAGA *
Murex – from Torre del Mar near Velez Malaga (since 2013), a nice range of beers, some made with local sugar cane and moscatel grapes from the Axarquia – ingredients introduced to the region by the Phoenicians!
Axarca – made in Frigliana, near Nerja on the Malaga coast (Axarquia). Also have a popular craft beer store there called La Domadura y Leon.
Rebeldia – set up in 2011 in Malaga and financed in part through crowdfunding. Use locally-sourced cane sugar in some of their beers.
Casa de Guardia (Malaga) – established in summer 2015 and a sign of how the craft beer revolution is really taking hold in Andalucia. A new range of craft beers produced for Malaga´s oldest bar, the Antigua Casa de Guardia (since 1840), known for its traditional Moscatel wines and vermouth but now trying to attract a new crowd!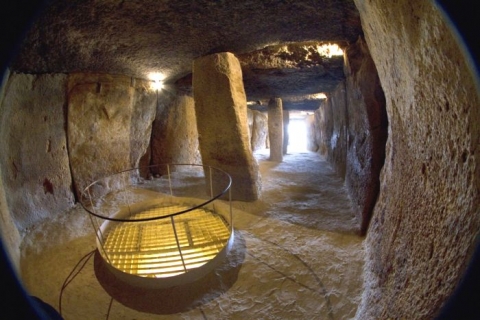 Malaqa - set up a couple of years ago in Malaga. Have just brought out a new, limited-edition beer called Menga: Piedra sobre Piedra (Stone on top of Stone), dedicated to helping achieve UNESCO World Heritage status for the Menga Dolmens of Antequera (see photo above).
Other microbreweries in Malaga province include Rondeña (Ronda), and Gaitanejo (Ardales) next to the Caminito del Rey trail, Rosas (Malaga), Jaleo (La Vinuela), Trinidad (Alhaurin el Grande), 84 Brewers (Malaga), Babel (Estepona), Carma (Almogia) and La Catarina Craft (Marbella). Plus, there´s Victoria – not strictly a microbrewery, but a great beer and it´s still independent and brewed in Malaga.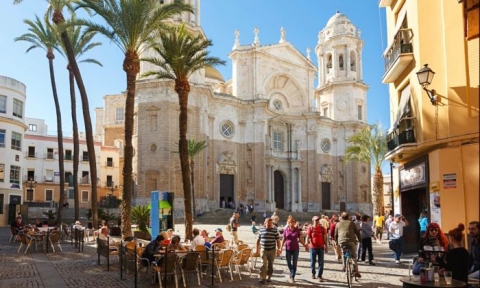 Photo: Cadiz cathedral, Costa de la Luz (Guardian Travel).
* CADIZ *
Maier – from Cadiz, set up in 2013, its name harks back to the glory days of Cadiz in the early 19th century when the city´s first brewery was established by a Bavarian called Carlos Maier. Just launched a new blonde ale, Lola, with proceeds donated to a breast cancer charity.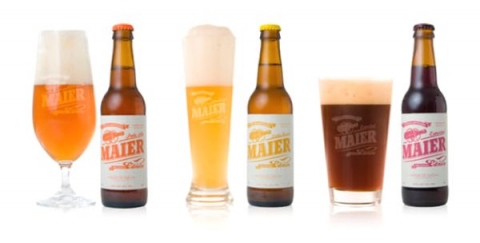 Destraperlo – from Jerez de la Frontera, founded this year (2015) as a cooperative setup using exclusively local ingredients. We love the donkey logo (see top of page).
Kettal – from Los Barrios, between Algeciras and Gibraltar. One of the first craft beers on the coast, set up in 2010 by a couple with British, Irish and South African roots in search of a "proper beer"! Range of seven different beers, served in a busy brew pub between Gibraltar and Algeciras.   
Other microbreweries in Cadiz/Huelva provinces include Volaera (Cadiz), Tartessus (Huelva). 
-------------------------------------
Casa Olea is an award-winning B&B/Inn located in the heart of Andalucia, close to Priego de Cordoba, surrounded by the olive groves and mountains of the Sierras Subbeticas. Ideal base for hiking in the hills, biking along the Via Verde and for day trips to Cordoba (Mezquita) and Granada (Alhambra). Home-cooked evening meals and a good range of local, Andalucian wines and craft beers. Double rooms from 110 euros B&B. www.casaolea.com