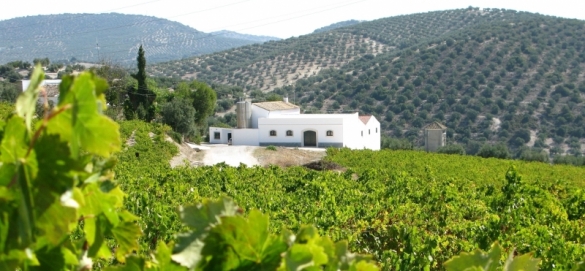 Foodie Weekend break – a taste of Andalucia in Autumn - 07 to 09 Nov 2014 
Create your own pre-Christmas, foodie escape to southern Spain…
Join us pick our olives and see how our amazing olive oil is produced at the local mill. Learn how to cook the Perfect Paella, or find out how Claire prepares some of our most popular Tapas dishes. Or, if you fancy something different, get your hands dirty at a goats cheese-making workshop in Zuheros; or visit a tiny, family-run bodega (vineyard) in Montilla to taste their range of local fino wines. Plus all the stunning walks or bike rides in the hills, home-cooked meals, log fires and relaxation you´d expect at Casa Olea..! Read on for more info…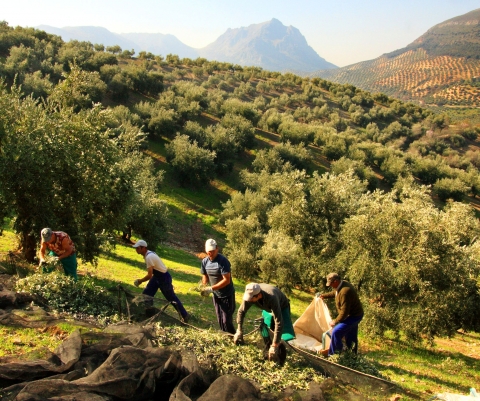 We´ve just been in touch with our local olive mill and we´ve set the date for when we´ll be picking our olives and pressing our olive oil this year. As with last year, we will be the first to pick in the whole area, hopefully thus ensuring the freshest, greenest olive oil again! Weather-permitting, we will be picking on Saturday 08 or Sunday 09 November.
So, if you´re thinking of taking a short break to sunny Spain this Autumn, then why not come to Casa Olea and sample the best of Cordoba province during the olive harvest. And if you fancy helping out, you can even get stuck in by picking some olives too (optional!). You´ll be able to see how the olives are picked and processed at the mill with mill manager, Antonio, giving us a tour while it all happens. In addition to the olive harvest, here´s an example of other activities (foodie and outdoor) that you could include in your weekend away…
SUGGESTED ITINERARY
Day 1 - Thu 06 Nov: arrival day, afternoon free. Evening: optional "Tasty Tapas" cookery class with Claire, followed by dinner at Casa Olea.
Day 2 - Fri 07 Nov: after breakfast, drive to the picturesque white village of Zuheros for a hike in the Sierra Subbetica national park, followed by a visit to the local museum and "Make your own goat´s cheese" activity. Or, drive to Montilla, the home of the Montilla-Moriles Wine Denomination region, for a guided Winery Tour and Fino Tasting (with home-cooked tapas lunch) at a pretty, family-run lagar (vineyard) in the hills above Montilla.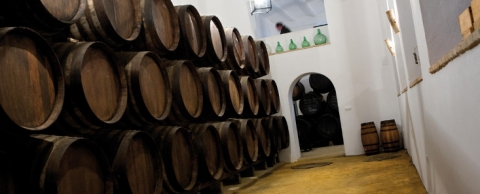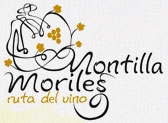 Return to Casa Olea for a late afternoon siesta or walk in the hills with Ruby, our dog. Evening: join Jose Mari in the Casa Olea kitchen to see how he makes the perfect Paella then sit down and enioy eating it together (vegetarian paella available).
Day 3 - Sat 08 Nov: after breakfast, help us pick our olives at Casa Olea (optional!) or enjoy a free morning to visit Priego de Cordoba, or go for a walk or bike ride etc from the house. For those who are olive picking, tuck in to a Tabla lunch at Casa Olea - a platter with cold cuts and salads etc.  
Late afternoon: visit our local village, El Cañuelo, for a guided tour of the olive cooperative mill with Tim (and mill boss Antonio) to see how our olives are pressed and better understand the "olive-to-oil" process.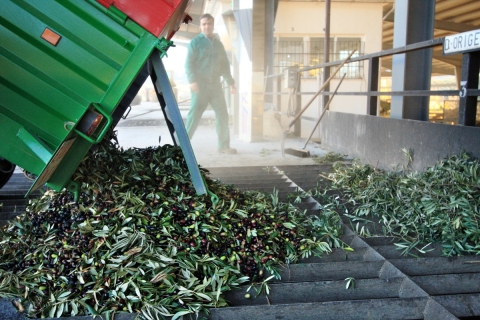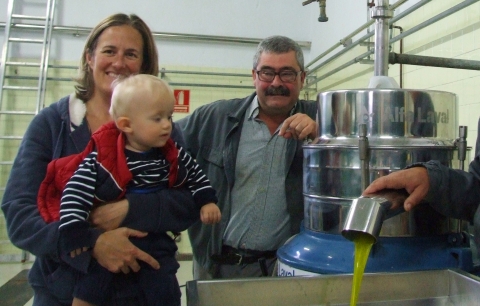 Day 4 - Sun 09 Nov: full day in Cordoba (optional). After breakfast, drive to Cordoba for a walk around the Historic Centre (Juderia) and visit to the Mezquita and Alcazar gardens. Go for lunch at one of the many atmospheric tabernas we recommend, or sample a range of tapas at the popular Mercado Victoria gastro-market. As always, we´ll provide you with a city map and all the best places to park, visit and eat marked up clearly. Return to Casa Olea for a late afternoon siesta or walk before dinner.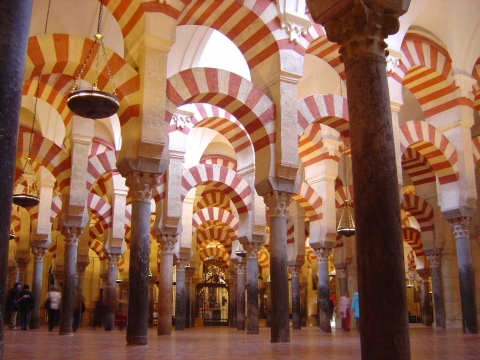 Day 5 - Mon 10 Nov: departure day, or stay on at Casa Olea for a couple more days to enjoy exploring the area at your own pace (by car or on foot/bike); take a day trip to Granada and the amazing Alhambra palace; or discover the unvisited UNESCO renaissance cities of Ubeda and Baeza.
NOTE – this SUGGESTED ITINERARY is an example and can be amended depending on your travel plans. The olive picking day is fixed to Nov 8th (weather permitting). The Goats-cheese making and Winery & Fino Tasting excursions need to be pre-booked in advance.
You will require your own rental car, which you can pre-book at Malaga, Seville or Granada airports as well as Cordoba RENFE train station, depending on which is most convenient. For Malaga try: www.malagacar.com
PRICES
Accommodation: 107 euros + vat (10%) per night for a double room, including breakfast.
Meals: 19.95 euros + vat (2 course dinner), 24.95 euros + vat (3 course dinner) per person. We have a fully-stocked bar and all drinks are charged extra. Paella: 15 euros + vat per person. "Tabla" lunch on Nov 8th included free of charge for Olive Pickers, or 17.50 euros + vat per person for those not picking.
Excursions: prices for the Winery tour & tasting or Goats-cheese making excursions are available upon request and dependent on numbers. Please let us know in advance which you are interested in and we will make enquiries for you.