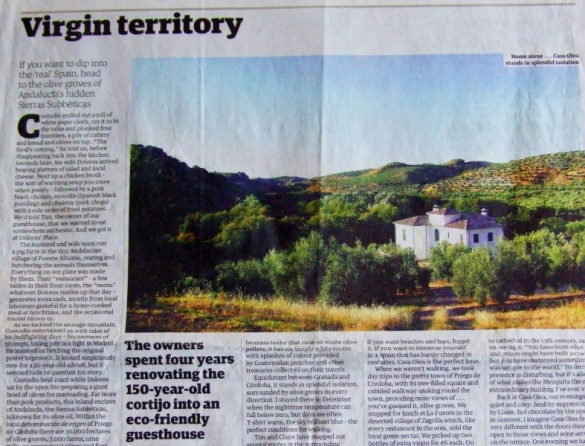 Press reviews of Casa Olea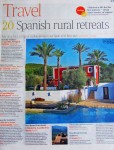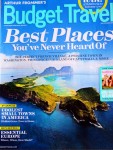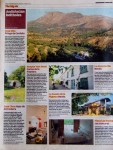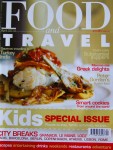 * THE BOSTON GLOBE *
From ruin to castle in rural Spain (May 2018)
"Casa Olea sits in the middle of an olive grove without a single residence around it. There isn't a little market anywhere near the six-room inn, nor a gas station, nor commerce of any kind. From the second-floor rooms all you can see is miles of trees in neat rows forming a kind of patchwork, the Sierras Subbeticas mountain range and a national park of the same name, and a pool that looks especially turquoise in this landscape. This is the heart of Spain's olive country. Andalusia, in the south, is one of the leading producers of olive oil in the world. The inn is midway between Cordoba to the northwest and Granada to the southeast, each about an hour's drive. It takes two hours to head west to Seville, and a little over an hour to Malaga, perched on the Mediterranean, where Picasso was born. Many of the famous Pueblos Blancos (white villages) — hilly towns that are so startlingly white it's hard to believe at first — are near the inn, as are the UNESCO World Heritage cities Ubeda and Baeza. The area has paths for walking, mountain trails for hikers and bikers, ancient mosques, churches, museums, and dazzling examples of Romanesque, Hispano-Moorish, Mudejar, Gothic, Renaissance, and Baroque architecture..."
* THE TELEGRAPH *
The Best Hotels in Andalusia, Spain  (2017)
"This British-run farmhouse, perched in its own patch of olive grove in Córdoba's untouristed Sierras Subbéticas, has been lovingly transformed into an outstanding, eco-conscious rural hideaway. Sweeping views, cosy rooms, lovely mountain walks and seriously good home-cooked meals await..."  
Read more here. Review by The Telegraph´s destination expert Isabelle Noble. 
* BBC SKY AT NIGHT magazine *  
Dark Sky Spain (Nov 2018) - a tour of some of Spain's best astronomy sites. 
"When it comes to stargazing and astronomy, there are few more tempting locations in Europe than Spain, where astro tourism is taking off in a big way. With clearer views of some of the night sky´s most beautiful objects, plenty of rural areas free from light pollution and an ever-increasing, well-organised network of Starlight Reserves and stargazing-friendly accommodation, Spain is worth an entry on any stargazer´s bucket list. And if you´re in Andalucia to see the Alhambra in Granada or the Mezquita in Cordoba, consider driving for an hour to the fringes of the Sierra Sur de Jaen Starlight Reserve, a sparsely-populated rural area which boasts over 300 clear nights a year. Head to Casa Olea (a Starlight Hotel), a six-room boutique B&B which has night-sky-friendly lighting and holds regular stargazing weekends, the next one being a three-hour New Year´s Eve "Stargazing & tapas" event, hosted by local astro-tourism company..."    
* THE GUARDIAN *
Andalucia, Spain's virgin territory (Jan 2010)
"Equidistant between Granada and Córdoba, Casa Olea stands in splendid isolation, surrounded by olive groves in every direction... Tim and Claire have mapped out several routes in the surrounding hills. This area was the frontier of Al-Andalus, which explains the medieval watchtowers dotted about the countryside - they once served as Moorish lookout posts. We followed one of Tim's walks, passing locals harvesting olives, and up to one of the towers. From there, regimented groves fanned out as far as the eye could see…"
* THE SUNDAY TIMES *
Spain's new treasure hunt (May 2010)
"Casa Olea is as far away from the world of the costas as you can get - rural, deeply conservative and slow-moving. Rooms are comfortable, with big beds and Egyptian cotton sheets, but no TVs or phones... Outside, there is a good-sized pool and nicely shaded lounging area, but Casa Olea is really all about getting out and exploring the fascinating surrounding countryside, for it sits on the fringes of the Parque Natural de las Sierras Subbéticas, as well as being close to a clutch of largely unspoilt white villages..."
* BUDGET TRAVEL magazine, USA *
Three cool options for Fall  - Stylish Spanish Seclusion (Sep 2011)
"Córdoba and Granada are less than 60 miles away, but try not to dwell on Casa Olea's high-profile neighbours. In this pocket of Andalucía, it's all about the blissful isolation of the Sierra Subbéticas, an untouristed swath of rugged limestone hills and dusty olive groves. Inspired by area villages, the British owners turned to local carpenters to restore the six-room guesthouse's whitewashed walls, exposed beams, and cobblestone floors. They've spruced the place up with "green" additions, such as solar panels and a boiler that uses leftovers from a local olive mill to heat the property…"
http://blog.budgettravel.com/budgettravel/2011/09/european_lodging_recommendatio.html
* THE INDEPENDENT *
Big Six Andalucian Boltholes (Mar 2010)
"This recently opened farmhouse B&B, half way between Granada and Córdoba, is proof that you can go green without sacrificing luxury. The traditional "cortijo" has under-floor heating and king-size beds topped with Egyptian cotton sheets in the six bedrooms – plus a log fire in the lounge and swimming pool and hammocks in the grounds. However, the Biomas boiler runs on recycled olive pellets and solar panels heat the hot water..."
http://www.independent.co.uk/travel/hotels/the-big-six-andalucian-boltholes-1928089.html
* THE GUARDIAN *
Top 10 Special Places to stay in Spain (Apr 2011)
"It's off a scenic back road, deep in a river valley carved out of the rugged Subbética mountains. When Claire and Tim strayed here five years ago, they fell for a ruined olive farm and rolled up their sleeves: now the big airy Casa Olea with white walls, hand-painted tiles and sensational pool terrace. Solar panels, olive-fuelled biomass: it's as eco-friendly as it is luxurious; the nearest neighbours are wild boar and birds. Best is the terrace: hammock slung under shady thatch by the pool, tables for dinner under the stars. Over Claire's home cooking or a glass of wine in the fire-warmed lounge, swap travel tales and ask Tim about the web of hiking trails..."
http://www.guardian.co.uk/travel/2011/apr/01/spain-hotels-sawday-self-catering?INTCMP=ILCNETTXT3487
* THE TIMES *
20 great family getaways in Europe (May 2010)
"Halfway between Córdoba and Granada, this luxurious six-room guesthouse is surrounded by ancient olive groves. The nearby riverside woodland is teeming with wildlife - the only sounds of nightlife are nightingales, frogs and owls. Casa Olea is perfect for a walking or mountain-biking holiday exploring local villages, so would particularly suit families with older children. Home comforts include stylish bedrooms, a swimming pool and a sun terrace."
* THE GUARDIAN *
Where to go in October (Sep 2011)
"If what you need is a proper rest, then pack a stack of books and head for Casa Olea in Andalucía, southern Spain. Set in the relatively undiscovered province of Córdoba, with rows of olive trees stretching as far as the eye can see, it's a good place to feel the warmth of the sun on your face as you lie by its pool, as in October temperatures still reach the high 20s. There are walks from the doorstep through the groves and co-owner Claire cooks healthy three-course meals using local seasonal ingredients, so it's quite possible to spend a few days here without jumping into a car, although you will need one to get here..."
http://www.guardian.co.uk/travel/2011/sep/15/where-to-go-in-october
* THE DAILY TELEGRAPH *
Insider's Holiday Guide to Spain (Jan 2010)
"Halfway between Granada and Córdoba, Casa Olea is a gorgeous new boutique hotel with impressive eco credentials – heating generated by recycled olives from a local mill, no less. With just six rooms, the traditional farmhouse has lots of luxury touches and is perfect for a romantic break or as a base for walking or cycling..."
http://www.telegraph.co.uk/travel/destinations/europe/spain/6989521/Andalucia-Spain-an-insiders-holiday-guide.html
* THE TIMES *
Chic Andalusia from 40 pounds - the best places to stay in southern Spain.
"A 90-minute drive from Malaga (and in between Granada and Cordoba), this isolated 150-year-old cortijo (farmhouse) has been transformed by English owners into a six-bedroom hotel with pool. It's in the middle of mountains and olive groves; olive pellets from the local co-op feed the biomass boiler that powers the underfloor heating in winter..."
* THE GUARDIAN *
Andalucia's white villages & deserted beaches (Apr 2010)
Zuheros - Located in the heart of the untouched Sierras Subbéticas, yet only five minutes off the main road between Granada and Córdoba, Zuheros is about as picture-postcard a pueblo blanco as you can get. Backed by dramatic limestone cliffs and the Bailon gorge, it has a Moorish castle, great views and whitewashed streets. Go for a walk along the scenic via verde (the reclaimed "olive train" railway line), visit the cueva de murciélagos (bat cave) nearby, sample the excellent local goat's cheese, and enjoy a beer on the castle square at the popular Los Palancos restaurant, resplendent with photos of visiting Real Madrid stars, including David Beckham and Ronaldo.
- Tim Murray Walker, owner of nearby Casa Olea.
http://www.guardian.co.uk/travel/2010/apr/17/spain-andalucia-villages-beaches?INTCMP=ILCNETTXT3487