Photo: Christian Bale in Exodus: Gods & Kings (2014) © 2013 - Twentieth Century Fox.
Ridley Scott´s biblical epic about Moses, Exodus: Gods & Kings, just made its Spanish release this weekend. Filmed in the stunning arid desert mountains of the Sierra Alhamilla in Almeria, the film is set to be one of the biggest releases this Christmas – in Spain 05 Dec, in the USA & Canada 12 Dec and in the UK 26 Dec 2014.
The main set for the film, a spectacular ancient Egyptian city complete with Pharaoh temples and adobe houses, was recreated in the Andalucian desert – the same region which has also provided the setting for many other great films in the past, from Sergio Leone´s Spaghetti Westerns and Laurence of Arabia to Indiana Jones and the Last Crusade.
The upcoming series of Game of Thrones (Series 5) has also been filmed recently in Andalucia; this time in the Alcazar gardens of Seville, the bullring in Osuna and Roman bridge in Cordoba. So, with Game of Thrones and Exodus: Gods & Kings starring the region, we thought we´d come up with a list of our favourite films made in Andalucia, to help draw you to this special part of Spain and bring back some great movie memories too…!
* TOP 10 MOVIES MADE IN ANDALUCIA, SPAIN *
1. Exodus: Gods & Kings – Christian Bale, Joel Edgerton, Ben Kinglsey, Maria Valverde.
"The story of one man's daring courage to take on the might of an empire. Using state of the art visual effects and 3D immersion, Scott brings new life to the story of the defiant leader Moses (Christian Bale) as he rises up against the Egyptian Pharaoh Ramses (Joel Edgerton), setting 400,000 slaves on a monumental journey of escape from Egypt and its terrifying cycle of deadly plagues." IMDB.com     
Watch a movie trailer for Exodus: Gods & Kings or listen to Arthur Max (Production Designer) talking about the filming locations in Spain and beyond.
Exodus Gods & Kings locations in Andalucia: Sierra de Alhamilla, Almeria.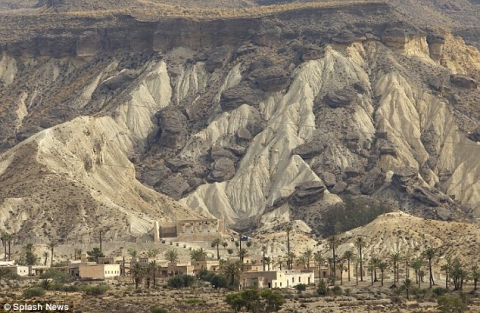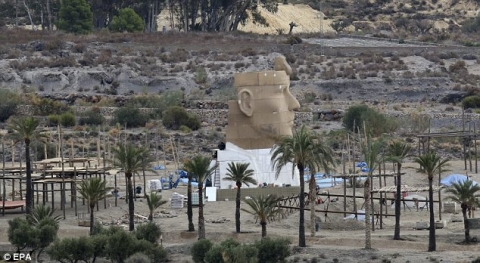 Read more about filming on the set here (Daily Mail article). 
2. Game of Thrones Series 5 - coming soon!
The stunning Moorish palace and gardens of the Alcazar de los Reyes in Seville will feature prominently in the upcoming series of HBO´s worldwide hit series "Game of Thrones". Noone yet knows how or where the various Andalucian locations will be included, but speculation is rife that Seville´s Alcazar will stand in for the Water Gardens of Dorne, the summer residence of House Martell; while the Guadalquivir river in Cordoba may represent the Sangreverde river (in Dorne) and the Roman bridge may be the main bridge in Volantis. We´ll find out more once the series is released in April 2015. One thing´s for sure, it is bound to create a boost to the region – in fact it already has done, with the US Ambassador to Spain (James Costas) saying that tourism to Seville increased by 15% during filming and some 550 locals (out of a staggering 86,000 applicants) received work as extras in Seville and Osuna!  
Game of Thrones locations in Andalucia: Seville´s Alcazar, Osuna´s bull ring and Cordoba´s Roman bridge.
Read more about "On the set with Game of Thrones" in this El Pais article. 
Photo: Game of Thrones Series 5 filming in Seville (Canal Plus).
3. Die Another Day 007  – Pierce Brosnan & Halle Berry.
The atmospheric pastel-coloured buidings of Cadiz were the ideal choice as a Havana substitute, while the city´s Santa Catalina Castle (where they sip mojitos) and La Caleta beach played host to that scene with Halle Berry in her famous orange bikini! Founded by the Phoenicians in 1100BC, Cadiz is the oldest city in Europe and has been a melting pot of cultures ever since, with the Romans, Carthaginians and Moors all leaving their mark. Today, it´s also the jumping off point for some of Andalucia´s most beautiful beaches, from El Palmar to Tarifa along the Costa de la Luz.
Die Another Day locations in Andalucia: Cadiz.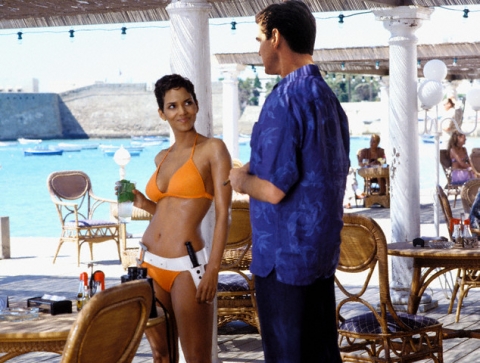 Photo by Keith Hamshere © 2002 DANJAQ, LLC AND UNITED ARTISTS CORPORATION. ALL RIGHTS RESERVED.
4. Knight & Day – Tom Cruise, Cameron Diaz.
Cadiz and Seville were chosen to recreate the San Fermin bull-running festival in the film, with Tom Cruise and Cameron Diaz doing their own stunts in action-packed scenes on a motorbike. In Seville, the Casa de Pilatos (gangleader Antonio´s hideout), Cathedral and Giralda tower, Real Maestranza bull ring and the Alcazar palace all feature in the film. 
Knight & Day locations in Andalucia: Seville.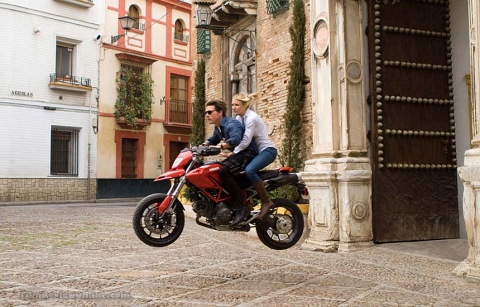 Photo by Frank Masi, SMPSP - © TM and 2010 Twentieth Century Fox and Regency Enterprises. All rights reserved.
5. Zindagi Na Milegi Dobara (English: You Only Live Once).
A feel-good Bollywood road-trip movie, following three friends as they set off through Spain on a bachelor trip in a Land Rover Discovery, then pale-blue, open-topped Cadillac. Driving through various stunning locations, they each pick an adventure sport which all three then have to try together – scuba diving on the Costa Brava, skydiving in Seville and running with the bulls in Pamplona. Other experiences along the way include the tomato-throwing festival of La Tomatina in Buñol and a flamenco fiesta in Andalucia. Cunningly sponsored by the Spanish Tourist Office, the film was a huge box-office success in India and has led to a boom in Indian tourism to Spain (including here at Casa Olea!).
Zindagi Na Milegi Dobara locations in Andalucia: Alajár, Huelva (Señorita flamenco song) and the mountains and villages near Ronda.
6. Laurence of Arabia – Peter O´Toole, Omar Sharif, Alec Guinness, Anthony Quinn.
The first major film to be shot in Almeria (back in 1962), David Lean´s Oscar-winning classic used an astonishing 1000 extras, 750 horses and 159 camels! While much of the film was made in Jordan, the arid mountains and dunes of Cabo de Gata and Playa Algarrobico near Almeria; Seville´s Casa de Pilatos, Plaza de España and Plaza de Americas (representing Cairo and Damascus) were all used as filming locations.  
Laurence of Arabia locations in Andalucia: Almeria, Seville.
7. Indiana Jones and the Last Crusade – Harrison Ford, Sean Connery, Denholm Elliott.
This Lucas/Spielberg classic features the striking Tabernas desert and Cabo de Gata coastline in several memorable scenes – including Jones Senior´s ingenious downing a Nazi plane with his brolly and flock of seagulls. Also, Dr Brody´s capture at "Iskenderun" train station was filmed in Guadix, north of Granada.   
Indiana Jones and the Last Crusade locations in Andalucia: Playa de Monsul , Cabo de Gata in Almeria; Guadix station and Sierra de Huetor near Granada.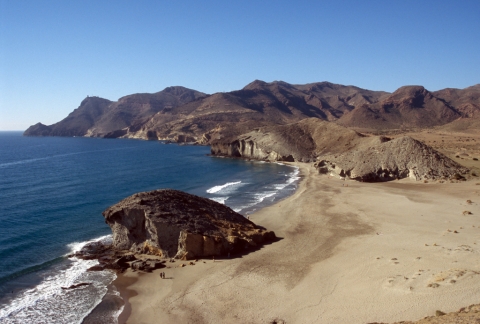 Photo: Playa de Monsul, Cabo de Gata.
8. Sergio Leone´s Spaghetti Westerns - Clint Eastwood.
In the 1960s and 70s the Tabernas desert in Almeria was chosen as a substitute for the Wild West as it played host to a series of iconic Hollywoood classics. Financed by Italian corporations and directed by Sergio Leone, these gun-slinging epics - The Good, the Bad and Ugly, A Fistful of Dollars & Once Upon a Time in the West - were the movies which shot Clint Eastwood to fame, along with the likes of other fellow cowboys Eli Wallach, Lee Van Cleef and Charles Bronson. Such is cult following of these films that Wild-West inspired amusement parks - Mini Hollywood (now called Oasys Theme Park), Fort Bravo and Western Leone - were set up in the area using the film sets. One of these was also used to stage a classic Pepsi commercial in 2003, featuring "cowboys" David Beckham (and fellow Man United players) versus Iker Casillas and Real Madrid team-mates including Raul and Roberto Carlos!
Spaghetti Western locations in Andalucia: Tabernas desert, Almeria.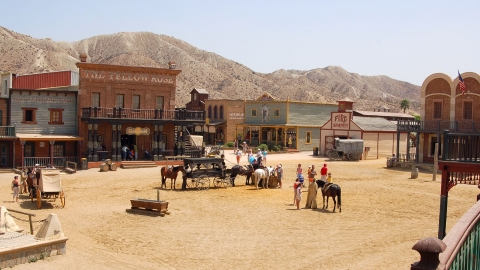 Photo: "Mini Hollywood" spaghetti western set, Tabernas desert.
9. Kingdom of Heaven - Orlando Bloom, Eva Green, Jeremy Irons, Liam Neeson.
Ridley Scott´s Crusades drama was also set in Spain, with much of the film centred around the impressive 12th-century Loarre castle in Aragon (northern Spain), aswell as in medieval gems Segovia and Avila near Madrid. However, Andalucia was also used as a key location (representing 12th-century Jerusalem) with the Casa de Pilatos and Alcazar in Seville and the Moorish Pontocarrero Palace in Palma del Rio (near Cordoba) all featured in several scenes.   
Kingdom of Heaven locations in Andalucia: Casa de Pilatos & Alcazar in Seville, Palma del Rio.
10  The Smurfs 3D
While it´s hardly a cinema classic, it did make an Andalucian Pueblo Blanco (white village) turn blue for the Smurfs! And being the Smurf village has also now given this sleepy mountain village a welcome boost in hard economic times. The locals recently voted overwhelmingly in favour of keeping their town blue as the film had generated such a huge influx of tourists since!
Smurfs 3D locations in Andalucia: Juzcar, Malaga province.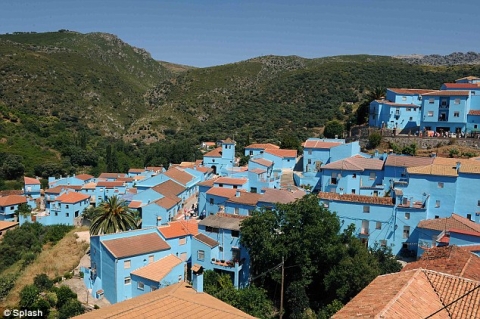 Photo: Juzcar "Smurf village" in Andalucia.
Read more about Andalucia´s Smurf village here (Daily Mail article).
If you still need more reasons to come to Spain (or film in Spain, if you´re a film maker!) then check this video from the Spanish Film Commission, featuring Lord of the Rings´ Elijah Wood singing the praises of Spain´s cinematic splendours…!
----------------------
CASA OLEA is an award-winning, boutique B&B located in the heart of Andalucia - 90 minutes´ drive from Malaga and 2 hours from Seville - the ideal base for cultural visits to both Granada and Cordoba, hiking and biking in the mountains and olive groves of the Sierra Subbetica. Combines well with Cabo de Gata (near Almeria) or the Costa de la Luz (near Cadiz) for the perfect holiday in Spain.