Indiana Jones in Spain - Harrison Ford on vacation in Andalucia
One of the world´s most popular actors,
Harrison Ford
(aka Indiana Jones, Han Solo etc) has just been spotted on holiday in Spain with his wife, Ally McBeal star
Calista Flockhart
. And true to character – Dr Jones being the fictional archaeologist – he visited some of the country´s most fascinating cultural sites along the way.
See
their route
below, from Madrid to Barcelona via Segovia, Toledo, Seville, Cordoba and Granada. It´s a great itinerary, especially for
culture lovers and foodies
, with the couple focusing much of their time in the region´s top tapas bars and restaurants…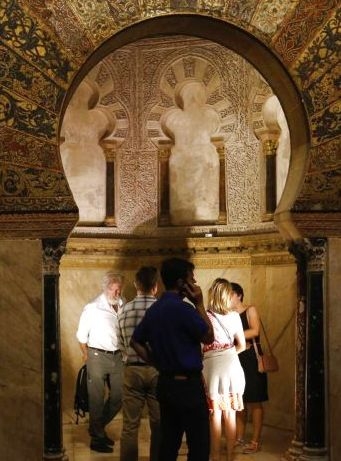 Photo: Harrison Ford and Calista Flockhart enjoy the sites in Andalucia (ABC Sevilla).
MADRID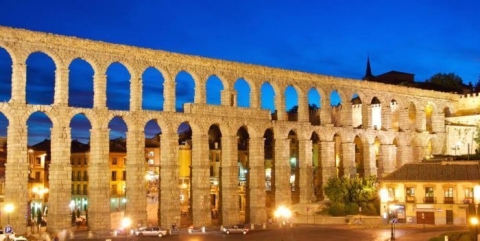 Photo: the roman aqueduct at Segovia (Wikimedia).
SEGOVIA 
Marvels at the stunning
Roman aqueduct
,  with lunch at Meson Candido. Visits the picturesque village of
Pedraza de la Sierra
for a meal at
El Soportal
restaurant, known for its suckling pig – recently described as "
the best lunch in the world
" by restaurant critic Giles Coren in The Times.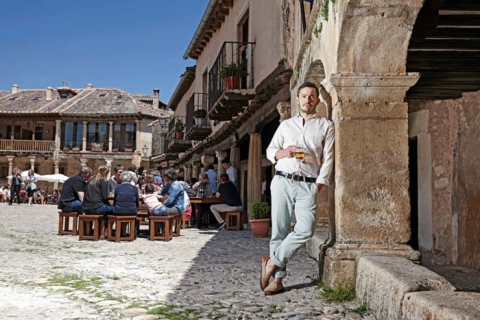 Photo: Giles Coren at El Soportal, Pedraza (The Times).
TOLEDO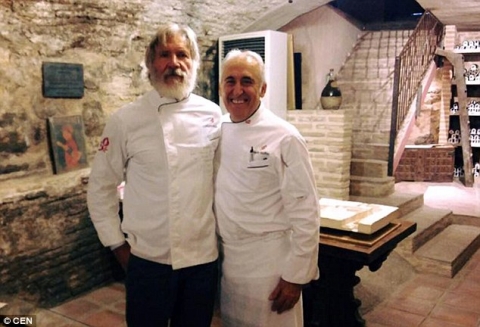 Photo: Harrison Ford with top chef Adolfo Munoz in Toledo (CEN).
Travels south to Andalucia and takes in the "golden triangle" of Moorish cities - Seville, Cordoba and Granada. Pictured at the Alhambra with a camera and guidebook in hand and Panama hat to keep off the baking Andalucian sun, "Inde" looks like just another tourist..!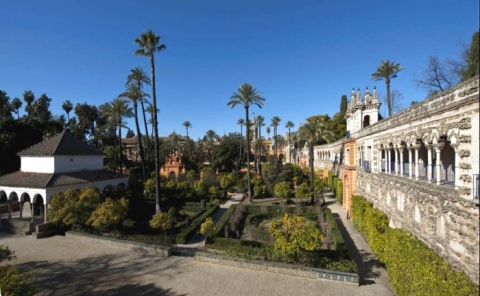 Photo: Alcazar palace gardens in Seville. 
SEVILLE
Visits the
Giralda
(catedral),
Alcazar
palace and gardens and
Archivo de las Indias
. Samples tapas at one of Spain´s oldest bars,
El Rinconcillo
, takes in a
flamenco show
and enjoys dinner at two of the city´s best restaurants,
La Azotea
and
Enrique Becerra
.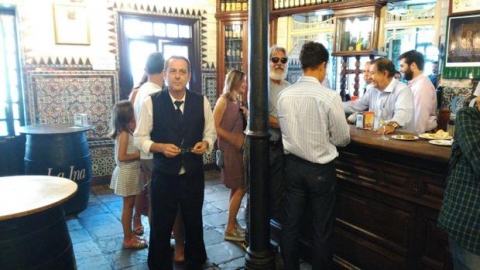 Photo: Harrison Ford enjoys tapas at the bar in El Rinconcillo, Seville (ABC Sevilla).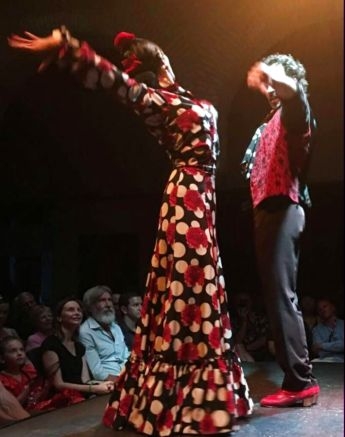 Photo: Harrison Ford and Calista Flockhart take in a flamenco show in Seville (ABC Sevilla).
CORDOBA
Visits the Mezquita, the mesmerizing medieval mosque (now cathedral), buys olive oil from the Priego de Cordoba and Baena denominations of origin and has a quick lunch at the Caballo Rojo restaurant.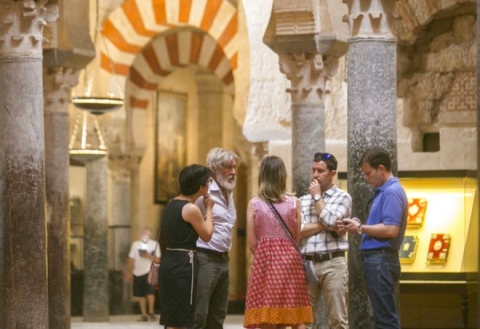 Photo: Harrison Ford and Calista Flockhart at the Mezquita, Cordoba (El Mundo).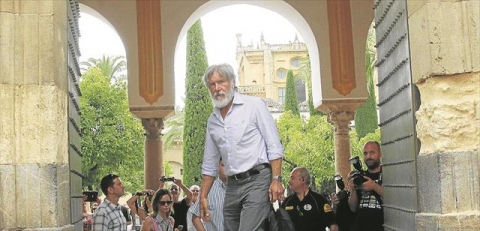 Photo: Harrison Ford is followed by paparazzi and selfie-taking fans in the Juderia, Cordoba (El Mundo).
GRANADA
Hot on the heels of Mel Gibson, who visited the city a few weeks ago, the couple take in the
Nasrid Palaces
, Justice Tower and Carlos V Palace in the
Alhambra
, before continuing their Spanish adventure in
Barcelona
.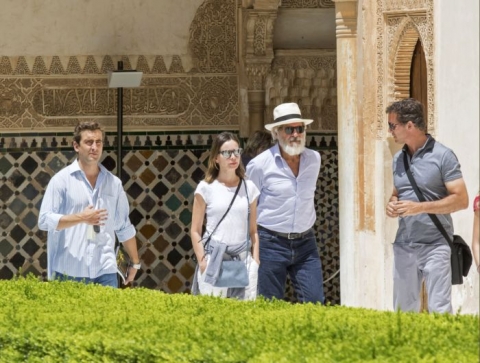 Photo: Harrison Ford and Calista Flockhart at the Alhambra (Pepe Marin in La Vanguardia).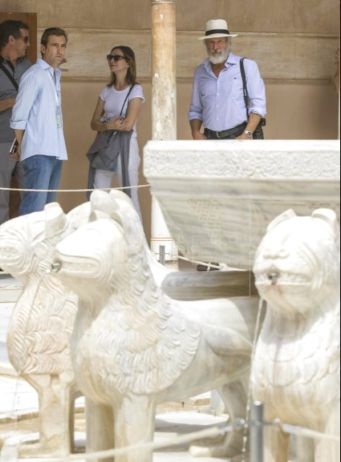 Photo: Harrison Ford in the Nasrid Palaces at the Alhambra, Granada (Pepe Marin).
For anyone planning a trip in Spain, this makes for a wonderful itinerary. 
But surely there´s just one thing missing for such an explorer – time spent in the Sierras, exploring
the great outdoors
.
He wouldn´t have been bothered by paparazzi or barged around by selfie-taking fans and would have loved the peace, nature and walking in the
olive groves and mountains
for a few days - a proper respite from the more hectic cities. 
However, he did allegedly buy some of our local olive oils - from Priego de Cordoba and Baena, Spain´s finest olive oil D.O.s - so we´ll let him off..!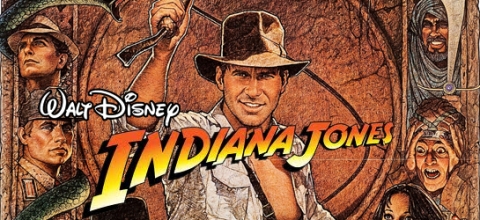 Indiana Jones 5 coming soon…
In March this year, Walt Disney Studios announced that a
fifth Indiana Jones movie
is set to be released on
July 19 in 2019
. Who knows, maybe some of these iconic locations in Spain will provide the inspiration for the set, or even the title of the movie? "Raiders of the Moorish temple" perhaps…other suggestions welcome! 
-----------------------------------
CASA OLEA
is an award-winning boutique B&B located in the heart of Andalucia, half way between
Granada
and
Cordoba
. The ideal base for discovering the cultural highlights of the region, along with exploring the
Sierra Subbetica
(recently declared a UNESCO Global Geopark), historic white towns and sampling the world´s finest olive oils from
Priego de Cordoba
.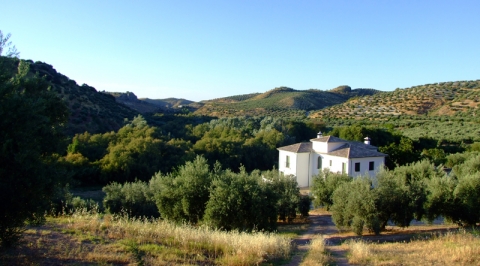 Photo: Casa Olea B&B in the Sierra Subbetica, near Priego de Cordoba.