The Last Frontier of Al Andalus
Not content with just one wall, President Trump has urged Spain to build one along the length of the Sahara, as a solution to Europe´s migrant crisis. Clearly a ridiculous idea - not sure he knows that´s over 3000 miles long and it´s not in Spain - but it got me thinking about what the "border" must have been like that divided Catholic Spain from Muslim Al Andalus, some 700+ years ago…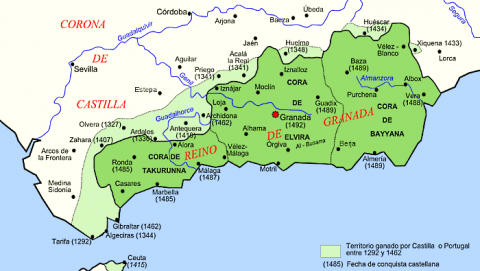 Map: The Last frontier of Al Andalus between 1292-1492 (Wikipedia). 
Key: Light green - frontier of the Kingdom of Granada in 1292. Dark green - frontier of the Kingdom of Granada in 1462. The last significant towns and cities to be taken back by the Catholic Kings were Ronda (1485), MALAGA (1487), Almeria (1489) & GRANADA (1492).
And, while there wasn´t a huge wall running across the south of Spain, there certainly was a heavily fortified "Frontier land" along the border of the Nasrid Kingdom of Granada – a diagonal line running north-east up from Tarifa on the Mediterranean to Olvera, Antequera, Priego de Córdoba, Alcalá La Real and the foothills of the Sierra de Cazorla. Today, some towns along this line still include "de la frontera" in their names, eg Arcos de la Frontera and Vejer de la Frontera.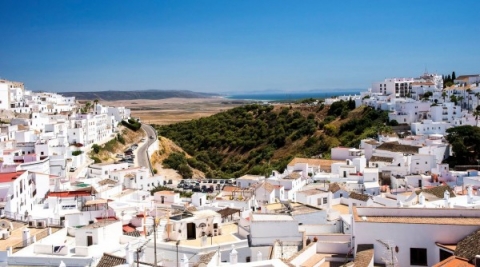 Photo: Vejer de la Frontera, Cadiz (Annie B Cooking Classes).
After the fall of the Omeya Caliphate of Córdoba (the largest "united" kingdom of Al Andalus) in 1031, the central region Andalucia and towns like Luque, Priego de Córdoba and Alcalá La Real became strategic trading posts on frontiers between rival Muslim kingdoms (tributary states known as taifas).  Once Córdoba (1236) and Seville (1248) had fallen to the Catholics, this area then became part of the "fluid" frontier between Catholic Spain and the last final Muslim Kingdom of Granada, with some towns changing hands several times between 1292 and 1492.

Photo: Fortaleza La Mota castle at Alcala La Real.
The many watchtowers and castles throughout this area date mostly from the 11th to 13th centuries and formed part of a very extensive line of defence. Alcalá La Real was the "gateway to Granada" with its huge fortress (Fortaleza La Mota) and 15 watchtowers on surrounding hilltops; while our peaceful river valley at Casa Olea has 5 watchtowers, guarding what was then the trade route between Luque and Priego (now home to world´s finest olive oils).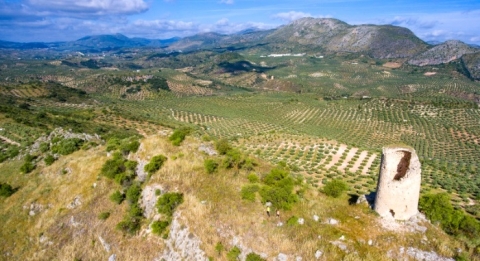 Photo: hiking up to Moorish watchtowers near Priego de Cordoba (Casa Olea). 
The area around Luque was also on the "front" during the Spanish Civil War, with heavily-armored concrete bunkers built on both sides of the strategic road and railway line which passed through the area (the N-432 and Via Verde cycle path today).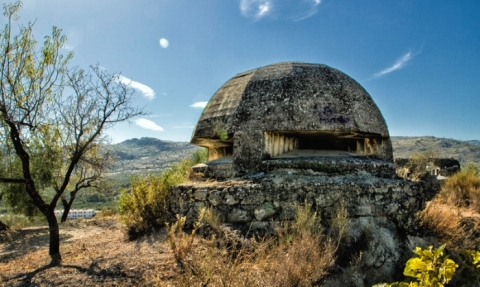 Photo: Spanish Civil War bunker "El Alamillo" near Luque (Turismo de la Subbetica).
You can now visit one of these bunkers, El Alamillo, a short walk away from the Via Verde del Aceite (The Olive Oil Greenway) at Estación de Luque.
It´s a fascinating history and it´s all around us here in the heart of Andalucia!
--------------------------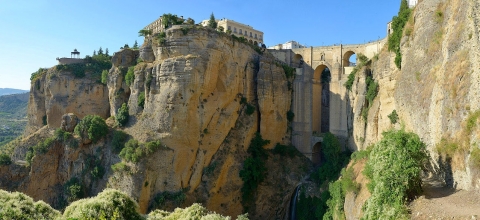 Photo: View of Ronda´s famous gorge and Puente Nuevo.
* JOURNEY TO THE LAST FRONTIER OF AL ANDALUS 
Here is a suggested itinerary to explore this amazing part of southern Spain - from the Mediterranean to the Sierras - taking in many of the historical sites along the way (including Ronda, the Mezquita and the Alhambra) as well as unspoilt white villages, lakes, olive groves, mountains, hiking and great food & wines too..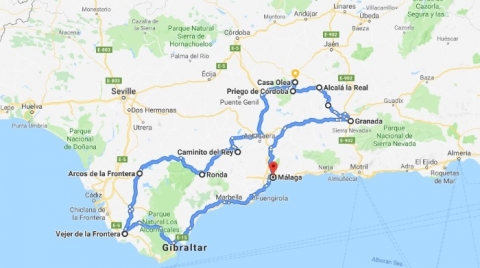 Map of suggested road trip - Last Frontier of Al Andalus.
- Recommended route: Fly to Gibraltar or Malaga – VEJER DE LA FRONTERA (beach, cookery course & Jerez) – Arcos de la Frontera -  RONDA – Caminito del Rey hike & Antequera – PRIEGO DE CORDOBA (hiking, olive oil, Alcalá La Real & Córdoba) – GRANADA – Fly out of Granada or Malaga.
- Where to stay (10 nights): small, boutique hotels including Vejer de la Frontera 3n (Hospederia Casa Shelly) – Ronda 2n (Molino del Santo), Priego de Córdoba 3n (Casa Olea), Granada hotel (2n).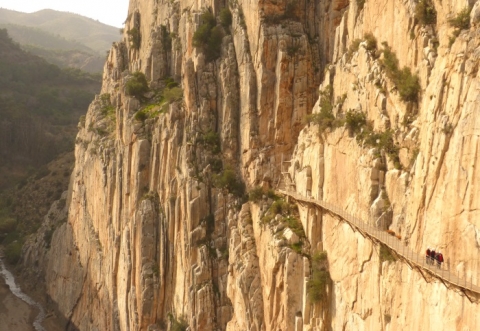 Photo: The incredible Caminito del Rey hike in Andalucia.
---------------------------
* Top 10 best castles Andalucia         
Dotted throughout out these ancient frontier lands, there are lots of amazing castles and fortresses which can be visited. From magnificently-restored fortresses to atmospheric, crumbling castles, here are our favourites – listed from north to south (see Google Map above): 
1) Santa Catalina castle, Jaen 
2) Almodovar del Rio castle - as seen in Games of Thrones Series 7!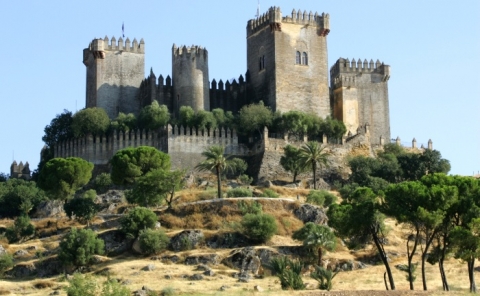 Photo: Almodovar del Rio Castle, near Cordoba (Spain Film Commission). 
3) La Mota fortress, Alcala La Real
4) Alcaudete castle
5) Zuheros castle 
Photo: Biking on the Via Verde in the shadow of Zuheros castle (Casa Olea).
6) Alcazaba Antequera castle
7) Calahorra castle, Guadix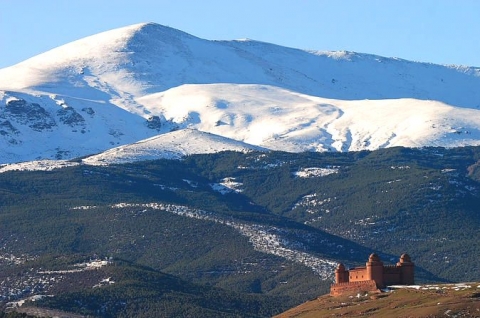 Photo: La Calahorra castle near Guadix, Andalucia (Lonely Planet).
8) The Alhambra Alcazaba, Granada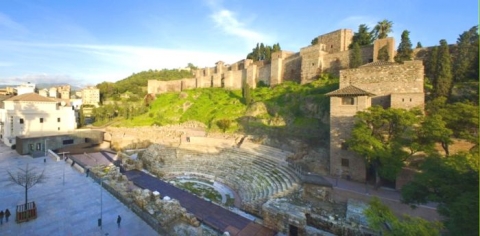 Photo: Alcazaba castle and Roman Theatre in Malaga.
9) Alcazaba Malaga castle
10) Zahara de la Sierra castle
-----------------------
CASA OLEA is an award-winning "boutique B&B" located close to Priego de Cordoba and Alcala La Real, half way between Cordoba and Granada.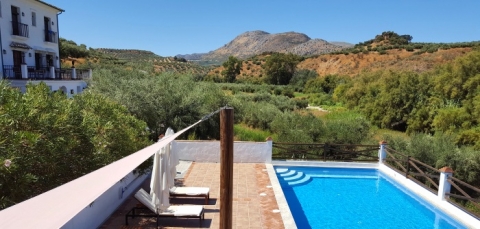 Photo: the pool and mountain views at Casa Olea, near Priego de Cordoba.