Medina Azahara declared World Heritage Site
The ancient Califate City of Medina Azahara near Cordoba has been included in the new UNESCO World Heritage List, announced in Manama (Bahrain) yesterday, 01 July. Read more below about Medina Azahara - the archaeological site, its history and visitor information.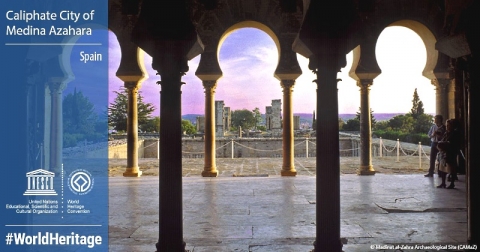 Photo: UNESCO announces World Heritage Listing for Medina Azahara.
Medina Azahara was Spain´s only 2018 nomination and its inclusion now makes Cordoba one of the most recognized cultural destinations on the planet – with the city now boasting 4 UNESCO inscriptions on the World Heritage List:
- Caliphate City of Medina Azahara, Cordoba (2018).    
- The Mosque-Cathedral of Cordoba, known as The Mezquita (1994)
- The Juderia (Jewish quarter) old town of Cordoba (1994)
- Festival de los Patios, Courtyards Festival of Cordoba (2012).
Read more on Andalucia´s UNESCO World Heritage Sites.  
Check out this interactive World Map of the new UNESCO Sites for 2018. Click here for the full list of all 30 candidates in 2018. 
------------------------------ 
The Caliphate City of Medina Azahara – ancient capital of Moorish Al-Andalus
Medina Azahara, also known by its Arabic name Madinat al-Zahra, is located just 8km outside of Cordoba and was built as a royal palace-city and capital of Al-Andalus by Caliph Abd al-Rahman III in the 10th century. 
UNESCO description: "The Caliphate city of Medina Azahara is an archaeological site of a city built in the mid-10thcentury CE by the Umayyad dynasty as the seat of the Caliphate of Cordoba. After prospering for several years, it was laid to waste during the civil war that put an end to the Caliphate in 1009-10. The remains of the city were forgotten for almost 1,000 years until their rediscovery in the early 20th century. This complete urban ensemble features infrastructure such as roads, bridges, water systems, buildings, decorative elements and everyday objects. It provides in-depth knowledge of the now vanished Western Islamic civilization of Al-Andalus, at the height of its splendor".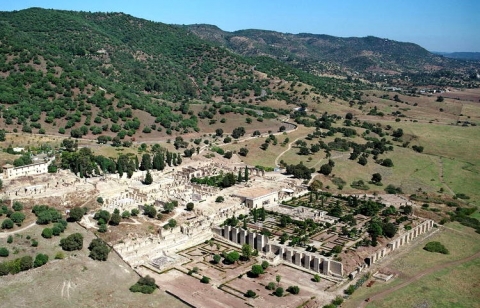 Photo: Aerial view of Medina Azahara, near Cordoba © M Pijuan (Madinat al-Zahra Archaeological Site - CAMaZ).
Billed as the "Versailles of the Middle Ages", the city complex was situated on the slopes of the Sierra Morena hills, split over three terraces, with the caliph's palace (the area you visit today) on the highest levels, overlooking what were gardens and open fields. The residential areas (still unexcavated) were set away to each side on lower terraces. 
Photos: Details of artwork and arches at Medina Azahara © M Pijuan (Madinat al-Zahra Archaeological Site - CAMaZ)
Construction began around 936AD and took less than 25 years to create an impressive city with luxurious ceremonial reception halls, mosques, administrative and government offices, gardens, a mint, workshops, barracks, residences, and baths. Water was supplied through a complex system of aqueducts. Chroniclers describe over 10,000 workers building the complex on a vast scale and with no expense spared. The best artisans were commissioned to create exquisite palaces and government buildings using only the finest materials from rich marbles and gold and silver tiling to intricate details with precious stones and metals.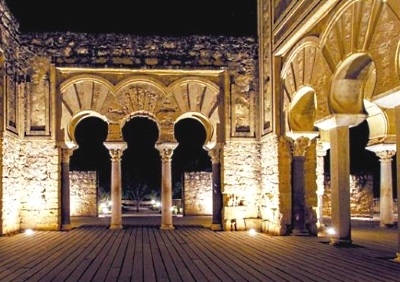 Photos: stunning Islamic architecture of Medina Azahara, Cordoba. 
The aim was political - to project the image of a powerful, cultured capital at the heart of the Umayyad Caliph´s newly-declared Western caliphate; and demonstrate his superiority over his rivals, the Fatimids in North Africa and the Eastern Caliphate in Baghdad & Damascus. It worked, but sadly only for a very short time.
 
In less than 75 years, Medina Azahara had been sacked and destroyed by Berber soldiers in the civil wars and in-fighting that followed. The real jewel of Al-Andalus had been lost forever - and still some 300 years before the Alhambra had even been built! Only around 15% of the original 112-hectare city area has been excavated until now. An excellent modern museum, winner of the Aga Khan award for architecture in 2010, has been installed below the site, close to the parking.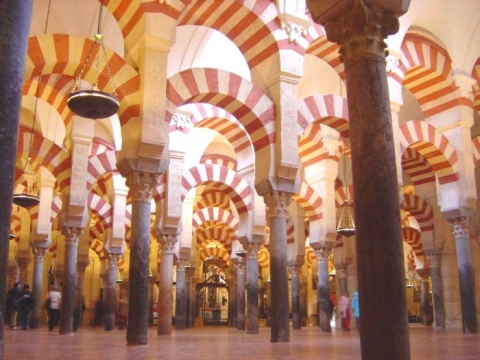 Photo: The Mosque-Cathedral (Mezquita) - one of Cordoba´s 4 UNESCO World Heritage listings. 
While the
Mezquita
(Mosque-Cathedral) of Cordoba
 represents the religious side of what was the largest city in the world 1000 years ago,
Medina Azahara shows us how the population actually lived
then. It is the first representative of
European Islamic urban development
on the World Heritage List. 
It is also the only remaining example of a medieval "Caliphate City" left today as those of Baghdad, Damascus and Cairo lie beneath the modern cities. For this reason, UNESCO has named the site as the Caliphate City of Medina Azahara.  
* How to get to Medina Azahara
Address: Carretera Palma del Río Km 5.5. See location on Google Maps. 
* Medina Azahara opening times: Check here for up-to-date opening times for Medina Azahara and other sites in Cordoba. 
Casa Olea is located around 1 hour´s drive from Medina Azahara, as well as many other UNESCO World Heritage Sites such as the Mezquita & Juderia (Cordoba), the Alhambra & Albaycin (Granada), Ubeda & Baeza and the Megalithic dolmens of Antequera!  
--------------------
2018 a big year for World Heritage in Spain
2018 is also the 25th Anniversary of Spain´s World Heritage Cities group (Grupo de Ciudades Patrimonio de la Humanidad). The 15 Cities are Ibiza, Alcalá de Henares, Ávila, Baeza, Cáceres, Córdoba, Cuenca, Mérida, Salamanca, San Cristóbal de la Laguna, Santiago de Compostela, Segovia, Tarragona, Toledo y Úbeda. 
Special events include on 15 September: World Heritage Night (Noche del Patrimonio), with a programme of cultural events and activities running simultaneously in all 15 cities. 
--------------------
Casa Olea is an award-winning boutique B&B located in the heart of Andalucia, half way between Granada and Cordoba - ideally situated as a base for visiting Medina Azahara, the Mezquita (Cordoba) and the Alhambra (Granada) as easy day trips.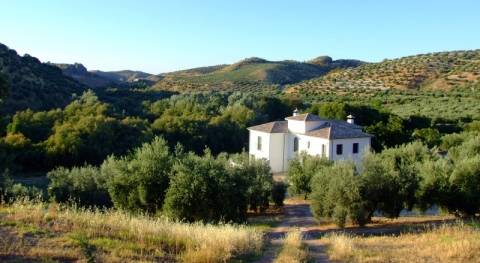 Photo: Casa Olea B&B in the Sierras Subbeticas of Cordoba, Andalucia.