A new motorway has just been opened between the city of Jaen and the UNESCO towns of Ubeda and Baeza. The 50km stretch of new road is apty named the Autovia del Olivar (Olive Motorway) as it winds through Spain´s largest olive belt in the heart of Jaen province. Reducing the journey time to Ubeda from Jaen by around 40%, this new motorway helps open up two of Andalucia´s finest (yet least known) historic towns to visitors – making it now possible to combine them with the region´s "golden triangle" of Seville, Cordoba & Granada.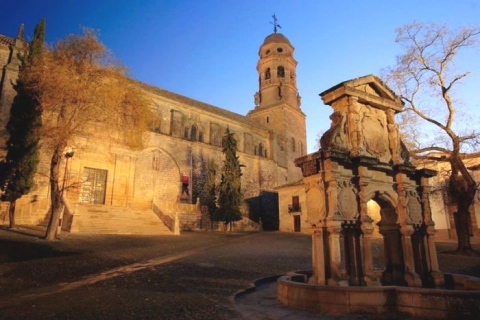 Photo: Baeza cathedral on Plaza de Santa Maria (Turespana).
The newly-opened stretch of the
A-316
now takes only half an hour between Jaen and Ubeda, thus dramatically
cutting the journey time
from other destinations too. And this will be reduced further when the next section of the A316 is completed – the 19km from Martos to the N-432, at the half-way point between Cordoba and Granada. 
The Autovia del Olivar is part of the much bigger "Eje Diagonal Intermedio" project, to build a 170km motorway from Ubeda all the way to Estepa on the A92, providing a major artery across the interior of Andalucia. At the moment, 76km is now open from Ubeda to Martos, with other sections in the planning stage.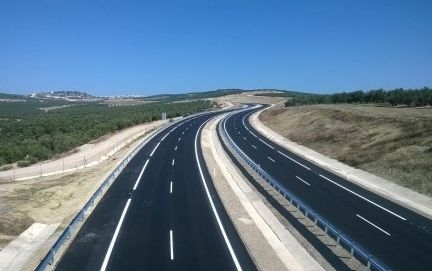 Photo: the new (empty) Autovia del Olivar motorway from Jaen to Ubeda. 
Baeza and Ubeda were two of the first Andalucian towns to be won back from the Moors, with Baeza falling to the Spanish led by Fernando III in 1227. An era of Medieval splendour followed, reaching a climax in the 16th century when some of Spain´s most influential families commissioned many of the
stunning Renaissance buildings
seen today. Located only 8km apart, the density of exhuberant palaces and churches is extraordinary, especially for such small towns, their magnificent public squares ranking among the
finest in Spain
.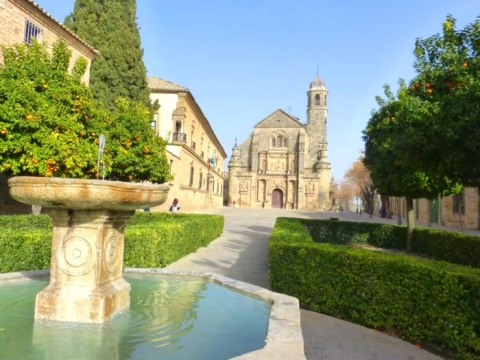 Photo: Capilla de Salvador on Plaza de Vazquez de Molina in Ubeda. 
The wealthy barons of Baeza and Ubeda amassed their huge wealth through agriculture (cereal crops, saffron, olives, wines) as well as leather, silk and textiles. 
Francisco de Cobos, secretary of state to the Holy Roman Emperor Charles V, and his great-nephew Juan Vazquez de Molina were the main "patrons"; hiring renowned architects of the time, such as Andres de Valdivia, to create their Renaissance dream.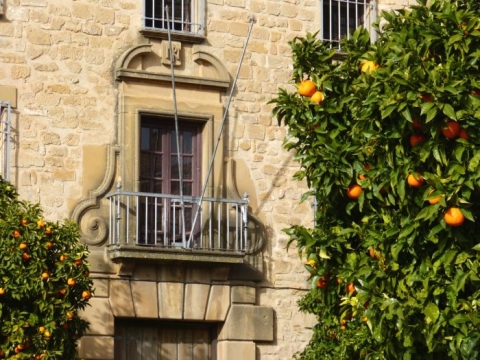 Photo: Balconies and orange trees (in winter) in Ubeda. 
Both towns were designated
UNESCO World Heritage Sites
in 2003 because "
The central areas of Úbeda and Baeza constitute outstanding early examples of Renaissance civic architecture and urban planning in Spain in the early 16th century. The architectural and urban design in Úbeda and Baeza were instrumental in introducing the Renaissance ideas to Spain. Through the publications of Andréa Vandelvira, the principal project architect, these examples were also diffused to Latin America
", UNESCO.
WHAT TO SEE IN UBEDA
Thanks to its newly-improved access
 Ubeda
, often called the "Florence of Andalucia", should now be everyone´s bucket list for places to see in southern Spain. Wander the trio of central squares, surrounded on all sides by magnificent Renaissance palaces and churches and discover its hig
hlights…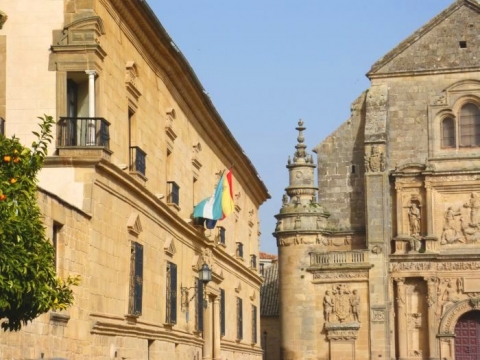 Photo: the parador hotel and Capilla de Salvador, Ubeda. 
Plaza de Vazquez de Molina
One of Andalucia´s most beautiful squares with the
Palacio de Cadenas
, built for the city´s "patron" Vazquez de Molina; the Parador hotel;
Capilla del Salvador
 and 
Santa Maria de los Reales Alcazares church.
Another beautiful square housing the Town Hall, Tourist Office,
Tito´s ceramic shop
, several terrace cafes and the Palacio de Vela de Cobos mansion built in the 1550´s.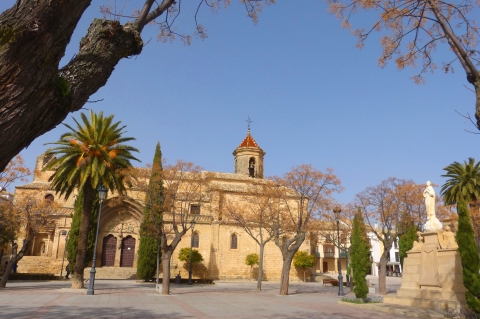 Photo: San Pablo church on Plaza de Mayo, Ubeda.
Plaza de Mayo 
A delightful, open square with
San Pablo church
(13th century apse & 16th century chapel) and a great little tapas bar,
Taberna Misa de 12
.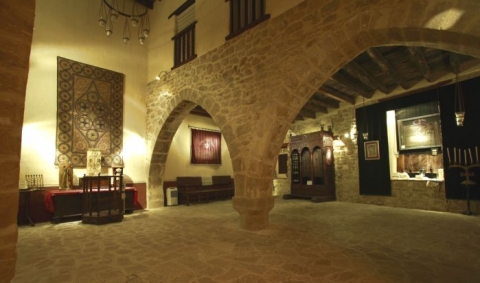 Photo: Sinagoga del Agua, Ubeda.
Sinagoga del Agua (Water Synagogue)
An amazing, recent
archaeological discovery
, highly recommended. Here´s what the Lonely Planet guide says: "The medieval
Sinagoga del Agua 
was discovered in 2006 by a refreshingly ethical property developer who intended to build apartments here, only to discover that every swing of the pickaxe revealed some tantalising piece of an archaeological puzzle. The result is this sensitive re-creation of a centuries-old synagogue and rabbi's house, using original masonry whenever possible. Features include the women's gallery, a bodega with giant storage vessels, and a mikveh ritual bath".
After 4 years of painstaking restoration, the end result gives us a fascinating insight into the Jewish culture of medieval Spain. If you´re visiting in June, don´t miss the summer solstice (approx. 18-28 June) – when the first rays of sun stream through a doorway to light up the mikveh below (advanced booking essential).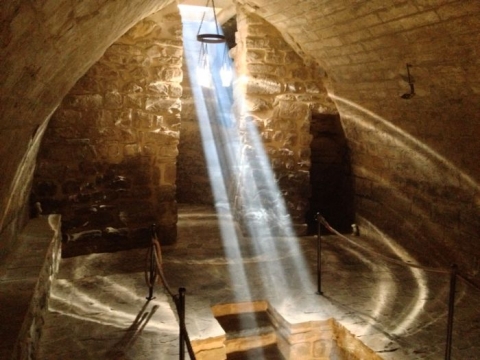 Photo: summer solstice at the Sinagoga del Agua, Ubeda.
Hospital de Santiago
Completed in 1562 by Andres de Valdivia - for centuries a hospital, now a conference centre.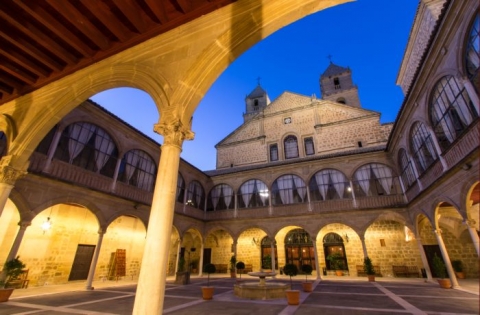 Photo: Hospital de Santiago, Ubeda (Paco Consuegra, Wikipedia).
Archaeological Museum / Casa Mudejar
A small collection but worth visiting for its setting, a beautifully-restored Mudejar palace. 
Photo: Antique restaurant on Calle Real, Ubeda. 
Calle Real 
Ubeda´s attractive main street for tourist shops and bars – our favourite 
places to eat
are
Antique
and La Imprenta.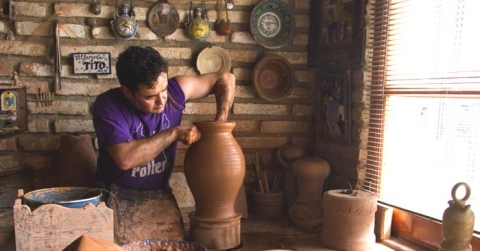 Photo: Alfareria Tito, pottery workshop in Ubeda.
Ceramic workshops
Follow signs for Barrio Alfarero (potters´quarter) and head to
Calle Valencia
for pottery workshops, including the famous
Titos
.
WHAT TO SEE IN BAEZA
Baeza is half the size of its neighbour but is also stacked full of beautiful Renaissance buildings. Well worth visiting, for highlights including: 
Cathedral
A very impressive building designed by Andres de Valdivia in 1567 and much restored since, but still retaining its 16th century façade.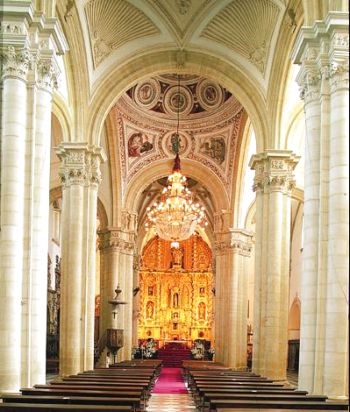 Photo: Baeza cathedral.
Plaza de Populo
Baeza´s most beautiful square, with the Fuente de los Leones (Lions Fountain) and Ibero-Roman statue in the middle, overlooked by the Casa del Populo palace (now the Tourist Office).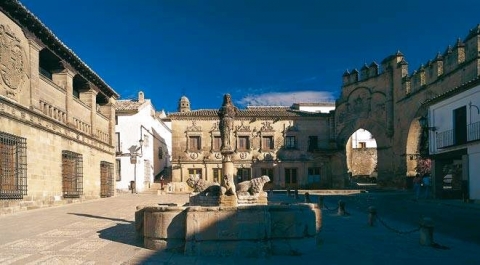 Photo: Plaza del Populo, Baeza.
Puerta de Jaen, Arco de Villalar
& the 1000-year old Morrish tower 
Torre de los Aliatares
.
Palacio del Jabalquinto
Splendid Gothic palace with ornate facade and elaborate buttresses.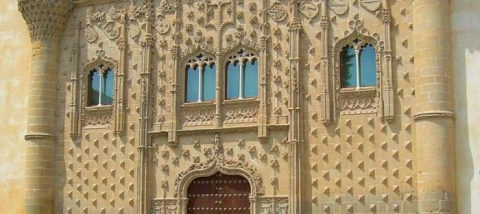 Photo: Palacio del Jabalquinto, Baeza. 
Antigua Universidad
One of Spain´s first universities, dating back to 1542, a stunning Renaissance and Baroque building, now part of the University of Granada. 
Paseo de la Constitucion
The main square of Baeza, surrounded on all sides by lovely porticoed buildings eg the old corn exchange (La Alhondiga) and 16th-century slaughterhouse (Antigua Carniceria). 
---------------------------------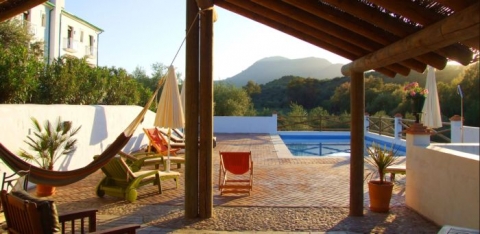 Photo: Casa Olea B&B, near Priego de Cordoba (Andalucia).
CASA OLEA
is an award-winning small rural hotel, located close to Priego de Cordoba in the
Sierras Subbeticas
mountains. Situated in the heart of Andalucia, around an hour´s drive from Ubeda, Baeza, Granada and Cordoba, and ideally placed for day trips to them all; as well as hiking and biking in the surrounding hills and olive groves. 
Voted in the Top25 B&Bs/Inns in Spain from 2011-2016, 
Tripadvisor Travellers Choice Awards.

Photo: Granada and the Alhambra at night, Patronato de Alhambra.