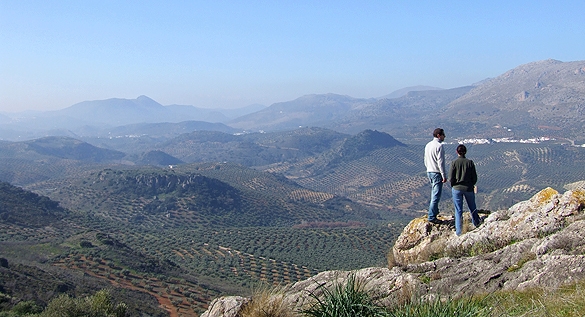 Looking for a romantic getaway in Andalucia...?
Didn't get the time off for a Valentines escape, and still need inspiration for a romantic break this year..?
Well, Andalucia has been listed in Lonely Planet's Top 10 Honeymoon Destinations for 2014, as one of the most romantic destinations for travelers this year. Whether you're planning a honeymoon or just looking for a nice romantic weekend away, we think Lonely Planet is spot on when it says "Few things are dreamier than an alfresco lunch under the sunny skies at the olive orchards of southern Spain…."
So, using our local knowledge of Andalucia and having an eye for a dreamy experience when travelling, we've come up with a couple of "Top 5" lists for anyone looking for ideas when planning a romantic getaway in southern Spain…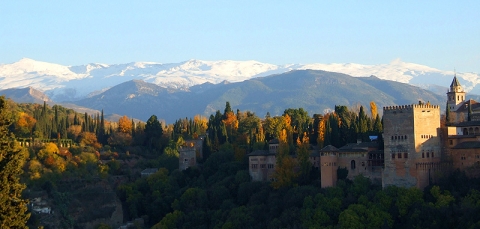 1) Our Top 5 most Romantic Things to Do in Andalucia…
* Discover exquisite Moorish patios and gardens at the Alhambra in Granada, then walk across the old town for a drink at Huerta de Juan Ranas, a terrace bar/restaurant near the Mirador San Nicolas with the best views in town (see above) - across the rooftops to the Alhambra framed by the snow-capped Sierra Nevada mountains in the distance.    
* Explore the beautiful palace courtyards and gardens of the Alcazar in Seville, then wander along the river (Rio Guadalquivir) from the Torre de Oro to Triana bridge (Puente de Isabel II) and have a drink on the roof terrace at the El Faro de Triana bar for wonderful views over one of Spain's most romantic cities.     
* Hike to a hidden cove (see below) and have a gorgeous white-sand beach all to yourselves in Cabo de Gata national park, near Almeria. The dramatic contrast of arid, rocky scenery, sheer cliffs and crystal clear water is quite something; and even better if there's noone else around! Avoid peak months of July & August.     
* Go for a hike with a picnic in the olive groves (at Casa Olea) - walking through limestone gorges, holm-oak woodland and the beautiful wide-open spaces of the Sierra Subbetica national park, with only grazing goats and circling Griffon vultures to distract you! You can take our dog, Ruby, with you too if you want a guide!     
* Enjoy long, lazy al fresco lunches under deep-blue skies on shady plazas with orange trees. There can be few better ways to spend an afternoon in Andalucia!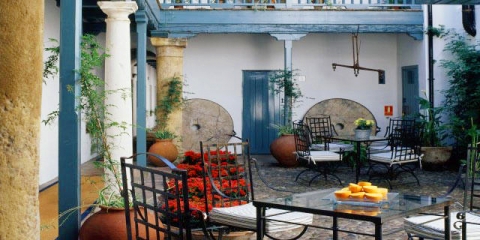 2) Our Top 5 most Romantic Places to Stay in Andalucia…
* Las Casas del Rey de Baeza, Seville 
Part of the excellent Hospes chain of hotels, with tasteful interiors (see above), personal service and all the home comforts you could want. Request a "superior room" with balcony at the front and big bath to soak in! Easy walk to the Barrio Santa Cruz and cool tapas bars (eg La Giganta) closeby.
* Casa Lucia, Santa Lucia, Vejer de la Frontera
A beautiful 2-bed villa located in the peaceful "oasis" of Santa Lucia, just a few minutes' drive from the hill-top white village of Vejer de la Frontera. Gorgeous pool (see below) and terraces with views, shady avocado and lemon trees and just a short walk from a nice local bar and good restaurants up the hill.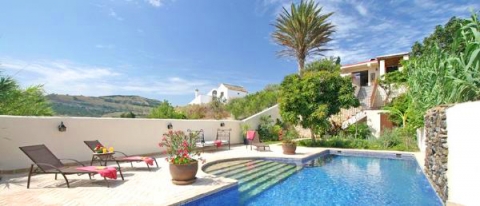 * La Fuente de la Higuera, Ronda (Malaga)  
A short drive from the historic town Ronda, famous for its spectacular cliff-top setting and bull ring; this is a lovely country hotel with nice gardens and a great pool. If visiting in winter, request a room with its own "lounge" and cosy log fire to snuggle by.
 * Almendro y Gitano, Cabo de Gata (Almeria)
A few miles outside the fishing village of Agua Amarga, this is a popular hideaway for the trendy Madrid set in summer. Don't expect evening meals (they only serve breakfast) but the location is wonderful and the suites have amazing big baths to soak in (see below) after a day at the beach in the Cabo de Gata national park.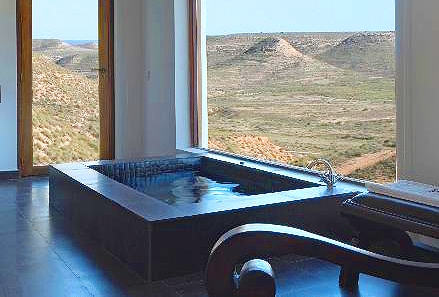 * Casa Olea, Priego de Cordoba (Cordoba)
Half way between Granada and Cordoba, and set in a peaceful river valley surrounded by ancient groves and stunning sierras, this restored cortijo (olive farm) is a great place to get away from it all. Laze in the hammock pool-side or head out on a romantic walk in the hills with a picnic; then come back for sundowners on the terrace (see below) and a candlelit, home-cooked meal under the stars.