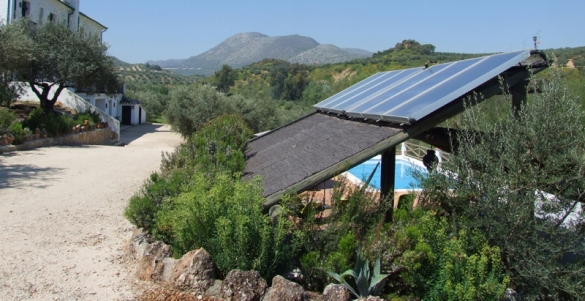 Casa Olea has just been included in the Top 16 List of Eco-friendly Inns/B&Bs worldwide by BedandBreakfast.com in honor of upcoming Earth Day (22 APRIL) – the only eco hotel in Spain to make the list. 
Green accommodation in Andalucia, with indulgent touches
We love the stunning countryside of this hidden corner of Andalucia and we're serious about helping to preserve it the way it is. So, as the line between genuine "eco hotel" and "green wash" becomes more blurred these days, we have tried extra hard to ensure that everything about Casa Olea is based on the strong "green values" we're proud to promote…
ENVIRONMENTAL COMMITMENT
- 6 Solar Panels providing 100% of our hot water needs.
- A Biomass Boiler generating 100% of our under-floor heating, burning recycled olive waste pellets from our local olive cooperative mill in Zamoranos.
- Certified 100% renewable energy from our electricity provider (Energya VM).
- Low-energy & LED light bulbs and A+ low energy electrical appliances throughout the house.
- Eco toiletries in all bathrooms, made from natural ingredients and certified organic extracts and packaged in 100% recycled plastic, refillable bottles to avoid waste.
- Extensive recycling & ongoing campaign to help protect and clean up the surrounding area.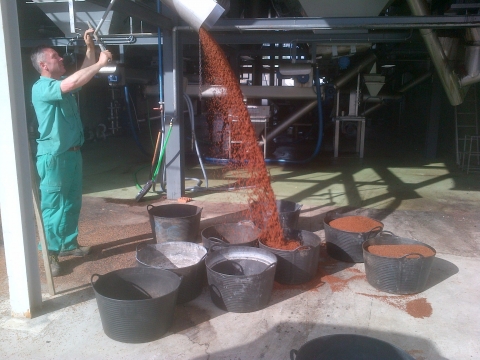 Photo: collecting our biomass (olive pips) fuel at local olive mill.
GENUINE BENEFITS to the LOCAL AREA
- Local builders & architects used throughout the whole building/renovation process.
- Local artisans used for architectural details – hand-made tiles, wrought-iron work, carpentry.
- Corporate identity and website both designed by local design companies. 
- Work closely with our local Olive Cooperative to produce our "Limited Edition, 100% Natural" Extra Virgin Olive Oil and help promote the region's olive oils in the UK and abroad.
- Our lovely staff (Sara, Maria Jesus & Paco) are all from Zamoranos, our local village.  
- The vast majority of our ingredients are sourced fresh and in season, from small-scale local suppliers and always within a 15-km radius of Casa Olea.
- We only offer Spanish wines with approx 50% of our wine list sourced from small, family-run bodegas in Andalucia, one of Spain's most underrated wine-making regions.
- Bottled mineral water from Andalucia – Sierra de Loja (rooms) and Sierra de Jaén (bar).
- We always source Spanish, and better-still Andalucian, whenever possible for all food & drinks.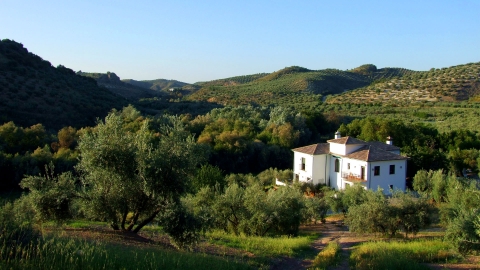 ------------------------------
* For more on Earth Day  22 April 2013
"On April 22, 2013, more than one billion people around the world will take part in the 43rd anniversary of Earth Day. From Beijing to Cairo, Melbourne to London, Rio to Johannesburg, New Delhi to New York, communities everywhere will voice their concerns for the planet, and take action to protect it…"  
* Check out this web site for more of the best Green Holidays in Spain…