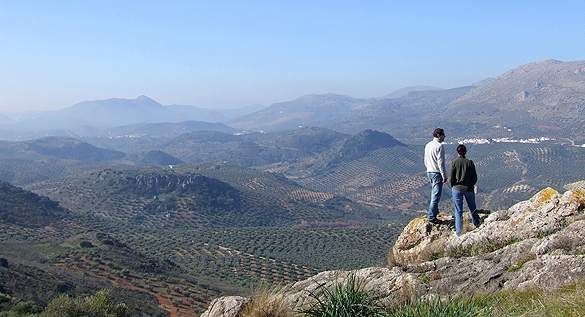 The Parque Natural de la Subbética near Priego de Cordoba celebrates its 25th anniversary in 2013 and yet remains one of Andalucia's least visited national parks. Located at the heart of Andalucia, equidistant from the magnificent cities of Granada and Cordoba, this unspoiled mountainous region lends itself as a relaxing base for visiting these great cities, discovering local towns and white villages (eg Priego de Cordoba, Almedinilla and Zuheros) and for walking and mountain biking in the hills and olive groves.
After what's been the wettest March on record, the beautiful sierras and river valleys around Casa Olea are looking at their most stunning with wild flowers and verdant green everywhere. Spring in Andalucia also offers the ideal weather for outdoor activities and site-seeing, usually with sunny days and daytime temperatures in the 20s C.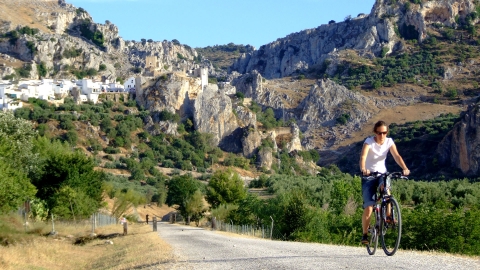 - A good range of self-guide walking routes in the hills, with detailed notes and maps provided. Routes from 2-5 hours, both in the national park and straight from the house.
- If walking from the house, our lovely dog Ruby will be happy to "guide" you!   
- Mountains bikes for rent with several routes suggested with maps, from the house and along the nearby Via Verde de la Subbetica, the reclaimed "Olive Train" railway line which is now a scenic walking/cycling path (see photo above).    
* Andalucia in April – Fiestas & Late Space
Relax and unwind surrounded by nature at Casa Olea, then experience the lively April fiestas in Cordoba or Seville…
- 17 to 21: Cata del Vino Montilla-Moriles in Cordoba.  Sample wines from "the other" sherry producing region in Andalucia, Montilla Moriles, with over 20 local bodegas on show, along with local food, music and other activities. 
- 16 to 21:  Feria de Abril in Seville, one of Andalucia's biggest fiestas with parties throughout the city, flamenco events and bull fights.
Casa Olea in April – Book Now!
We still have a few rooms available from April 5-15 and also April 27/28/29. Availability correct on 03 April 2013.