Planning a cycling break in Spain - a spring escape with a bit of biking and some culture; or a serious cycling training camp? Whatever your level, rural Andalucia has it all: great scenery, great weather, great culture, great accommodation, great food and, of course, great roads and great cycling!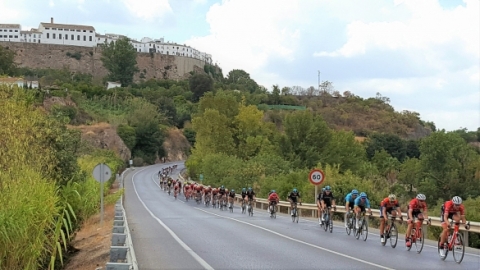 The peloton passes by Priego de Cordoba in La Vuelta.
Spain and top-level cycling have long gone hand in hand, with the La Vuelta being one of the three classic Tours and many professional teams choosing to train in Spain thanks to the favourable climate, challenging terrain and excellent infrastructure. But until recently, southern Spain has remained surprisingly "off the radar" for most leisure cyclists; while Mallorca, Girona, Canary Islands and the Costa Blanca have become firmly established as top destinations for Spanish biking trips. But some of these regions are starting to get overcrowded, especially in the peak months of spring and autumn. So, if you are looking quiet open roads and amazing scenery, where in Spain is the next big thing for cycling...?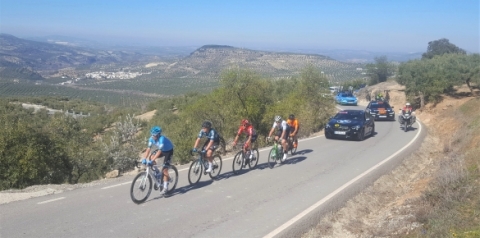 Photo: the Vuelta Andalucia in the Subbetica.
* Cycling in rural Andalucia - Spain´s best kept secret 
Spain is not an island – look beyond Mallorca to Andalucia for your cycling break. Well-respected cycling writer and blogger Jim Cotton spells it out in his post "Spain is NOT an island", encouraging cyclists to look beyond Mallorca to emerging cycling locations in mainland Spain instead. Andalucia, in southern Spain, he says offers the lot…
"With a mix of rugged, rolling hills, huge breathtaking valleys, and switchback-laden mountains, this section of Spain is breathtaking, in a sort of barren and arid sort of way. Everywhere feels so natural and unkept, nature has been left to do its thing, and the towns and villages look like they've not changed for the last 50 years. Despite this, the roads are immaculate; easily up there with those of Mallorca for smoothness. The rugged hills and dramatic coastlines of Southern Spain feel so wonderfully empty. Riding in the area in Spring, you'll see riders out and about, but you're more likely to see locals.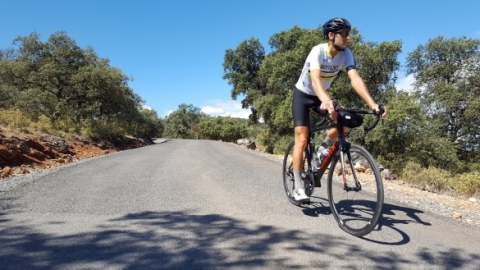 Deep in the mountains of southern Spain, the world is almost unnervingly desolate. I've been riding there and seen literally nothing – no cars, no people, no houses – for up to an hour at a time. You feel like you're in another time, another world. For me, this element of escape and sense of exploration is one of the things I love about a bike, that sense that you're the first person to ever experience that stretch of road (of course, you're not, but you know). And riding in these desolate locations has the added bonus that, when you do stop in one of the infrequent shops or cafés for a tostada and café con leche, the food is authentic, and your custom is welcomed – you feel like you're actually contributing to a community".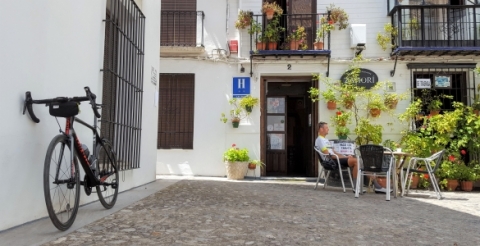 Photo: quaint terrace cafe in Priego de Cordoba.
So, while Andalucia is best known for its vast coastline bordering both the Atlantic and Mediterranean, it also has some wonderful mountain scenery for cycling. In fact, around 50% of Andalucia is mountainous terrain - a third of which is over 600 metres above sea level. It has an extensive high plateau and 46 peaks reaching over 1,000 metres. The Sierra Nevada, near Granada, is the most famous and has the region's highest peaks – Mulhacén and Veleta are both over 3,400 metres – and the most gruelling climbs! But there are many other smaller ranges with fabulous mountains and valleys for cycling and peaks of up to around 2000 metres.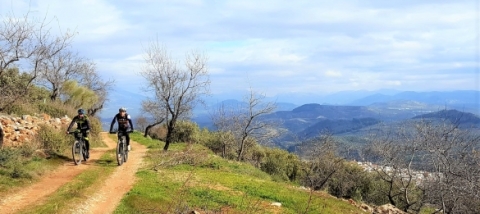 One such region is the Sierras Subbéticas (also known as the Subbética), a natural park situated slap bang in the centre of Andalucia; in the middle of the triangle of historic cities Cordoba, Granada and Malaga. This unrivalled location allows you to use the Subbética as a beautiful, peaceful base for exploring by bike - with easy access to the region´s biggest airport (Malaga is 90 minutes´ drive away - and also have the sites of Cordoba and Granada close by for an easy day trip if that appeals and time allows.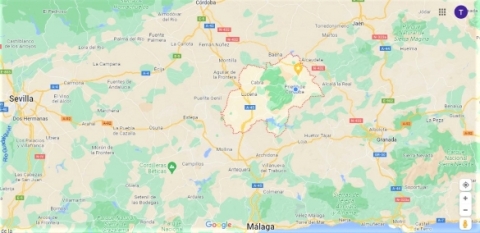 The Subbetica is right in the centre of Andalucia, north of Malaga, between Granada and Cordoba.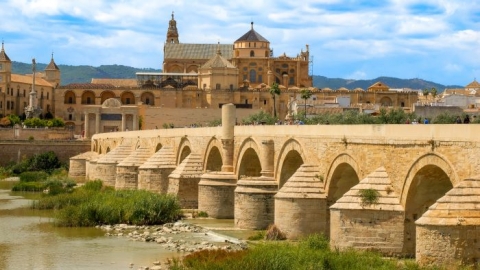 Photo: Cordoba´s mezquita (cathedral) and Roman bridge.
* Cycling in the Subbetica – centre of Andalucia 
Explore hidden sierras, ancient olive groves and white villages by bike! Often featured in La Vuelta tour of Spain, the Subbetica is a fantastic destination for a road cycling holiday with smooth, open roads, very little traffic and cyclist-friendly locals. For more leisurely cycle touring, explore the quiet backroads, white villages and Via Verde del Aceite greenway. For those looking to get off-road, there are lots of mountain bike trails throughout the region too.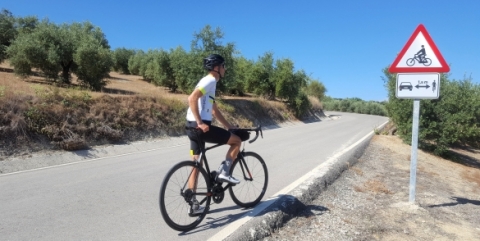 So why choose the Subbetica for a biking trip?
- Easy access: direct flights to Malaga from all over Europe, as well as USA (New York) and Canada (Toronto); plus, many more flights to Seville and Granada. Excellent road network, thanks to the new, empty EU-funded motorways, means a quick transfer from the airport to the mountains. The Subbetica is located in the geographical heart of Andalucia, with access to Malaga (90 minutes), Granada (1 hour) and Seville (2 hours) for airports and AVE fast-train stations. 
- Short flights: most European flights to Malaga, Seville or Granada are between 2 to 3 hours in duration, ideal for a quick escape or long weekend away, without losing lots of time travelling. 
- Good roads for cycling: roads with a good surface, no traffic and great views. Even the quietest country backroads are well maintained and have a smooth surface.  
- Climate: over 300 days a year of sunshine, superb weather conditions most of the year, especially March to June and September to November. Winter, from December to February, is also good, but the mornings can be very chilly. Peak summer months of July and August are very hot, so best avoided for cycling, unless you are an early bird and get out at dawn for a few hours (when it´s gorgeous). 
- Terrain: interesting, varied routes; plenty of good climbs; and the Via Verde del Aceite (read more below) a disused railway line now greenway. Plenty of gravel and MTB routes possible in the natural park and on farmers´ 4x4 dirt tracks. 
- Landscape: beautiful rolling hills with ancient olive groves; jagged limestone peaks and quiet river valleys.
- Culture & Food: typical Andalucian pueblos blancos (white villages) with hilltop medieval castles, Moorish watchtowers and shady plazas with local bars for tapas and good coffee! Combine cycling here with day of culture at UNESCO heritage cities Granada (Alhambra) and Cordoba (Mezquita). The world´s best olive oils, relaxed terrace cafes with tasty tapas and local wines, jamon and artisan cheeses! 
- Bike-friendly area: there´s a large local following for cycling so drivers are respectful with their distances, cycling clubs are active and a handful of local hotels are now well set-up with cycling-friendly facilities (see more below).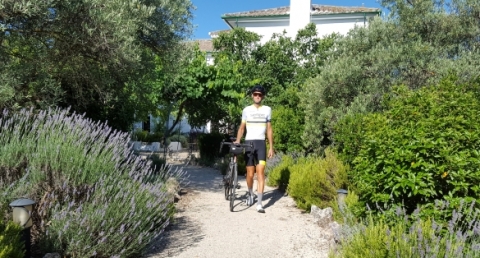 * Road biking in the Subbetica
The Vuelta a España regularly has stages which pass through the Subbética; such as stage 11 of the 2021 Vuelta route which crossed the region, en route between Antequera and Valdepeñas de Jaén. Naturally, the Vuelta usually includes linear routes; but the same climbs they use can easily be incorporated into circular rides, so transport is not needed between A & B and there is no need to move any bags on with you.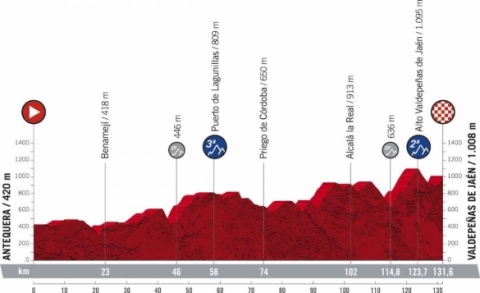 The Vuelta de Andalucia - also known as the Ruta del Sol - is one of the key "season openers" for the UCI Pro Series cycling teams, and usually attracts most of the sport´s biggest-name teams and riders. Most years, the route passes through the Subbetica. Last year (2022), all 4 days were in the Subbetica!  This year, stage 4 of the 2023 Vuelta Andalucia (Feb 15-19) took the riders through Lucena, Rute and Iznajar in the southern end of the Subbetica. The 17 teams competing included UAE Team Emirates, Ineos Grenadiers, Astana, Bahrain Victorious, Movistar and more; with top riders including the likes of Tadej Pogacar (recent winner of the Clasica Jaen race in February), Tao Geoghegan Hart, Enric Mas, Mikel Landa, Carlos Rodriguez, Tim Wellens and Egan Bernal. 
One of our nearby towns, Alcala La Real, is also regularly featured in both races, often as a stage end or start. So, the roads around us here in the Subbetica offer the rider lots of great cycling and challenging climbs. Casa Olea (see more below), a small boutique hotel near Priego de Cordoba, has a good selection of routes mapped, with GPX tracks available for download.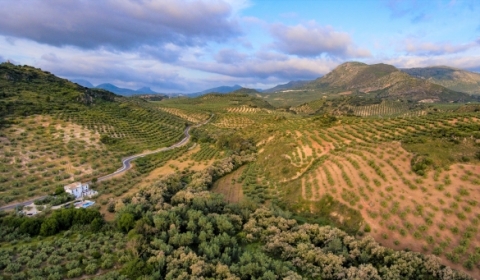 Photo: Casa Olea, a small country hotel in the Sierras Subbeticas, Andalucia.
* Mountain biking in the Subbetica 
The area is also great for "off road" biking. The local Subbetica tourism authority has set up two circular bike routes which cover most of the Sierras Subbeticas - mixing off-road, dirt tracks and some sections of backroads. The MTB Norte and MTB Sur routes can be combined into a longer route, or with other signposted stone tracks in the area, many of which follow ancient drover´s trails once used for transporting livestock.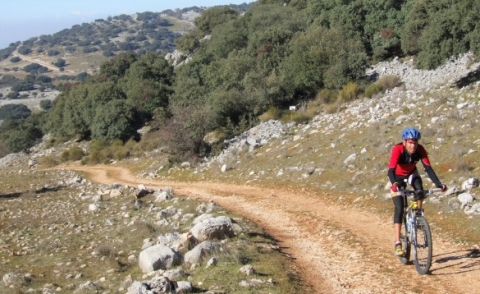 - MTB Subbetica Norte & Via Verde del Aceite: 88.87km, circular route between Cabra, Lucena, Zambra, Carcabuey, Luque, Zuheros.  
- MTB Subbetica Sur: 47km, circular route between Rute, Iznajar, El Higueral and Las Lagunillas.
Photo: family biking on the Via Verde de Aceite, Zuheros. 
* Via Verde del Aceite / The Olive Route greenway 
The Via Verde del Aceite greenway passes through the Subbetica and is the longest greenway in Andalucia at 128km. Now a popular track for cycling and walking, it was once the railway line used for the Olive Oil railway. First constructed in 1882, and featuring several large iron viaducts built by French engineers Daydé et Pile (disciples of Gustave Eiffel), the line was abandoned in 1985. The Via Verde del Aceite greenway opened in 2001. The path follows the Jaen-Puente Genil 'Olive Oil Train' line, which transported olive oil from the interior to the ports of Malaga and Algeciras. The Via Verde de Aceite - Olive Oil greenway - is also perfect for those who are also interested in history. During your ride you can see/visit no less than 7 medieval castles and watchtowers, as well as several typical pueblos blancos along the way. Read more about the Via Verde del Aceite greenway.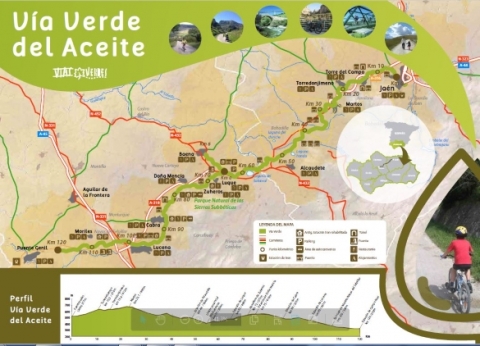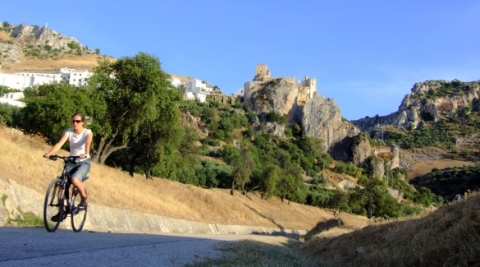 * Cycling the Vias Verdes in Andalucia 
Andalusia has 24 disused railway lines that have been transformed into greenways for biking and hiking. All if the trails are linear, well surfaced and signposted. Most are perfectly suitable for families and are wheelchair friendly.
On some routes, you can also find restaurants, picnic areas and local museums; often housed in restored station buildings alongside the old railway line. Although, the routes are very diverse, they all have one thing in common, the scenery is always spectacular and cycling along these greenways is a great way to explore lesser-known corners of rural Andalucia.
* Vias Verdes in Spain – 30 years old in 2023! 
When the trains stopped rolling over these tracks once and for all, they fell into disrepair and were forgotten. The old lines have now lost their rails, and what was once the domain of wagons and locomotives is the realm of cyclists, walkers and day-trippers. 
"Weaving through some of Spain's most beautiful landscapes and found all over the country, from the ancient port city of Cadiz on the west coast to the wild, windswept Aragon mountains in the far north, there are 135 vias verdes — old railway lines transformed into trails. Ranging from a short three-mile mooch to a 100-mile odyssey from mountains to coastline, the greenways are largely flat, well signed, and often come complete with bike rental shops, as well as little cafes and hotels to refuel at, housed in restored stations. Through the recovery and conditioning of this heritage, the Greenways have positioned themselves as one of the most valued ecotourism proposals in Spain", National Geographic.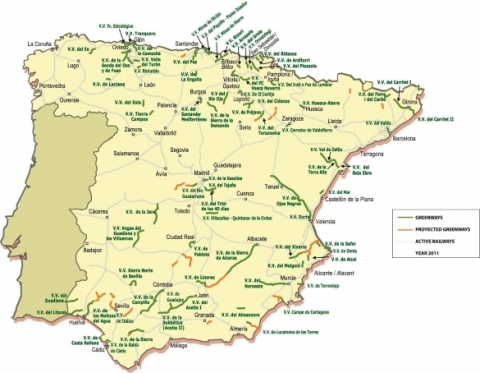 Map of Spain´s large Vias Verdes network of disused railway lines. 
From north to south and east to west, there are thousands of kilometres to be covered on fascinating routes that will take you to stunning spots and reveal a great deal about Spain's cultural heritage. The Vías Verdes (Greenways) Programme was launched in Spain in 1993 with the aim to develop itineraries for non-motorised transport using disused railway lines. Of over 7,600 km of disused railway lines that existed in 1993, nearly 3,300 km have so far been converted into greenways running across Spain. They make an attractive and sustainable resource for the public to enjoy the natural environment and discover Spain's rich landscapes and cultural sites in an easy, environmentally friendly way.
The development of Greenways extends beyond the Spanish frontiers. In 1998 the European Greenways Association (EGWA) was created in Belgium, with its offices located in Madrid, at the Spanish Railways Foundation (FFE). Currently more than 50 member organizations from 19 countries support the EGWA.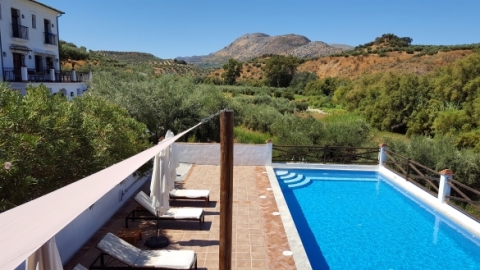 Photo: pool with a view at Casa Olea, near Priego de Cordoba. 
* Casa Olea – bike friendly hotel in the heart of Andalucia 
Located in a peaceful river valley in the heart of the Sierras Subbeticas, Casa Olea is a cyclist-friendly hotel with everything you need for a cycling break, with safe bike storage, downloadable suggested GPX routes, outdoor taps for cleaning, bike rental, track pump and basic tools at your disposal and laundry if required. Plus there´s a gorgeous pool to cool off in and we serve healthy, home-cooked evening meals with local wines to help you re-fuel at the end of the day. And if you´re missing any gear, there is a fantastic local bike shop in Priego de Cordoba, a short drive/ride away. We can also provide airport transfers or bike transport if needed.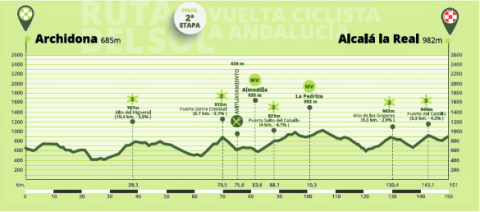 Follow the routes used by the pro teams!
With 300+ days/year of sunshine, it´s a great location for a cycling trip, especially in the late autumn, winter and early spring; when the weather is not the best in northern Europe. Cycling is a very popular sport here so drivers are respectful and used to giving cyclists lots of space. From gently-paced leisure cycling through ancient olive groves, peaceful river valleys, or along the Via Verde del Aceite; to more challenging climbs amid stunning mountain scenery, as featured on La Vuelta. With lots of the quiet, twisting country lanes, passing through traditional white villages, this is rural Andalucia at its authentic best. 
* Bike rental in the Subbetica
At Casa Olea we have a range of bikes which can be rented by our guests and used for a good selection of routes leaving from the property:
- 4 hybrid bikes for adults or larger/older kids
- 2 smaller frame hybrids, ideal for young teens (eg age 10-13) 
- 1 small bike for younger kids (eg age 7-9) 
- 2 e-bikes for adults (one large, one medium)  
- 2 road bikes for adults (one large, one medium)     
Advance booking is essential for the e-bikes and road bikes, along with information about the size of bike you require. Note - we can arrange more e-bikes or road bikes if required, but only with prior notice.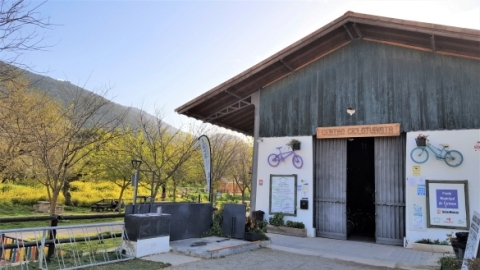 For cycling on the Via Verde del Aceite, bikes can also be rented at the Centro Cicloturista Subbetica bike centre, on the greenway itself. Located near the village of Doña Mencia, it is approximately half way along the route and is a great option for families and their location is ideal for visiting the picturesque white village of Zuheros and Luque; as well as exploring one of the prettiest sections of the Via Verde route. They have a decent range of bikes for rent, including e-bikes and mountain bikes. 
Casa Olea is a beautiful spot for non-cyclists too - so don´t hesitate to bring your non-cycling partner or friend with you! We have a good range of self-guide hiking routes in the area (downloadable using our navigation app); and it´s a very peaceful spot for some much-needed down-time by the pool, if no activity is the preferred option!  Watch our video - hiking & biking in the Sierra Subbetica, Andalucia.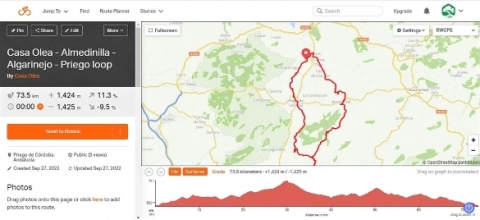 Choose from a selection of Casa Olea´s routes on RidewithGPS.
* Recommended cycling routes
At Casa Olea we can suggest a good selection of routes of varying lengths (from 11km to 100km) and terrain (road and mtb), to show you the best cycling in the Subbetica. Don't know the area? No problem - we know the local routes well and we can share gpx files with you from our collection on cycling app RidewithGPS.  Casa Olea makes a great base for lots of stunning day rides, far away from the crowds.  
* Cycling clubs & training camps
With only 6 bedrooms Casa Olea is the ideal size for a private cycling group, renting the whole cortijo with catering provided. All bedrooms have their own en-suite bathroom and can be set up with twin single beds or super-king double bed. We serve healthy home-cooked meals here and can tailor everything to your group´s needs and dietary requirements. Having been open since 2009 (and living here since 2007), we know the local area very well and can help arrange transport where needed also - from airport transfers to a pickup at the end of a long linear route etc.  Get in touch if you have any questions and we´ll do all we can to help plan a great cycling break to this unknown corner of rural Spain for you.  
----------------- 
Casa Olea is an award-winning, boutique B&B situated in the beautiful Sierras Subbéticas mountains close to Priego de Córdoba, just 90 minutes´drive inland from Malaga and ideally placed for day trips to Córdoba (Mezquita) and Granada (Alhambra). The hotel has been rated as one of the Top 25 Best B&Bs/Inns in Spain on Tripadvisor from 2010 to 2020; and has regularly featured in leading travel press (Times, Telegraph, Guardian, El Pais, Boston Globe etc) as one of Andalucia´s most charming small hotels.