Southern Spain & Portugal road trip
Route: Faro to Granada (10 days to 2 weeks) - Faro, Tavira, Rio Formosa National Park, Seville, Córdoba, Sierras Subbéticas National Park, Granada. 
Best for: Idyllic Beaches, Moorish Wonders, Mountains, Olive Groves, Healthy Food & Local Wines.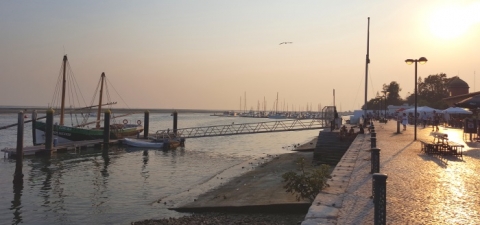 Photo: dreamy summer sunsets by the sea, Olhao (Algarve).
With all the depressing talk of Trump´s wall and Brexit hard borders, we thought it was time to suggest an uplifting cross-border road trip - effortlessly combining two European countries and some of the region´s best sites and landscapes. And a gentle reminder of just how cool it is to not even notice a border as you go…!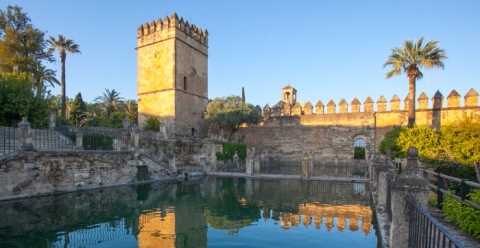 Photo: Córdoba is one of the many UNESCO World Heritage Cities of Andalucia.
The big American road trip may be the most iconic of journeys, but Europe´s mix of good roads, short distances between sites and amazing scenery offers drivers lots of great road trip options too. And while the excellent fast-train network allows you to travel between most big cities easily, having your own rental car gives you added flexibility to stop when and where you like and get more off-the-beaten track.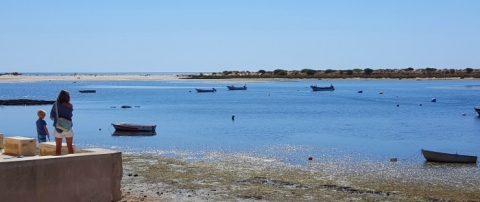 Photo: off-shore cayes waiting to be discovered in the Rio Formosa National Park (Algarve).
Driving may be a chore at home, when you´re struggling on your daily commute in horrendous traffic, but it´s surely the best way to explore when on holiday. And often it´s the only way you can get to that hidden beach, tiny mountain village or local fiesta along the way - exploring the quieter rural areas and giving you those memorable travel experiences away from the crowds. 
* Suggested route: Faro, Tavira & Rio Formosa National Park, Seville, Priego de Córdoba & Sierras Subbéticas, Córdoba, Granada.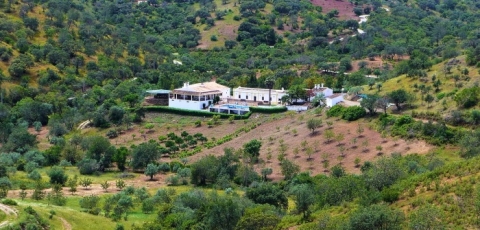 Photo: to get off-the-beaten-track, choose rural accommodation near the big sites (Herdade da Corte).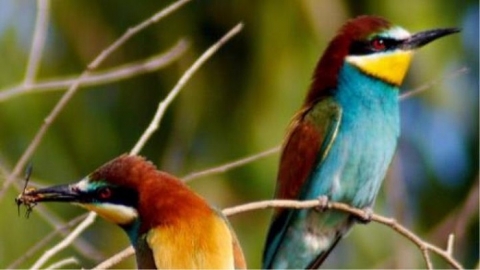 Photo: bee-eaters, summer visitors to rural areas of the Algarve and Andalucia. 
* Accommodation: Stay in eco-focused, boutique B&Bs along the way: Herdade da Corte near Tavira and Casa Olea in the Sierras Subbéticas; plus a central, boutique hotel in Seville (eg Hotel Amadeus or Casa1800). Staying in just three hotels allows for more time to wind down and disconnect in each place and minimizes time wasted on check-ins/check-outs and packing/unpacking along the way. Tip - the rural areas are much cooler and quieter at night than the more hectic/noisy cities!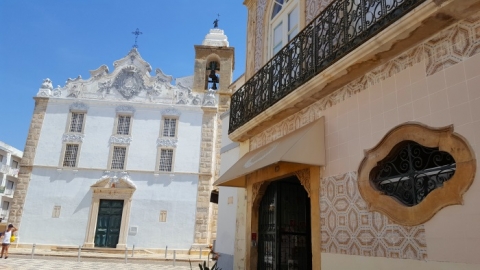 Photo: beautiful historic buildings in small towns throughout the Algarve & Andalucia. 
Herdade da Corte: family-run 11-room B&B in a peaceful back valley, just 15 minutes´ drive inland from Tavira. Lovely rural setting, tasty evening meals and local wines. A relaxing base for exploring both the nearby beaches and stunning Rio Formosa National Park, as well as pretty sea-side towns like Tavira and Olhao.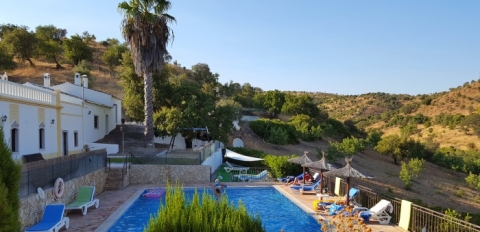 Photo: pool and country views at Herdade da Corte, Tavira (Algarve).
Casa Olea: charming 6-room B&B surrounded by ancient olive groves and mountains, located 15 minutes´ drive from Priego de Córdoba. Half way between Córdoba and Granada, both around an hour´s drive away for easy day trips. Healthy home-cooked evening meals, local wines, organic produce. Good for hiking, biking, stargazing and exploring local white villages in the Sierras Subbéticas national park.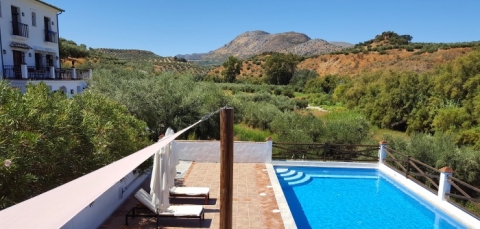 Photo: Casa Olea pool view of Sierras Subbeticas, near Priego de Córdoba (Andalucia).
* When to go: best from May to September. It´s true, the summer months are hot, but good weather is guaranteed then and it´s the best time for the beaches and poolside R&R! Local fruits and vegetables are also at their peak in the summer months (including fresh figs), so you´re sure to eat well! Plus, for those interested in nature, you´ll enjoy seeing the summer visitors such as bee-eaters (see above), hoopoes, orioles, honey buzzards etc.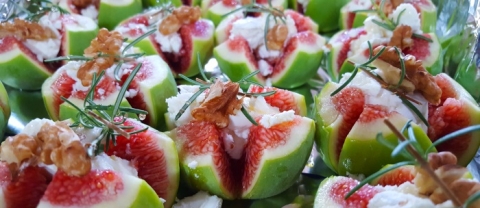 Photo: healthy, home cooking with summer fruits at Casa Olea (Andalucia).
Plus, there are lots of cultural festivals and events on in summer, from local village fiestas to internationally-acclaimed dates such as the Granada Music & Dance Festival (21 June - 12 July) and Cordoba´s Noche Blanca Flamenco fiesta (15/16 June) and Guitar Festival (04 - 13 July).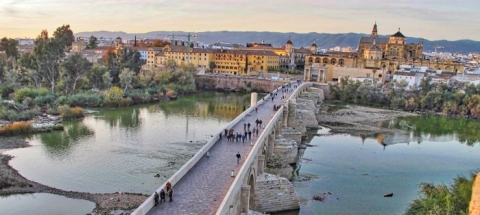 Photo: view of Cordoba´s Roman bridge and Mezquita (Turismo de Cordoba).
* How to plan it?
i) Circular Route: self drive all the way. Fly in and out of the same place (eg Faro, Seville, Granada or Malaga), rent a car there and drive the whole route before returning the car back at the same place to fly home. Note - car rental is very expensive to pick up and drop off in different countries. Always check your car rental company allows you to leave the host country (eg to go from Portugal to Spain and back again). 
ii) Linear Route: fly in to Faro and out of Seville. Rent a car in Faro to explore the Tavira area and beaches, then take a bus or transfer from Faro to Seville and pick up another car there (when you leave the city) to do your loop around the sites of Andalucia. 
iii) More time?: extend this road trip to include Lisbon. Starting and ending in the Portuguese capital, drive south through Alentejo en route to Tavira in the Algarve. Leaving Seville, add in a night in Ronda en route to Casa Olea or Granada. Return to Portugal from northern Andalucia, via the Sierra de Aracena and Evora.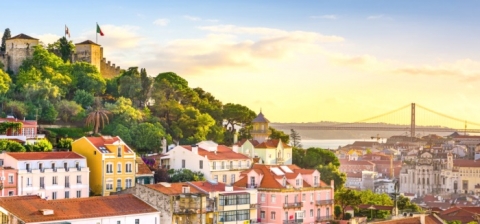 Photo: view over Lisbon (Telegraph Travel).
Click here for a Map of this Road Trip.  NB this map shows the destinations only as a guide, with the quickest driving routes featured. With a little bit of research, you can fill in the gaps with some very scenic back roads to hidden gems along the way.
Enjoy the trip..!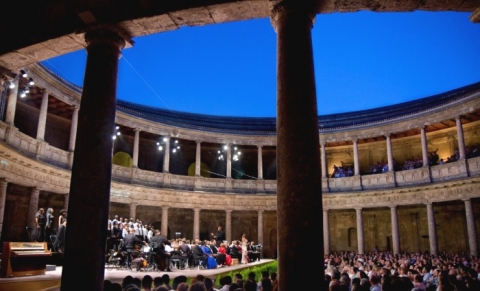 Photo: Opera at the Alhambra! The International Music & Dance Festival in Granada (Andalucia).