Our Top 10 favourite restaurants in Andalucia  
There are now so many great places to eat in Andalucia, it´s impossible to keep to any list down to just 10 restaurants. So, I have intentionally left out Michelin-starred restaurants, which are out of reach for many; and I have chosen to include more moderately-priced options, all of which serve consistently excellent food. Plus, they´re all champions of using local, seasonal produce and they have a good location, great views or a special atmosphere etc. 
Main photo: dine with Alhambra views in Granada at Restaurante El Trillo. 
We have also left off Cadiz and Seville provinces, as there are so many top places to eat there – in cities like Jerez de la Frontera, Cadiz and Seville, but also towns like Vejer de la Frontera – so we´ll have to make a separate list for them! So, think of this list (in no particular order) as the best places to eat in central and eastern Andalucia... 
Our favourite places to eat in Andalusia
1. El Trillo, Granada  - a great choice all year round. Hidden away in the Albaycín medieval quarter, El Trillo has a delightful walled garden for sunny days and balmy nights and stunning views of the Alhambra from the balcony; as well as a cosy dining room with wood burners for the colder winter months.  A little pricier than many of Granada´s tapas bars, but worth it for the location, food and service. 
Photo: the balcony at Restaurante El Trillo has Alhambra views! 
2. La Tasca, Niguelas (Granada) – what a find this place is, introduced to us this summer by friends from Durcal. Located right on the edge of a spectacular gorge, they serve delicious Italian food in a pleasant dining room and terrace, both with great views. Niguelas is a pretty little village and a meal here combines well with one of the spectacular hikes nearby, eg the Ruta de los Bolos hike in Durcal. * 2023 update - this restaurant now appears to be closed. *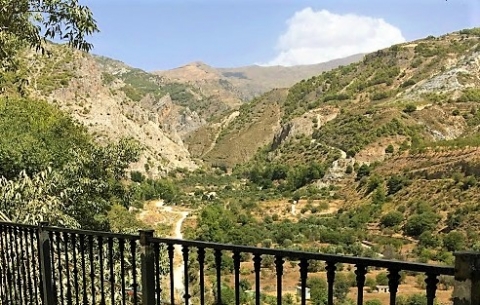 Photo: view from the terrace at La Tasca, Niguelas. 
3. Misa de 12, Úbeda (Jaén) – every time we go to Ubeda we try to eat here. Located along the street from the fascinating Sinagoga del Agua, this place serves excellent tapas from their tiny kitchen behind the bar. There´s a cute dining area inside or a nice little deck/terrace outside, overlooking a delightful square, Plaza 1 ̊de Mayo.  A great option all round. 
Photos: Misa de 12 in Ubeda, Jaen province. 
4. Regadera, Cordoba - this fantastic restaurant has been a firm favourite of ours for years. It is a funky place (big beard and tattoos seem part of the uniform!) offering Michelin-star quality food but without all the tiny portions and foams. So you won´t leave here hungry.  They have well-spaced tables and a limited menu, which changes through the seasons – always a good sign. Consistently innovative and high quality, we love the place and many of our guests do too!   
Photo: Regadera in Cordoba, by chef Adrian Caballero. 
5. Amaltea, Cordoba – located next door to Regadera on the smartened-up riverfront Ronda de Isasa, Amaltea is an eco-conscious restaurant serving a delicious, healthy menu and some interesting local wines. Like us, they buy much of their produce from a local organic farmers´association, Subbética Ecológica; and their focus is on predominantly vegetarian dishes using these quality, fresh ingredients. It´s a relaxed place, with good service and excellent location a short walk from the Mezquita and other sites.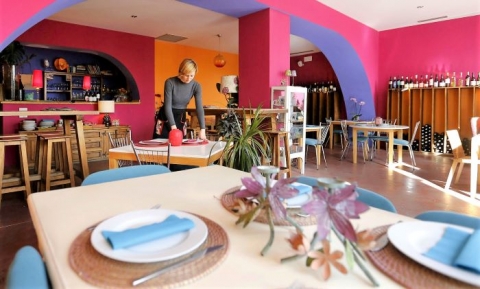 Photo: Amaltea, Cordoba is a great option for vegetarians. 
6. Marisquería Casa Frasco, Luque (Subbetica / Cordoba) – overlooking the attractive square and recently-restored church in one of our local white villages, Luque. The consistently good food and varied wine list comes as a surprise in such a small village. Despite the name Marisqueria, you don´t need to be a fan of fish and seafood to enjoy this place (but they are really good!), as there are plenty of other options. Their outdoor, raised terrace is a nice place to while away a couple of hours over a lazy lunch, after a hike in the Parque Natural Sierras Subbéticas nearby.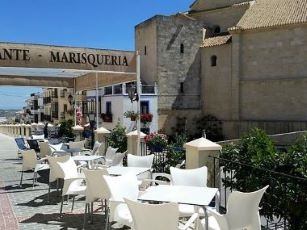 Photos: great food in a typical Andalusian white village, Luque (Casa Frasco).   
7. Vaquena, Ermita de Cabra (Subbetica / Cordoba) – this is the first destination restaurant in our local area, the Subbetica. Few places in Andalucia share their "top of the world" feel, located high up at the top of the mountain, close to the Ermita de Cabra. They have their own pasture-fed cattle, which roam free on the large finca; and their focus is not surprisingly on fabulous, organic beef (steaks and gourmet burgers). There are salads and rice dishes too, but this place is all about the meat. Combines well with one of our favourite hikes in the region, a 4-hour loop around the Polje de La Nava.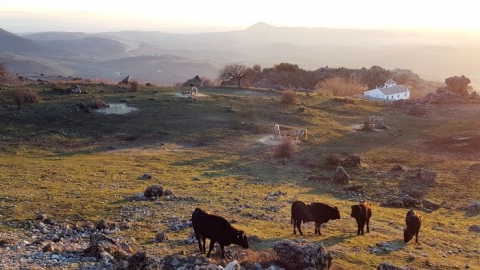 Photo: Vaquena has an idyllic setting, high up in the sierrras.   
  
8. Japanish Tapas, Lucena (Subbetica / Cordoba) - run by a really nice couple, Luis and Claudia, these guys have learned their trade in top restaurants in Spain and around the world (from London and Chicago to Latin America). Now they are back in Luis´home town, serving up inventive, Spanish & Japanese fusion. The indoor space is tiny but they have a nice terrace on the adjacent Plaza de España. They´ve had such a good first couple of years that they´ve already opened up a second restaurant in Lucena (which we´re desperate to try!) called Territorio Terraza, with a mixed Latin American menu. 
Photo: Spanish / Japanese fusion tapas at Japanish, Lucena. 
9. Taberna Uvedoble, Malaga – situated a stone´s throw from the Cathedral and Teatro Romano in Malaga´s old town and a short walk from the smart waterfront, Muelle Uno. Uvedoble is a small restaurant with limited inside space and only a handful of tables outside. So you´ll need to book, as the very tempting menu is jam-packed full of tapas which are consistently tasty, creative and good value for the quality.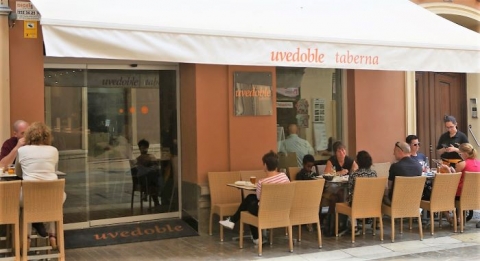 Photo: Taberna Uvedoble, in the heart of Malaga´s old town.  
10. Lebeche, Rodalquilar (Cabo de Gata / Almeria) – a great little restaurant on a small plaza in the heart of Rodalquilar, an old mining town now tourist hotspot in summer. We´ve eaten here several times over the years and it´s always been excellent. Inventive cuisine, great service, nice presentation and funky decor; plus they have a good range of wines, including some from local bodegas in Almeria province.  Booking essential!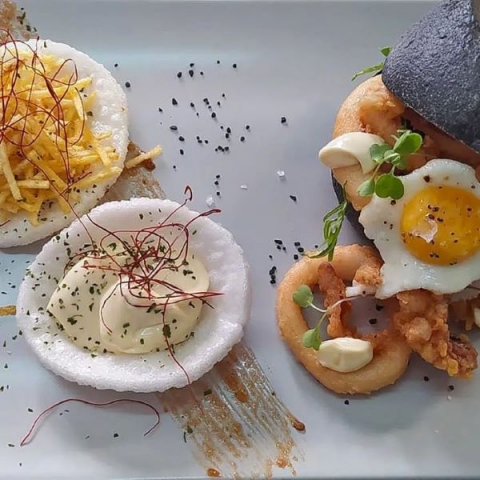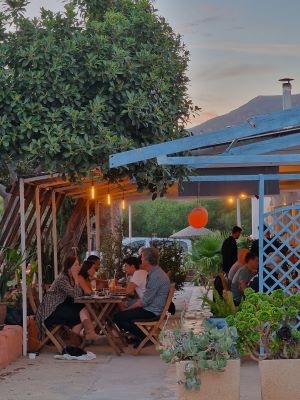 Photo: modern tapas at Restaurante Lebeche in Rodalquilar, Cabo de Gata (Almeria). 
Lastly, so as to avoid any bias, we have omitted Casa Olea. However, we do reckon there are few places in Andalucia which can match our views for dinner – along with Claire´s tasty home-cooked meals too! 
Read more about Foodie highlights of Andalucia, including top Michelin-star restaurants, wonderful local produce and the world´s best olive oils.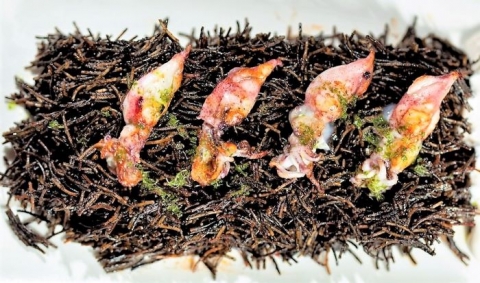 Photo: creative tapas at Taberna Uvedoble, Malaga. 
--------------------- 
CASA OLEA is an award-winning "boutique B&B" which is consistently ranked in the Top25 best small hotels in Spain (Tripadvisor). Located close to Priego de Córdoba in the unspoilt Sierras Subbéticas natural park, and half way between Cordoba and Granada, it is ideally situated as a comfortable base for day trips to the Alhambra and Mezquita, as well as to the UNESCO cities of Ubeda & Baeza.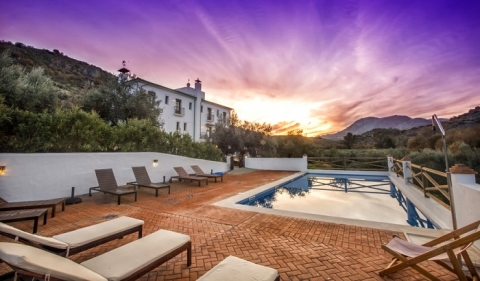 Photo: sunset views from the pool and dining terrace at Casa Olea (Subbetica).