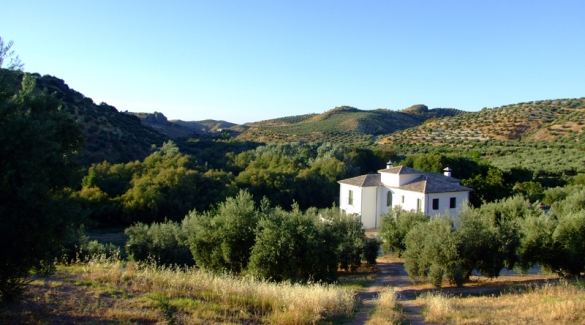 The world's largest travel website, Tripadvisor, has just announced its Travellers Choice Awards for 2014 based on millions of reviews during the past year. The awards feature several categories of accommodation from Small Hotels to B&Bs & Inns and list the "Top 25" for each country.  Casa Olea is delighted to have been included in their Best B&Bs & Inns in Spain list for the 3rd year running.
This year, we have noticed that several of the other small hotels and B&Bs featured are places where many of our guests have been to before or after their stay with us here at Casa Olea. So, we thought this was a good time to create our own "Top 5 Best" list - which could make a nice itinerary for anyone looking to explore the highlights of Andalucia, while based at small, charming places to stay with a similar level of award-winning quality.
Obviously, when planning a vacation (1 week, 10 days, 2 weeks?), you can't expect to see everywhere in one trip and there will always your own list of "must see" priorities etc. But hopefully, thanks to Tripadvisor's awards list, this at least gives a good starting point for some of the nicer places to stay if you're looking for a more "inside-track" experience in Andalucia…
Our Top 5 Best B&Bs & Small Hotels in Andalucia…
Fly in MALAGA…
* Almohalla51, Archidona, Best B&Bs & Inns Spain  - for day trip to Malaga & Antequera.
* Casa Olea, Priego de Cordoba, Best B&Bs & Inns Spain - for day trips to Granada, Cordoba and hiking & biking in Sierra Subbetica.
* Balcon de Cordoba, Cordoba, Best Small Hotels Spain  - for visiting the Mezquita & Juderia, or day-trip by train to Seville.
* La Fuente de la Higuera, Ronda, Best Hotels Romance Spain  - for day trip to Ronda and nearby white villages.
* La Fonda Barranco, Jerez de la Frontera, Best B&Bs & Inns Spain - for day trips to Cadiz, Vejer & Costa de la Luz beaches.
Fly out of MALAGA, GIBRALTAR OR SEVILLE…
See the whole list from Tripadvisor here