Andalucia, a film setting for family adventures
Family-friendly movies Ferdinand and Tadeo Jones 2 both set in Andalucia, Spain.
Tadeo Jones 2, the Hero returns. UK & Ireland release 09 February. Set in Granada´s Alhambra palace and Albaycin medieval quarter. Watch the trailor here.
Ferdinand. DVD, Blu-ray & Netflix release in March/April. Based on Andalucia´s rolling countryside, fincas and olive groves plus Ronda, white villages, flamenco and flower festivals. Watch the trailor here.

Photo: View of Ronda in Ferdinand movie (Twentieth Century Fox/Blue Sky Studios). 
----------------------------- 
Tadeo Jones, the Hero returns
This weekend saw the release of Tadeo Jones 2 in the UK, the sequel to Tadeo Jones, the Lost Explorer (2012) or Las Aventuras de Tadeo Jones in Spanish. While the original film focused on the search for the "Lost City of Paititi" and its legendery Inca treasure (in Peru), this one sees the same inseparable team of explorers head to Las Vegas, Spain, Greece and Turkey in search of the fabled "Gold necklace of King Midas". 
Made in Spain by Goya-winner Enrique Gato and David Alonso of Ikiru Films, it was a huge hit with Spanish audiences last year, and we really enjoyed watching it with our 5-year-old son. Sadly the initial press reviews (UK) have been pretty negative but we think, in our humble opinion, that it´s definitely a worth a watch, especially with younger kids (primary school age).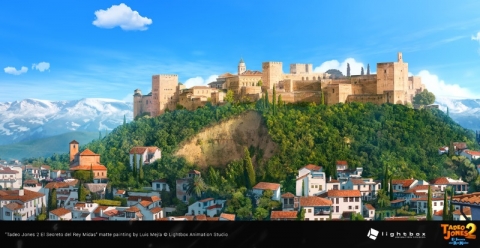 Photo: Alhambra view in Granada, Tadeo Jones 2. Artwork by Luis Mejia (Lightbox).
"Tadeo Jones, the chinless Chicago bricklayer, amateur adventurer-archeologist and kind of cack-handed Indiana Jones…In the sequel, Tad, still besotted by Sara Lavroff who, after the events of the original, has become the best-known archeologist in the world, pursues her kidnappers to Spain and the deserts of Turkey, accompanied by his dog, a mute parrot and an irrepressible mummy" Variety.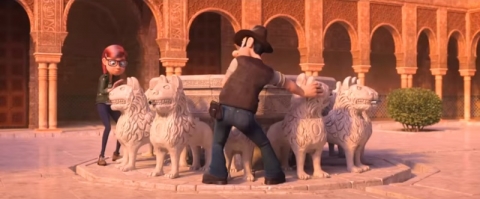 Photo: Tadeo Jones in the Alhambra´s Patio de los Leones, Granada (Lightbox).
We saw it in Spanish, which possibly helped with some of the jokes/humour – some reviews suggest there´s a "lost in translation" issue with the English version – but it still makes entertaining viewing, if you´re not trying to take it too seriously. And while it may not succeed in releasing all kids´ inner explorer or archaeologist, there´s obviously no harm in encouraging an interest in history and archaeology for an early age!       
It obviously cannot hope (and never pretends to) compete with the big-budget US studios of Pixar, Disney and Dreamworks, but its worldwide release by Paramount Pictures is still a good sign for Spanish animation and film making.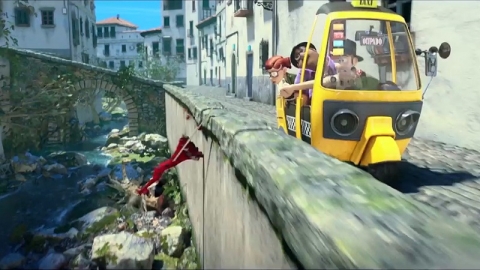 Photo: Tadeo Jones chase scene along the Darro river in Granada´s Albaycin (Lightbox).
We are big fans of Granada, and know the place well, and the amusing chase scenes through the backstreets of the Albaycin (Granada´s medieval quarter) are incredibly realistic. As are the scenes of the Alhambra palace, including the stunning Patio de los Leones (Patio of the Lions). 
Even the most cynical of film critics could not fail to be impressed by the real thing – the Alhambra really is as exotically beautiful in real life! Just make sure you book your entrance tickets well in advance, the Alhambra sells out fast…!!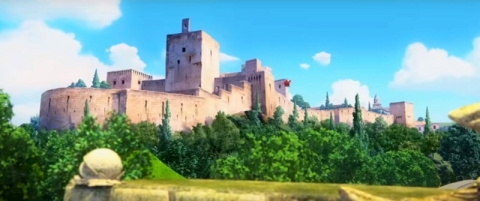 Photo: the Alhambra palace, Granada in Tadeo Jones 2 (Lightbox).
Tadeo Jones 2, The Hero Returns opened in UK & Ireland on 09 February 2018.    
Casa Olea is located half way between Granada and Cordoba, ideally suited for day trips to the Alhambra and Mezquita; along with many other places of interest in Andalucia.  
----------------------------------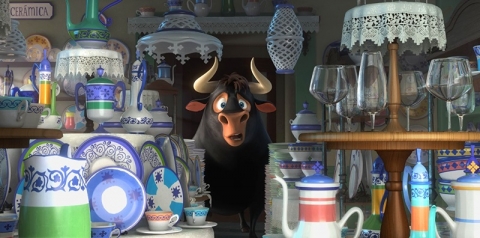 Photo: Ferdinand, the bull in a china shop! (Twentieth Century Fox/Blue Sky Studios).
Ferdinand  -  Built to fight, Born to Love
A massive hit in cinemas over the Christmas holiday season, this is wonderful family film for all ages. Created by Blue Sky Cinemas and directed by Carlos Saldanha (Rio, Ice Age), with star voiceovers by John Cena as Ferdinand, Kate McKinnon as Lupe the goat and David Tennant as Angus the Scottish highland bull.  
The film is based on "The Story of Ferdinand" (1936), a book written by Munro Leaf and Robert Lawson, which was banned by Franco in Spain and burned by Hitler´s henchmen in Germany for its perceived pacifist message.  "Ferdinand tells the story of a giant bull with a big heart. After being mistaken for a dangerous beast, he is captured and torn from his home. Determined to return to his family, he rallies a misfit team on the ultimate adventure. Set in Spain, Ferdinand proves you can't judge a bull by its cover" - Fox Movies.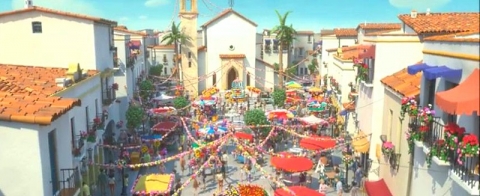 Photo: flower festival in Andalucian village in Ferdinand (Photo: Twentieth Century Fox/Blue Sky Studios).  
On location in Spain
As both the book and the movie are set in Spain, director Carlos Saldanha and his team made a special trip to the country to seek visual inspiration and authentic backdrops for their project. 
"We were inspired by the beauty of the landscapes and unique architecture of Spain, as we traveled south to the lovely region of Andalusia"…."We visited the haciendas where they raise the cattle and took in every little detail, the vegetation, the small villages and the people. We also saw the windmills of La Mancha and the famous Plaza de Toros de Las Ventas in Madrid. All these locations helped us create an authentic world for our characters."  Carlos Saldanha (Animation and Rappler magazines).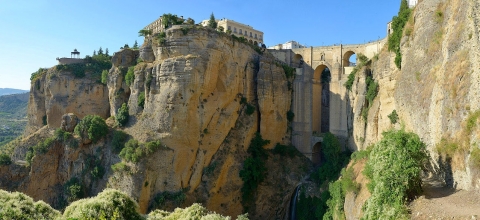 Photo: Ronda bridge and gorge, Andalucia (Wolfgang Moroder).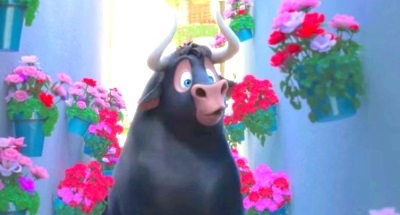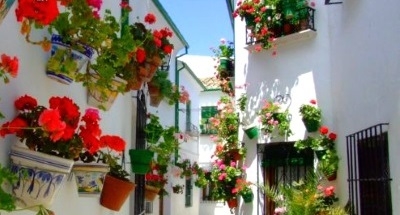 Photos: Ferdinand smells the flowers (Photo: Twentieth Century Fox/Blue Sky Studios), inspired by Priego de Cordoba´s backstreets?  
Blue Sky art director Tom Cardone explains how a visit the Andalucia inspired the team's approach to Ferdinand's visual style: "The story takes place in the Andalusian region of Southern Spain and in Madrid. We wanted to pull the style from the story but also from the culture. The natural landscapes of Southern Spain provided a real inspiration not just for backdrop, but also for character design. We were struck by the rolling hills and the curves". 
"We went to Madrid and we drove down to Ronda, we stopped in a few places along the way. I was really struck by how for hours you drive and you just see these olive trees and they're graphic shapes in the landscape they make. We kept seeing these beautiful rolling hills and beautiful clouds."  Quotes from interview with Tom Cardone (Blue Sky Studios) in DenofGeek.com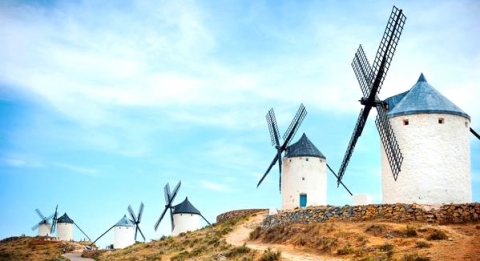 Photo: the Consuegra windmills in La Mancha make a good stop-over en route from Madrid to Andalucia (VisitSpain).
Inspired by Ferdinand - head to Spain! 
Take all the family on a road trip from Madrid to Andalucia, following in Ferdinand´s footsteps/hoofprints! Explore the streets and plazas of Madrid and windmills of La Mancha, then head south to Andalucia for olive groves, fincas, white villages, sunflowers, fiestas and flamenco. 
Family road trip in Southern Spain
- Suggested route (11 nights): Madrid 2 nights, Consuegra windmills, Sierras Subbeticas 4 nights (for Cordoba & Granada), Ronda 3 nights, Seville 2 nights, Madrid. For those with more time, you could extend the trip with a few days at the coast (eg Costa de la Luz in Cadiz) between Ronda and Seville.
- Where to stay for rural bliss: Casa Olea (4 nights) near Priego de Cordoba (Sierras Subbeticas) and Cortijo las Piletas near Ronda (3 nights).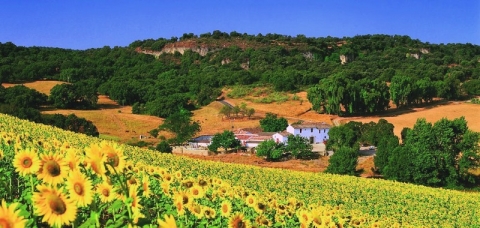 Photo: Cortijo Las Piletas hotel near Ronda.
Luxury Family villa with catering in Andalucia 
If you prefer to stay in one place, using it as a base to explore the countryside and cities like Granada and Cordoba, Casa Olea can also be rented as a private villa with catering. With just 6 rooms, and extra childbeds/cots available, Casa Olea is ideal for a big family reunion (grandkids to grandparents) or two families travelling together. Please enquire for more information, availability and prices.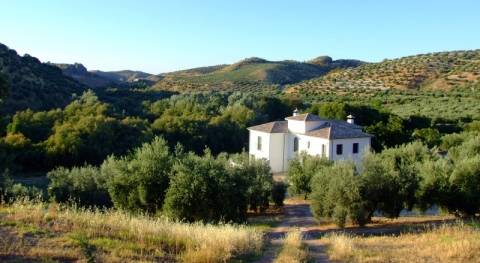 Photo: Casa Olea country hotel, near Priego de Cordoba (Sierras Subbeticas).