July marks the 50th anniversary of the Apollo 11 mission, when man first walked on the Moon. To celebrate, we have set up some special stargazing and lunar observation activities here at Casa Olea, with a professional telescope and expert guide. Read on for more on the Apollo 11 50th anniversary and our night sky activities in May, July and October 2019…

* Apollo 11 Mission highlights 
- Objective: The primary objective of Apollo 11 was to complete a national goal set by President John F. Kennedy on 25 May 1961: perform a crewed lunar landing and return to Earth. Additional objectives included scientific exploration (eg gathering samples of lunar-surface materials), extensive photography of the lunar terrain and deployment of a television camera to transmit signals to Earth. 
- Launch: Apollo 11 launched from Cape Kennedy at 09.32 AM on 16 July 1969, carrying Commander Neil Armstrong, Command Module Pilot Michael Collins and Lunar Module Pilot Edwin "Buzz" Aldrin.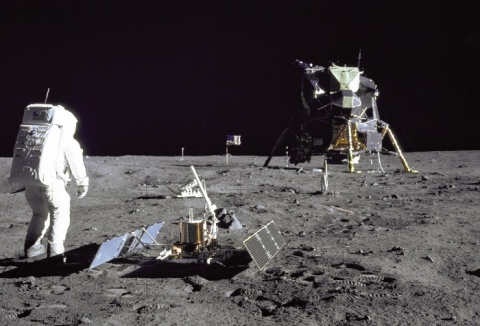 Photo: Buzz Aldrin walks on the moon, Apollo 11 50th anniversary (NASA).
- Lunar Landing: partially piloted manually by Armstrong, the Eagle landed on the Moon in the Sea of Tranquility on 20 July 1969. Almost four hours later Armstrong emerged from the Eagle and deployed the TV camera for the transmission of the event to Earth. An estimated 530 million people watched Armstrong's televised image and heard his voice describe the event as he took mankind´s first step on the Moon… "One small step for a man, one giant leap for mankind". 
- Return to Earth: after a flight of 195 hours, 18 minutes, 35 seconds, Apollo 11 splashed down in the Pacific Ocean at 12.50 EDT on 24 July 1969.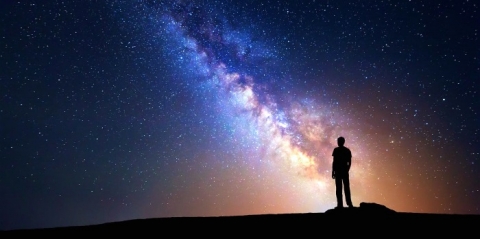 Photo: dark sky astro-tourism should be on everyone´s travel bucket list, Lonely Planet (Denis Belitsky Shutterstock).  
* Dark skies and Astro tourism, a top travel trend in 2019
Lonely Planet has included Dark Skies as one of its top travel trend predictions for this year. Here´s why…
"As Earth grows ever more populous and cities expand, opportunities for humanity to look up at the rest of the universe decrease. According to research by the Light Pollution Science and Technology Institute, 80% of Earth's land mass suffers from light pollution, while for 99% of people in Europe and the USA the night sky is obscured by artificial lighting. Across the planet, travellers are now seeking out the world's last-remaining dark places where they can get a clear, unpolluted view of the stars.
The twinkling span of the Milky Way. A meteor streaking across the horizon. There is something primal about watching the night sky. And nothing inspires more wanderlust than pondering the vastness of the universe underneath a sky full of constellations". 
'A hundred thousand generations of homo sapiens before us saw the Milky Way every night, 'it's in our DNA. But then we lit up the outdoors and literally lost sight of it. Astro-tourists are reconnecting with something that has a deep, primitive meaning to humans.' says J Thomas Beckett, board chair of Utah's Clark Planetarium". 
Text by Lonely Planet, read the full article.
* Dark Skies & Astro-tourism in Spain
Head to rural, inland regions of Spain for some of the darkest skies and best stargazing in Europe.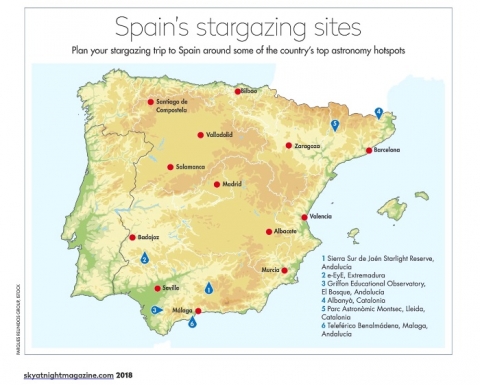 Map: the best places in Spain for stargazing (BBC Sky at Night magazine).
Here´s what astronomy magazine BBC Sky at Night said in their recent article titled Dark Sky Spain – a tour of Spain´s best astronomy sites (Nov 2018)…
 "When it comes to stargazing and astronomy, there are few more tempting locations in Europe than Spain, where astro tourism is taking off in a big way….With clearer views of some of the night sky´s most beautiful objects, plenty of rural areas free from light pollution and an ever-increasing, well-organized network of Starlight Reserves and stargazing-friendly accommodation, Spain is worth an entry on any stargazer´s bucket list."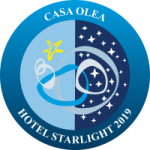 Starlight Reserves are one of the different dark sky certifications issued by the Starlight Foundation, based at the I.A.C in Tenerife. Backed by UNESCO, the non-profit Starlight Foundation´s main aim is to value and protect the quality of the Night Sky; spread public interest in Astronomy; and to help develop and promote sustainable Astro-tourism. Starlight certifications include Starlight Reserves, Starlight Tourist Destinations and Starlight Hotels with regions/properties needing to meet their strict dark-sky criteria as great places for stargazing. 
Located on the fringes of the Sierra Sur Starlight Reserve, in a sparsely-populated rural area with over 300 clear nights a year, Casa Olea is a certified Starlight Hotel and one of Andalucia´s best destinations for stargazing. Read more about Starlight Reserves and Where to go Stargazing in Spain.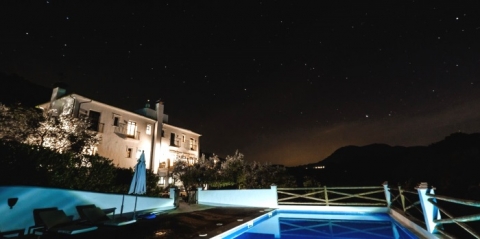 Photo: the more remote, rural areas of Andalucia are often very good for stargazing.
* Casa Olea stargazing tours in 2019
Following the success of our "Stargazing & Tapas" New Year´s Eve weekend, we are excited to offer the following stargazing experience dates this year: 02 MAY, 16 JULY, 05 OCTOBER, 23 OCTOBER. Combine one of these activities with seeing the highlights of Andalucia, hiking or biking in the hills, exploring local white villages or learning all about the region´s amazing olive oils… 
- 02 MAY: SOLD OUT!
- 16 JULY: celebrating the launch of Apollo 11. This day coincides with the 50th anniversary of the Apollo 11 launch. There is a full moon that night, so it should be a spectacular view to celebrate the big date; plus also being a great day for a close-up look at Jupiter and Saturn. Why not combine this with: 
• Ballet or flamenco at the Alhambra and other stunning locations in the Granada Music & Dance Festival (01 to 12 July). 
• Classical or flamenco guitar recitals at Medina Azahara and the Mezquita in the Cordoba Guitar Festival (06 to 13 July). 
• Special exhibitions at the Prado in Madrid (June to September), to celebrate the museum´s 200-year Anniversary - "Velázquez, Rembrandt & Vermeer. Parallel visions" or "Fra Angelico and the rise of Florentine Renaissance". 
• A few days on the beach – see our dreamy "Algrave & Andalucia" summer road trip idea here.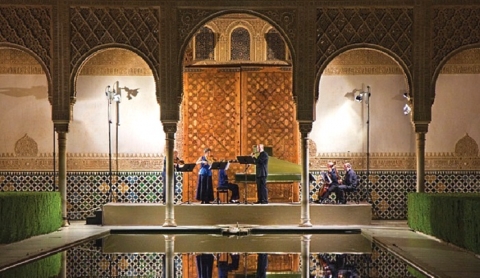 Photo: classical music, flamenco, opera & ballet at the Alhambra, in Granada´s Music & Dance Festival. 
- 05 OCTOBER: This is International Observe the Moon Night, nominated by NASA as a day dedicated to the worldwide celebration of lunar science and exploration. Everyone on Earth is invited to observe and learn about the Moon together, and to celebrate the cultural and personal connections we all have with our nearest neighbor. If it´s a clear night, expect to have an amazing view of Jupiter and Saturn also! Why not combine this with: 
• Seville Guitar Festival (27 September to 05 October).
• Calder-Picasso at the Museo Picasso in Malaga (opens 24 September).
• Hiking or Biking in the Sierras – October is usually a wonderful time to explore the countryside around here.
- 23 OCTOBER:  Stargazing at Half Term. Last few spaces left, please enquire asap! Night-sky highlights expected this day include a great view of Jupiter and Saturn as well as several key constellations (eg The Pleiades) and the Andromeda galaxy.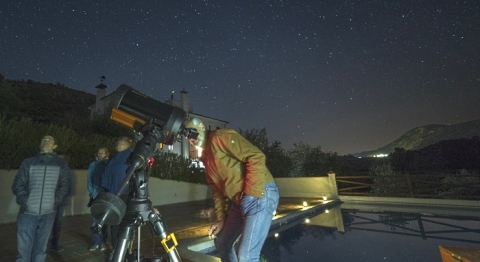 Photo: stargazing experience with professional telescope at Casa Olea, Andalusia.
* FURTHER INFORMATION 
- Price: 50 euros per person. * Includes: stargazing experience at Casa Olea (approx 2 hours) with professional telescope and expert guide. 
- Terms & Conditions: Cancellation due to insufficient numbers: these Stargazing Experience dates will only run with a minimum number of 8 people. No advance payment will be charged, so there will be no reimbursement for cancellation due to insufficient numbers. Cancellation due to bad weather: in the event of bad weather on the published dates, we will make every endeavor to run the event on an alternative date (subject to the guide´s availability and the current weather forecast).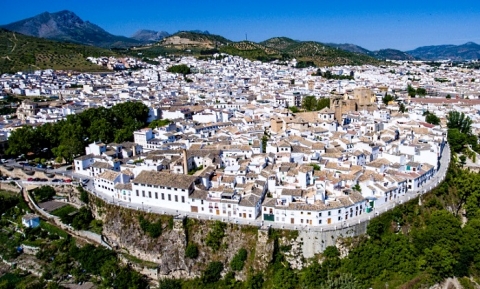 Photo: Priego de Cordoba´s cliff-top old town is one of the prettiest in Andalucia (Casa Olea). 
----------------------------- 
Casa Olea is charming 6-room B&B located 15 minutes´ drive from Priego de Córdoba, half way between Córdoba and Granada. Healthy home-cooked evening meals, local wines, organic produce. Good for hiking, biking, stargazing and exploring local white villages in the Sierras Subbéticas national park.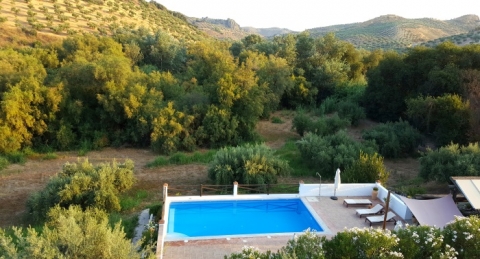 Photo: The pool at Casa Olea overlooks a peaceful river valley and ancient olive groves (Casa Olea).