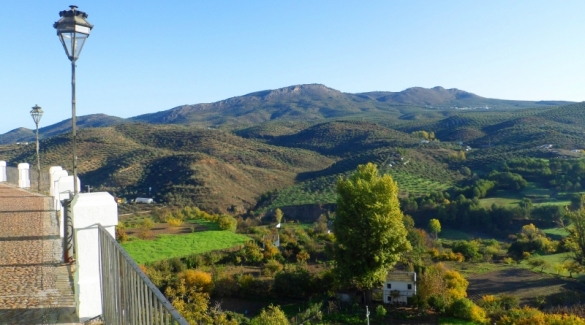 Autumn in Andalucia - Best of Spain for Foodies...
Thinking of Where is best to go in November? Well, Autumn is a wonderful time of year to visit the interior of Andalucia, especially for Foodies, with the Quince and Pomegranate on the trees and the Olive Harvest just beginning. Plus, the weather is usually ideal (bright sunny days and mid 20sC) for siteseeing without the crowds and for walking in the sierras too. Why not combine a few days in the stunning countryside of the Sierra Subbetica, half way between Granada and Cordoba, with a few days in a city like Seville and you have the makings of a fabulous week in Andalucia this Autumn...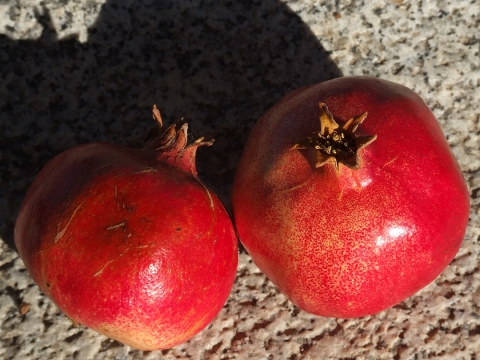 This week at Casa Olea (boutique B&B hotel near Priego de Cordoba), we've been busy picking pomegranate and quince from down the valley and making lots of quince jam and our favourite "Carne de Membrillo" (quince paste see photo below), which makes the perfect partner for the local Goats' Cheese from Zuheros and our own Casa Olea Extra Virgin Olive Oil.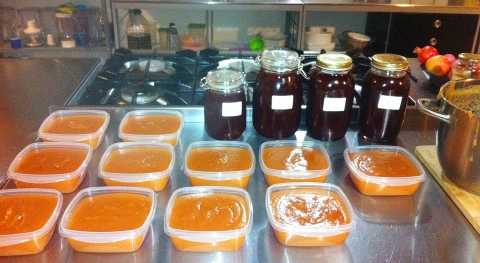 While on the subject of tasty local foods, we thought we would come up with our own "Top 10 places to eat" for anyone travelling to this gorgeous corner of southern Spain this Autumn. So if you're planning a foodie's road trip in Andalucia, then read on! Obviously, the best option of all is having one of our home-cooked dinners here at Casa Olea - sat out on the terrace enjoying the amazing views, sunsets and stars - but we've left that off so as not to be biased…!   
Our TOP 10 Places to Eat - from Cordoba to Granada
* Balcon del Adarve, Paseo de Colombia, Priego de Cordoba  (closed Mondays)
Tel. +34 957 547075. Priego's best restaurant with a varied menu and wine list, good service and nice views from the balcony (see photo below). Excellent value "menu del dia" during the week.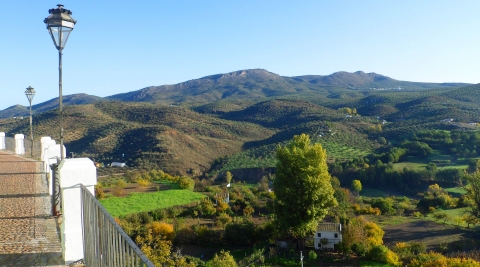 * Restaurante La Fuente, Zagrilla Alta   (closed some Mondays)
Tel. +34 957 703734. This spot is our favourite "enchanted corner" in Andalucia - a shady outdoor terrace next to a natural spring in a picture-book Andalucian white village. Very friendly service from owner Francisco. Try their remojón (orange & salt cod salad) or salmorejo (Córdoban gazpacho).
* Hacienda Minerva, Carretera CO-6203/CV-241 (KM 9.8), Zuheros - Doña Mencia road
Tel. +34 957 090951. A beautifully-restored olive hacienda with a good restaurant. Log fires in winter and terrace upstairs with great views across to Zuheros (May-Sep). Tasty local goat's cheese, salads and good meat. A decent option if you're looking for an "early" dinner (eg 8pm!).
* Rey de Copas, main street Ribera Alta, near Alcalá La Real (Open Sat/Sun only)
Tel. +34 953 593305. Only open at weekends, serving quality, regional dishes and local Jaén wines by the glass. The chef (Juan Matías) teaches at a cookery school in Antequera during the week. Approx 15 minutes from Alcalá on the road towards Santa Ana (then Frailes).
* Casa Piolas, Calle Ramon y Caral just off main square, Algarinejo  (closed Mondays?) 
Tel. +34 958 312251. A real experience if you go for one of their tasting menus, eg the "Menu Gastronomico" (see photo below) for 45 euros per person + drinks. Book in advance (at least 1 day before). Their Spanish/Brazilian chef, Diego Gallegos, is fast becoming a big name in Spanish foodie circles having trained at El Bulli and with international "masters" in Peru and Brazil. Artistic creations with local, seasonal produce. Tapas in the bar also good.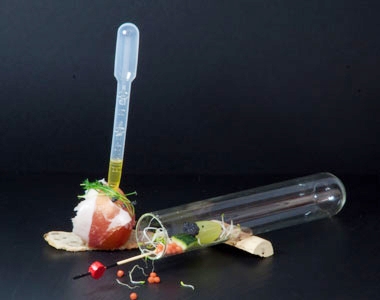 * La Fragua, Calle Tomas Conde/Calleja del Arco, Córdoba           
Tel. +34 957 484572. Run by a young, local team, La Fragua offers a creative menu with good food (huge portions!), nice wines and quirky decor. Excellent location in the heart of the Juderia near the Alcazar and Mezquita. 
* Bodegas Campos (taberna), Calle Lineros 32, Córdoba                     
Tel. +34 957 497500. The bar/taberna downstairs (see photo below) of the very fancy/famous restaurant upstairs. Walk in off the street and enter via the door on the right. Excellent local tapas, nice busy atmosphere and consistently good service. Indoor seating only. If you prefer sitting outside then walk down the street to Plaza del Potro for one of the many street-side cafes/restaurants there, but be warned the food's nowhere near as good!
* Casa Pepe de la Juderia, Calle Romero 1, Córdoba      
Tel. +34 957 200744. A beautiful old building close to the Mezquita in the heart of the Juderia. A real Córdoban institution and reliable option for quick, tasty tapas and good service in a convenient location. On a sunny day, check out the roof terrace with views across the rooftops to the Mezquita.
* Mercado Victoria, Paseo de la Victoria, Cordoba
Having opened in May '13, this is Andalucia's first gastro-market and very much reinforces Cordoba's position as the region's No.1 destination for foodies. A great place to wander and sample lots of tasty little dishes all under one roof (from gazpachos and cured meats to sushi) at some of the market's 30 foodstalls – and just a stone's throw from the city's Juderia and main shopping streets. Click here for more on the Mercado Victoria in Cordoba.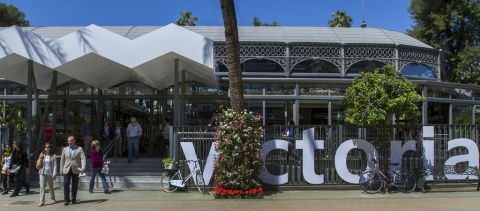 * Taberna La Tana, Calle Rosario 11, Granada.   
Tel. +34 958 225248. Our current favourite in Granada, La Tana is an excellent little bar on Calle Rosario at far end of Calle Navas (tapas bar street) just off Plaza del Carmen. Excellent tapas, good service and local Granada wines by the glass and always a buzzing, local atmosphere.
--------------------------------
For more on visiting this region of Andalucia, or staying at Casa Olea, check out our website: www.casaolea.com