How to order the perfect coffee in Southern Spain?  Question: so what do a Three-phase, a Cloud and a Shadow all have in common? Answer: they are all types of coffee in Spain! 
It may come as a surprise to some, but Spain is a mecca for coffee lovers. With the likes of Starbucks and Costa refreshingly not on every street corner, you can get a coffee in any local bar, restaurant or ice-cream parlor. The coffee is usually excellent and is always very good value - normally around €1.50, unless you´re sat in a tourist trap on a famous square etc.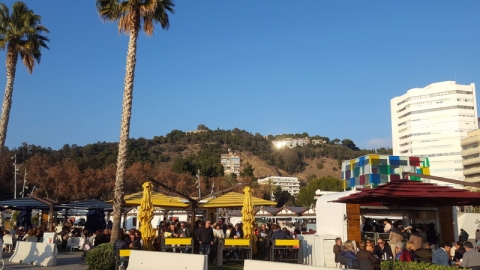 Photo: coffees and terrace culture are a huge part of life in Andalucia. 
In most places, there won´t be a menu or board behind the bar to help you choose, so you´ll need to know how to order the coffee you like. Here´s a quick guide to the most popular terms… 
* Vaso or Tasa?  in many Spanish bars, coffees are often served in a glass (vaso), so remember to ask for a cup/mug (tasa) if you prefer that. 
* Type of milk? Here are the options: leche desnatada (skimmed), semi-desnatada (semi-skimmed, the default if you don´t request something else), sin lactosa (lactose-free), soja (pronounced soha, only really available in cities).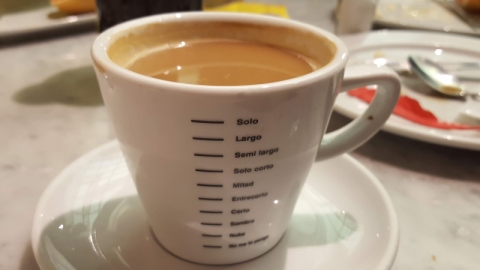 Photo: coffee in Andalucia is usually served in a small cup or glass. 
* Types of Coffee in Andalucia:
- Café Solo: a single shot espresso, black, all coffee/no milk. 
- Café doble or grande: a double shot espresso, black, all coffee/no milk
- Americano: café solo with hot water added, to make it a bigger cup and weaker. In some bars this may be a regular filter coffee, not espresso.
- Cortado or Corto (in Malaga): a shot of espresso, with a splash of milk.
- Largo (Malaga): a larger shot of coffee, with a splash of milk. 
- Café con leche or Mitad (Malaga): Half and half. As the name suggests, it's half coffee and half milk. The most popular type of coffee in Spain.
- Sombra (Malaga): literally means a shadow, a glass of milk with a splash of coffee (a slightly larger measure than a nube).
- Nube (Malaga) or Leche Manchada: literally means a "cloud" or "stained milk", a glass of milk with a drop of coffee in it. 
- Carajillo: a café solo with a shot of dark rum, brandy or whisky added!
- Café con hielo or café frio: iced coffee, usually comes as a shot of black coffee in a cup, with ice cubes served in a glass. You then tip the coffee into the glass with ice (and try not to spill it all over the bar!).
- Descafeinado: a decaff. coffee, either from the machine (de maquina) or sachet (de sobre), served black (solo) or with milk (con leché). So if you´d like a machine-made decaff coffee with milk, you need to ask for a "café con leche descafeinado de maquina".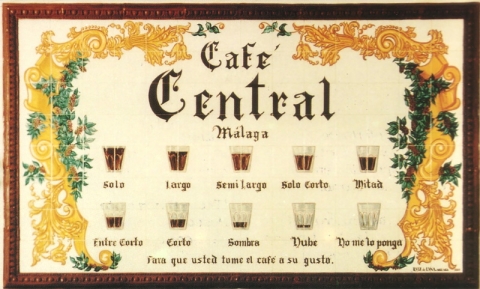 Photo: ceramic tile menu showing the types of coffee at Cafe Central (Malaga).   
* What about other regions of Spain?
- Mediana (Madrid): a café con leche served in a medium-sized cup!
- Trifásico (Catalunya): a carajillo with splash of milk added.
- Perfumat (Catalunya): a café solo with a shot of anis added. 
- Bonbon (Valencia): a café con leche with condensed milk.
Still sounds complicated..? Don´t worry if you can´t remember all of these terms. When you´re at Casa Olea, we keep it simple and bring a freshly-made moka pot to your table with or without hot (or cold) milk, so you can make it how you like it…!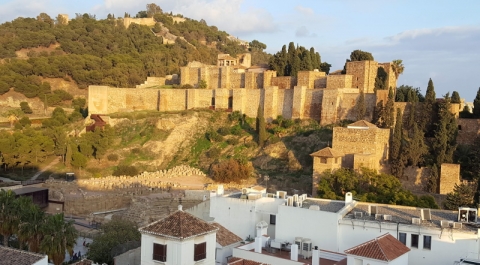 Photo: Malaga´s Alcazar Moorish fortress overlooking the old town and port.  
* Why so many types of coffee in Malaga?   
Right in the middle of the old town, overlooking the famous Plaza de la Constitucion square, is one of Malaga´s best-known, historic cafés – Café Central. It was here that over 60 years ago they pioneered a new way of ordering a coffee, a system which is now common place across the city. 
The creator of the system was Don José Prado Crespo, the owner of what was a small working-class bar back then. It was in the 1950s, with post-war Spain under the rule of Franco, and "luxury" products like coffee were expensive and difficult to get hold of. So Don José came up with a system that ensured his clients would get the right amount of coffee for their taste, and meant he wouldn´t need to waste any coffee either. 
The bar is still run by the founder's family and they still source their coffee locally in Malaga, using the same brand and roast of coffee for over 70 years. While their outdoor terrace overlooking the square is a bit of a tourist trap, it´s a nice story and the coffee is very good, so we´d still recommend you drop by for a coffee the next time you´re in Malaga..! 
------------------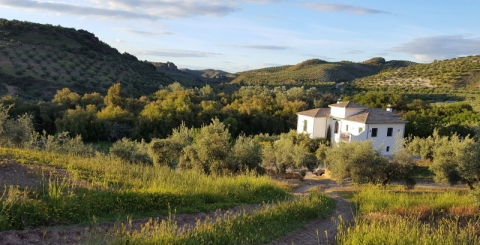 Photo: Casa Olea is surrounded by olive groves and mountains in the Subbetica. 
Casa Olea is an award-winning boutique B&B only 90 minutes´drive inland from Malaga; and is a great base for exploring a truly authentic corner of southern Spain (Sierra Subbetica), with white villages (Zuheros), baroque towns (Priego de Cordoba), hiking in the Parque Natural and biking on the Via Verde del Aceite greenway. Located right in the centre of Andalucia it is also ideally placed for day trips to Granada, Cordoba, Jaen, Ubeda and Baeza - all of which are just over an hour´s drive away. www.casaolea.com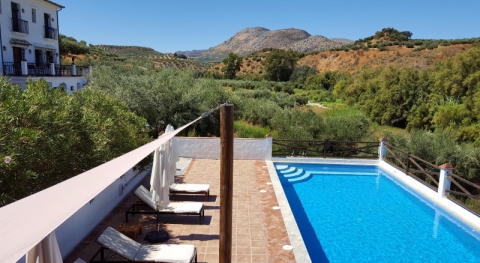 Photo: the pool terrace with a view at Casa Olea, Andalucia.