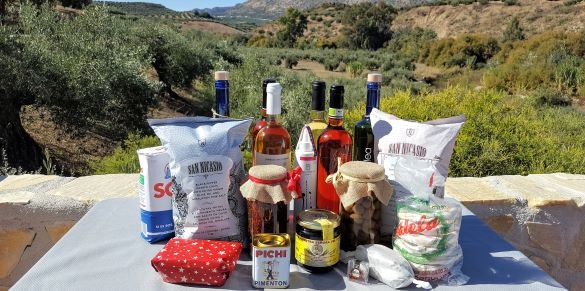 A "Taste of Andalucia" Hamper     
As many of you haven´t sadly been able to travel to sunny Spain this year, we´ve been racking our brains as to how we can send you a little Taste of Andalucia, to help get you through those dark winter months and lockdowns that lie ahead. 
So, we have come up with our very own gourmet hamper – with everything being local, home-made, organic and quality.  You can either use the products to host a fun, festive Spanish feast (lockdown allowing of course!) with family or friends; or if you´re feeling very generous, it would make a wonderful present. Stuffed full of delicious treats from Andalucia, it´s the ultimate Spanish food gift..!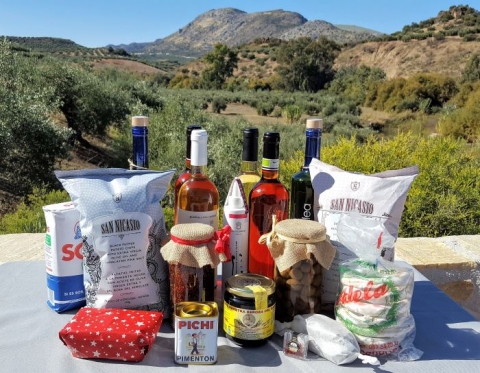 Photo: Casa Olea´s luxury Christmas hamper with Andalucian produce. 
What´s inside?
2 x Casa Olea Extra Virgin Olive Oil (750ml) 
1 x Organic Fino by Bodegas Robles (750ml) dry apertivo wine
1 x Organic Pedro Ximenez by Bodegas Robles (750ml) sweet dessert/digestivo wine 
1 x Organic Vermouth by Bodegas Robles (750ml) - Christmas in a glass
1 x Organic Verdejo white wine by Bodegas Robles (750ml) – light
1 x Organic PX Reduction by Bodegas Robles (250ml) – for salad dressing and desserts
1 x Claire´s Orange Marmalade – from our breakfas buffet to your home! 
1 x Claire´s Quince jelly "carne de membrillo" (250g) – read more below 
1 x Claire´s table olives (1 kg) – read more below
1 x Fig & almond loaf "pan de higo" (200g) – try it with cured cheese
1 x San Nicasio crisps Black Pepper flavour  (150g) – read more below 
1 x San Nicasio crisps Smoked Parika flavour (150g)
1 x  Saffron (0.25g) – for your next paella
1 x Smoked Paprika (70g) – such a classic Spanish flavour
1 x SOS rice (1kg) – great for paella or other arroz dishes
1 x Miel de Caña (300g) – fab with natural yoghurt or in cake icing
1 x Roscas de anis (300g) – a wintery treat
* Price: 129 euros including shipping to UK & Europe except Ireland (where there is a small supplement).
We are very sorry to say that we cannot ship this outside of Europe as due to increased FDA restrictions (USA) and the very high costs for sending it further afield, sadly it´s not possible. 
How to order?
We only have a limited number of hampers available, so please contact us as soon as posible to secure your order. Orders need to be placed by Sunday 29 November 2020, for us to ensure delivery before Christmas.  Please email tim@casaolea.com with the following details: name, delivery address, postcode and daytime phone numbers (mobile & landline). We will then send you payment details once you have safely received the hamper. 
Photos: Making our orange marmalade. Organic Fino from Bodegas Robles. 
Want to personalize it?
We are very happy to make changes to this hamper, if you prefer to add an extra bottle of PX or take out the Verdejo etc. We can also switch one or more of the bottles for one or more of the following products (nb there may be a small surcharge). Just let us know what you´d like and we´ll send you a quote: 
1 x Puerta de Indias Seville Gin (750ml) – good with a slice of lime; or as we serve it, with a squeeze of fresh orange, slice of orange, tonic water and lots of ice.  
1 x Organic Tempranillo red wine, Bodegas Robles (750ml) – a delicious light Andalucian red.  
1 x Organic Oloroso, Bodegas Robles (750ml) – nutty, smokey and stunning with salty olives, almonds, jamon, cured cheeses. 
--------------------------- 
More on what´s inside...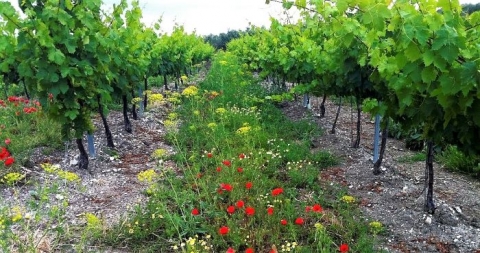 Photo: ecological vineyard at Bodegas Robles, Montilla (Cordoba).
The Robles family has been producing wines in Montilla (Cordoba) ever since 1927, but it was in the 1990s that they decided to opt for organic viticulture and production. The bodega has been consistently recognised for both the high quality of its wines and ecological practices. Their mantra "wines that belong to their land" sums up pretty nicely the way they work. We serve a good range of their wines here at Casa Olea, including the Fino, Oloroso, PX, Vermouth, Verdejo and Tempranillo; plus Claire uses their PX Reduction loads in the kitchen. They are all excellent. Local, organic and quality - what more could you wish for!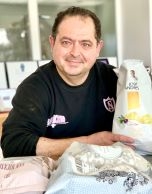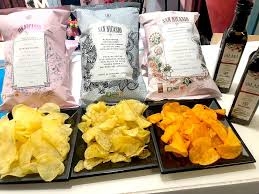 Photos: Patatas San Nicasio gourmet chips made in Priego.  
San Nicasio crisps
Patatas San Nicasio are the most delicious potato crisps on the planet. It´s official! Made with high quality Spanish Agria potatoes, Himalayan rock salt and cooked in the world´s finest Extra Virgin olive oil, they have won the prestigious Monde Gold Award for the past 12 years running.  They are one of the real success stories of our area, the Subbética. Having started out in 1998 with a small churros stand in Priego, owner and "chip master" Rafael has - through years of hard graft and an unrelenting focus on quality - taken his upmarket crisp brand to the top of the tree. The Telegraph (UK) even included them in a list of "50 foods to try before you die", they´re that good! Read their full story here in the Boston Globe.
Photo: Claire talks with Luis from the village about how to cure table olives.
Casa Olea´s home-made goodies 
Claire has been very busy in the kitchen! In the hamper you´ll find her very first Table olives  (read about the process below), her popular Quince jelly and this year´s Orange marmalade, using local Cordoban oranges (in season right now). Plus, we have included an absolutely delicious Pan de higo (fig loaf), made by one of the old ladies in our local village, using sun-dried figs with almonds and aniseed.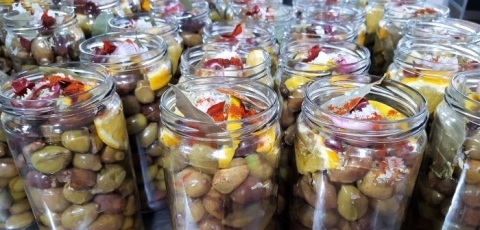 VIDEO: watch Claire explain the process of how to cure table olives. 
How to make our table olives 
Making our own table olives has been quite a feat! First we picked the olives at the key moment in late October, just when they were mostly green but starting to turn a little black. These olives were then crushed by hand – using the strangest-looking Andalucian contraption (see VIDEO at end) – which splits the fruit and allows them to cure more easily. The olives were then put in large buckets of water to start the curing process.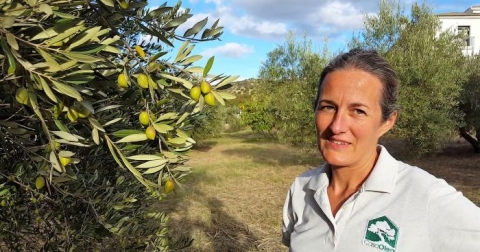 VIDEO: watch Claire explain about when & how to make table olives.
The water was changed every day for 14 days, until the olives started to soften and became sweeter to taste. The final phase of the job was to put the now-cured olives into their jars and add the marinade (see recipe below), leaving them to infuse for a further 7-10 days. Now they are ready to go and they´re amazing!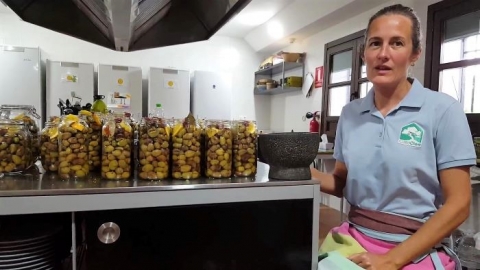 VIDEO: watch Claire explain how to make the best table olives. 
Claire´s table olives (1kg jar)
Freshly picked green olives, oregano, thyme, bay leaves, dried fennel, dried pepper, smoked paprika, "flor de sal" sea salt crystals, 1 crushed garlic bulb, 1 slice of lemon, 1 slice of orange, Apple vinegar (1/3), mineral water (2/3).    
-------------------------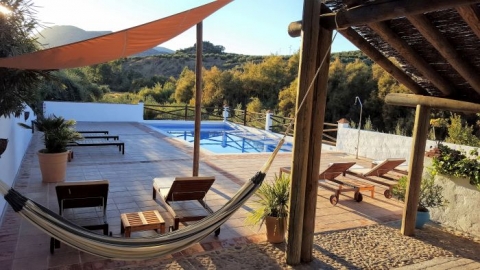 Photo: add Casa Olea to your 2021 travel bucket list!
Casa Olea "at home" this winter 
When this is all over, what we´d love more than anything is to see you here at Casa Olea. But, with lockdowns and travel restrictions in place, that´s still not posible. So, while we´re all stranded in our homes, why not organize a fun "Casa Olea at home" feast with the best Spanish products. If you do, please share the experience (we´d love to see photos) and join in with our competition below. 
  
"Taste of Andalucia" competition
Prize: 200 euros Casa Olea travel voucher. Valid for a stay at Casa Olea any time in 2021, subject to availability.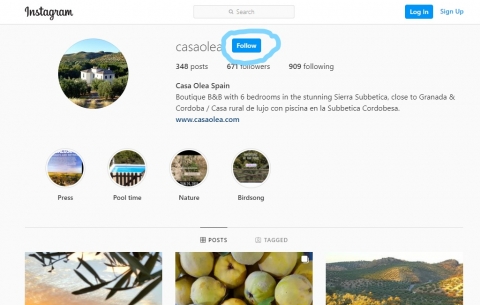 Photo: follow Casa Olea on Instagram & Facebook to enter competition. 
How to enter?
- Follow @casaolea on Instagram and Facebook
- Post a selection of photos from your "Casa Olea at home" meal
- Tag @casaolea and use these hashtags: #casaoleaathome #tasteofandalucia #travel2021   
- Add at least one photo of happy memories at Casa Olea, or your travels in Spain
- Tell friends that they absolutely have to come and stay at Casa Olea in 2021!
Important to remember
- Your account settings for the social account you use must be set to "unprotected" and/or "public" to ensure that your posts are visible by us, the judges.
- Submissions must use the tags and hashtags to be considered.
- You do not need to buy a hamper to enter the competition. If you have your own Spanish produce you can still join in. 
Photos: post photos of your travels in Andalucia and tag @casaolea. 
The winner is…
We´ll be keeping an eye on all the posts and will draw a lucky winner on Christmas Day! 
Tip – the judges (Tim, Claire and Max at Casa Olea) will be looking at three main factors:
- Original: the most original use of Spanish ingredients (could it be a possible future Casa Olea dish?) 
- Enticing: the most enticing photos of your "Casa Olea at home" meal and and your  time at Casa Olea, or travels in Spain. 
- Fun: add a funny comment or photo, we all need to smile!  
---------------------------------- 
CASA OLEA is an award-winning "boutique B&B" located close to Priego de Córdoba in the unspoilt Sierra Subbética, half way between Cordoba and Granada.  
Read more our home-cooked meals, using locally-sourced, seasonal produce here. With stunning views from the terrace and dark, starry skies for dining al fresco; this is a great choice of hotel for foodies looking for an authentic corner of inland Spain.  www.casaolea.com 
VIDEO: Watch Claire explain how to crush the olives (Casa Olea).