Looking to do something different for New Year´s Eve...? Head inland from Malaga to experience rural Andalucia for a long weekend amongst the olive groves and mountains of the Sierras Subbeticas, close to Granada and Cordoba.
Stay at a charming, family-run B&B (agriturismo) set on its own olive grove, overlooking a peaceful river valley. Go for wintery walks in the hills, explore white villages and Moorish castles; marvel at the night sky with a stargazing experience; enjoy home cooking, amazing olive oil and cozy log fires…
Read more about our stargazing activities in 2019, along with information about the 50th anniversary of the Apollo 11 mission and first lunar landing.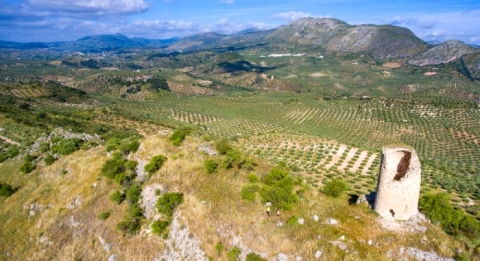 Photo: hiking in the hills to Moorish watchtowers (Casa Olea).
Highlights
- Star-gazing experience – introduction to the night sky and learn to identify all the planets and key constellations with an expert guide and professional astronomical telescope (30 Dec).  
- New Year´s Eve "Tapas tasting" dinner: 5-course tasting menu with a glass of cava and the traditional 12 grapes at midnight (31 Dec).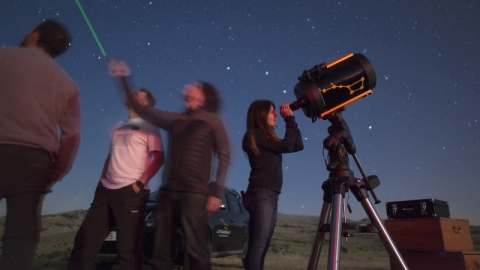 Photo: stargazing night tour with a guide (AstroAndalus).
- Olive oil tasting: sample 3 different olive oils and learn all about the olive-to-oil process, from the olive harvest to production at the mill (31 Dec).
- Moorish highlights of Andalucia: optional day trip to Granada (Alhambra), Cordoba (Mezquita) or other UNESCO World Heritage Sites in the local area eg Ubeda & Baeza, Antequera.
Photo: view of the Alhambra & snow-capped Sierra Nevada, Granada (Casa Olea). 
- Explore the Sierras Subbeticas: discover an unspoiled corner of Andalucia, peaceful and remote feeling and yet within touching distance of the key sites. Dramatic "karst" mountain scenery, gentle river valleys and ancient olive groves. Traditional white villages, Baroque churches and the world´s finest olive oils… 
- Slow food & Eco focus: at Casa Olea we pride ourselves on sourcing all of our ingredients locally and creating menus (which change daily) based on high-quality seasonal produce. 100% of Casa Olea´s underfloor heating and hot water comes from renewable energy (olive pip biomass boiler & solar panels). 
- Healthy start to 2019: kick off the New Year feeling refreshed and energized. Healthy, home-cooked meals combined with outdoor activities (hiking, biking) makes for the ideal start to 2019...
Photo: biking on the Via Verde de la Subbetica, Zuheros (Casa Olea).  
-----------------
Suggested itinerary - New Year´s Eve 2018
29 or 30 December: arrive in Malaga, Seville, Cordoba or Granada. Drive to Casa Olea.
30 December: 6.30 to 8.30pm - stargazing experience with expert guide and high-quality telescope, glass of cava or wine, souvenir astro-photography session *
31 December: 8.30pm – olive oil tasting session (learn all about the olive-to-oil process), then 9.30 to 12pm – Tapas Tasting dinner & New Year´s Eve grapes.
01 January: New Year´s Day, hiking in the hills or lazy day exploring the local area or reading in front of the log fire! 
If "Get Active" is one of your New Year´s resolutions, then this is the perfect place! Head out on a long wintery walk in the hills, or go biking on the Via Verde greenway, the reclaimed Olive Train railway line now biking path.
02 January: spend the day visiting one of our local UNESCO World Heritage cities, all approx. 1 hour´s drive away: Granada (Alhambra), Cordoba (Mezquita, Juderia & Medina Azahara) or Ubeda & Baeza or Antequera (megalithic dolmens & El Torcal)…
Price: from 349 euros per person for 4 nights (based on double occupancy).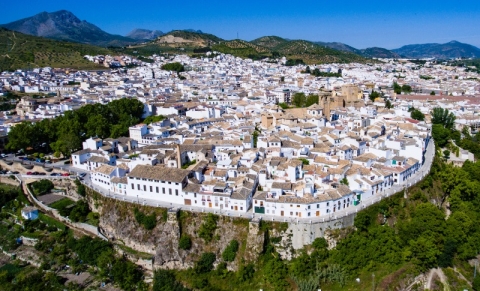 Photo: the stunning cliff-top old town of Priego de Cordoba (Casa Olea).
-----------------
What´s included:
- 4 nights´ B&B accommodation at Casa Olea. 
- Star-gazing experience (30/12) with expert guide and high-quality astronomical telescope, glass of cava/house wine and light snack.
- New Year´s Eve dinner (31/12): 5-course "Tapas Tasting" menu with glass of cava & grapes at midnight. Olive oil tasting session on 31/12.
Not included:
- Flights to Spain: still good availability on flights from between 150-200 GBP return from many UK airports to Malaga, Seville or Granada. 
- Car hire: options in all of the above airports or train stations (eg Cordoba or Seville).
- All meals and drinks except those mentioned as "included".
- Extra nights´ accommodation at Casa Olea (from 115 euros + vat per room B&B). 
Terms & Conditions:
- This itinerary is a suggestion only and can be amended either side of New Years Eve.
- Minimum stay 4 nights (including December 30 & 31, January 1) as per package above.  
- Stargazing experience cancellation due to bad weather: in the event of bad weather (or very cloudy skies) on 30/12, this stargazing experience will be postponed to 31/12. In the unlikely event we get two bad nights running, the cost of this activity will be refunded or alternative date will be offered for 2019.
------------------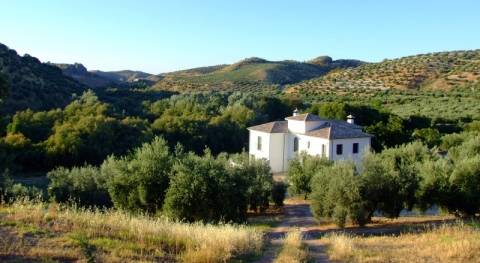 Photo: Casa Olea, near Priego de Cordoba in rural Andalucia (Casa Olea).
Casa Olea is an award-winning boutique B&B located in the Sierras Subbeticas in the heart of Andalucia. The ideal base for day trips to Granada and Cordoba, as well as good for hiking in the mountains, biking on the Via Verde greenway for a few days´R&R surrounded by nature. www.casaolea.com