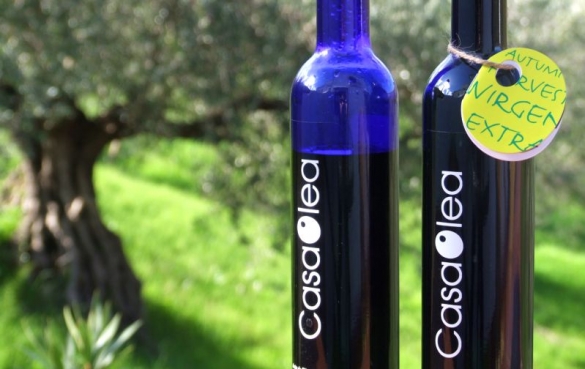 In addition to tasting great, Extra Virgin Olive Oil is a proven super food capable of helping to control cholesterol levels, stave off heart disease and help prevent skin, breast and colon cancer. Well, studies also show that it may be good for a healthy libido too! Filled with antioxidants, olive oil can boost circulation to all areas of the body as well as enhance testosterone levels and hormone production.
Plus, US Travel guides Fodors have recently included Cordoba in their Top25 most Romantic Places in Europe. So, with just a month to go to Valentine´s Day, now is the perfect time to treat your loved-one to a romantic getaway in Andalucia, the home of the World´s finest olive oils…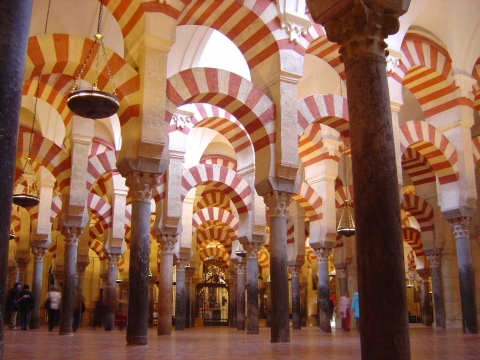 Cordoba´s mesmerizing Mezquita.
A very Moorish Valentines Break in Andalucia...
Fly to Malaga, Granada or Seville and stay at Casa Olea: an award-winning 6-room B&B in the heart of Andalucia, half way between Granada and Cordoba.
Explore the jagged mountains, ancient olive groves and picturesque white villages of the Sierra Subbetica, a short drive from the historic hill-top town of Priego de Cordoba.
Go for Wintery Walks in the hills with almond blossom all around and no one to disturb you except Ruby, our friendly dog and your "walking guide" for the day! Head off on mountain bikes for a Cycle along the Via Verde - the restored, disused old railway line of the Tren de Aceite (Olive Oil Train).
Visit the romantic city of Cordoba, with its mesmerizing Mezquita, cobble-stone alleys, pretty patios and wonderful range of tabernas (bars) to eat and drink.
Visit the stunning Alhambra Palace in Granada, with its beautiful gardens, patios and fountains and impossibly romantic setting, framed by the snow-capped Sierra Nevada mountains.  
Healthy, home-cooked evening meals (at Casa Olea) with copious quantities of our own fabulous, limited-edition Olive Oil, including a Valentine´s Dinner on 14 Feb, with a special menu packed full of local Andalucian aphrodisiacs!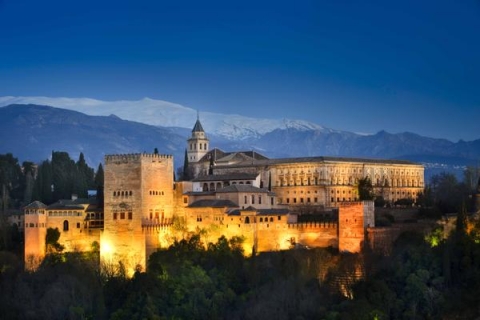 Granada´s stunning Alhambra Palace.
Did you know? Six of the Top 10 Best Olive Oils in the World come from Andalucia?
Click here for an Interactive Map showing Fodors´most Romantic Destinations in Europe.
Click here for more ideas of other Romantic Places to stay and Romantic Things to See & Do when travelling in Andalucia.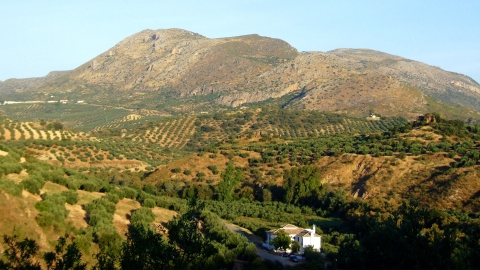 Casa Olea B&B in Andalucia.
Our TOP 8 Spanish Staples for Valentine´s Day
Looking beyond the classics like oysters, chocolate, honey, avocado and bananas; which Andalucian foods are best for romantics looking for aphrodisiacs this February? Well, it seems that many of the classic staples tick all the right boxes…!
Almonds – the "king of nuts" with a long-standing reputation as a great aphrodisiac, high in vitamin B2, protein, vitamin E and calcium.
Garlic – yes, even with that smell, garlic is said to be a top choice for Valentines, helping to regulate blood flow and being high in natural antibiotic properties.  
Chickpeas – not an obvious choice, but said to be packed with arginine, an amino acid that increases circulation. Plus, they´re seriously tasty mixed with olive oil in a home-made hummus.
Asparagus – healthy, tasty and supposedly a super-booster for the libido, high in vitamin A, phosphorus, calcium and potassium.
Celery – should be a Valentines best friend thanks to high levels of Vitamin E, magnesium, potassium, zinc and arginine helping to boost blood flow and natural pheromones.
Rocket / Arugula – considered an aphrodisiac by many ancient cultures, this peppery leaf is rich in antioxidants, Vitamins A and C to promote healthy libido and blood flow.
Strawberries – rich in folic acid and vitamin C and perfect for a romantic toast with a glass of Cava, Andalucia´s tasty strawberries (from Huelva) are usually in season from mid Feb onwards.
Extra Virgin Olive Oil - helps boost circulation to all areas of the body as well as enhance testosterone levels and hormone production. It´s supposed to be great for stretch marks too, if you´re planning a baby!
----------------------
Casa Olea is a 6-bed boutique B&B situated in the Sierra Subbética close to Priego de Córdoba, 90 minutes´drive inland from Malaga and ideally placed for day trips to Córdoba and Granada. Double rooms from 107 euros a night including breakfast.
Click here for more information and rates for car hire in Malaga.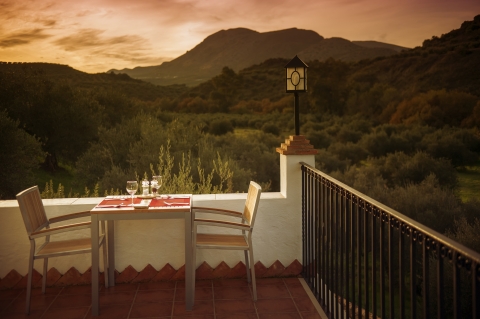 Sunset dinner at Casa Olea, Andalucia (outside dining April-October).