Major Italian olive oil companies accused of fraud
Just as the olive harvest is beginning here in southern Spain, the olive oil industry has been dealt a major blow with the news that 7 leading Italian olive oil brands (including household names like Bertolli) are under investigation for allegedly passing off lower-grade Virgin olive oil as superior-quality Extra Virgin Olive Oil. Turin police are now examining samples to discern the full extent of the scandal. Read the full articles below: 
A lack of consumer confidence in olive oil is the last thing our local, small-scale producers need now - especially when a poor harvest is expected anyway, following what´s been the hottest and driest year on record here in Andalucia.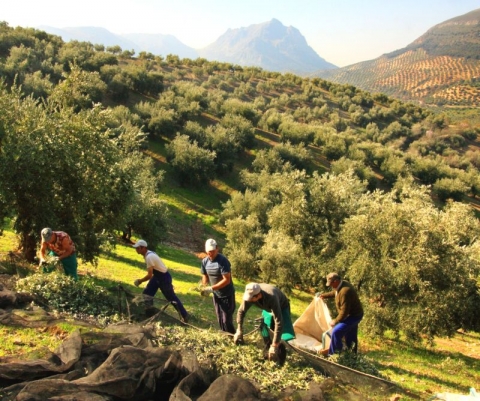 Sadly, this scandal is nothing new…
As The Guardian article states "It is not the first time that Italian olive oil has come under scrutiny. In 2012, Italian investigators looked into claims that some of the largest producers had adulterated domestic oil with less expensive imports from Spain, Greece, Morocco and Tunisia…The business of trying to pass off adulterated or misbranded oil and calling it Extra Virgin was chronicled in depth by the author Tom Mueller in his 2011 book, Extra Virginity."
And the issue of possible fraud in Italy was highlighted back in June too – in a
Financial Times report
which predicted that there was always going to be a price increase and a resulting threat of fraud due to a poor harvest in Italy & Spain, which together account for around 70% of global production: 
"There isn't enough extra virgin olive oil in Italy. The Italians will import what is available," said Rabobank's Mr Martielli in the FT.
Meanwhile, food experts warn that the rise in prices provides further incentive for olive oil fraud. Italy, which is the world's second-largest exporter and largest consumer of the product, has historically been a net importer of olive oil, buying the commodity from other producers in the Mediterranean region for domestic consumption and exports. The olive oil, labelled as "packaged in Italy", is widely sold to areas including northern Europe and the US..." . 
How can you tell what´s the real thing..?
"Consumers should seek out a precise point of production on the label (not just an Italian flag) when they are buying extra virgin olive oil…" says Tom Mueller, author of Extra Virginity and olive oil expert. 

BUYERS GUIDE - Extra Virgin Olive Oil   
Here are few key tips on what to look for when picking a quality oil from Tom Mueller, as featured on his encyclopedic website
Truth in Olive Oil
: 
- Know the when, who, where of your oil:  When it was made (harvest date), who made it (specific producer/mill name), and exactly where on the planet they made it.
-
Avoid oils whose precise point of production is not specified
.  Phrases like "packed in Italy" or "bottled in Italy," do not mean that the oil was made in Italy, much less that it was made from Italian olives.  Don't be taken in by Italian flags and scenes from the Tuscan countryside on the packaging!
-
Several certifications mentioned on olive oil labels can provide a level of confidence
that an oil has been properly made (and where it comes from). Look for PDO and PGI certification.  PDO is the acronym for "Protected Designation of Origin" (DOP in Spanish or Italian), a legal definition similar to the
Appellation d'origine contrôlée
designation in French wines.
- To get the freshest oil, and cut out middle-men who often muddy olive oil transparency and quality,
buy from as close to the mill as possible
. 
-
Choose dark glass bottles or other containers that protect against light
, buy a quantity that you'll use up quickly, and keep it well sealed in a cool, dark place. 
-
Don't pay much attention to the color of an oil
.  Good oils come in all shades, from vivid green to gold to pale straw, and official tasters actually use colored glasses to avoid prejudicing themselves in favor of greener oils.  
- Bitterness, pungency and pepperiness at the back of the throat are usually indicators of the presence of healthy antioxidants, anti-inflammatories and other healthy "minor components" of top-quality olive oil.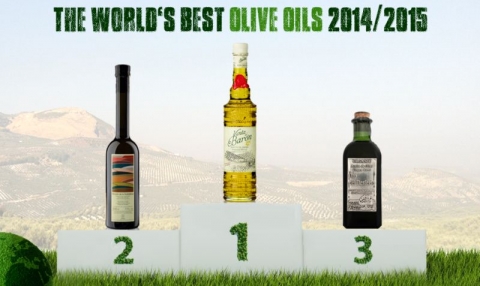 Where can you find the World´s best Olive Oils? 
Spain is the world´s undisputed leader in olive oil – both in terms of volume and quality. With Spanish olive oil accounting for around 45% of global production, it is by far the largest producer (Italy makes around 20% and Greece under 10%) *. The southern region of Andalucia is Spain´s leading "olive belt", with around half of the country´s production and is widely regarded as the area making the finest olive oils.    
* Source: International Olive Oil Council.
According to the non-for-profit website
World's Best Olive Oils
, seven of the Top 10 best olive oils in the world come from Spain (only one is Italian). The website´s World´s Top 50 List is calculated from the results of the 17 most prestigious international olive oil competitions worldwide.  
All of the Top 4 are from Andalucia and No.s  1 & 2 come from our local town, Priego de Cordoba! What´s more, the area´s PDO (Protected Designation of Origin) for olive oil, the D.O Priego de Cordoba, has consistently been the most highly-awarded of all Olive Oil PDOs worldwide.  Founded in 1995, the D.O. Priego de Cordoba celebrates its 20th anniversary in 2015.  
Did you know?
The Romans imported vast quantities of olive oil from Andalucia (then called Baetica) to Italy 2000 years ago! Archaeologists estimate that the Romans were shipping over 4 million gallons a year - according to evidence gathered at Monte Testaccio in Rome, a man-made hill located next to the River Tiber which is made up of over 24 million used/discarded amphora, the ancient ceramic storage jars used to transport olive oil. So, it appears the Italians have had a taste for "the real deal" for a very long time..! 
---------------------------------
Casa Olea
is an award-winning B&B/Inn located in the heart of Andalucia, close to Priego de Cordoba and half way between
Granada
and
Cordoba
.