Our Top 10 Favourite places in Andalucia  
This autumn marks exactly 10 years since we opened the doors of Casa Olea for the first time. We had hoped to be celebrating the achievement with lots special events, but not to be. In the absence of any happy celebrations, we (like many) have been reminiscing lots about the "good times" - favourite holidays, favourite places, favourite meals, funniest memories etc. 
Main photo: Fortaleza La Mota castle in Alcala La Real (Turismo Alcala La Real). 
This is our Best places to visit in Andalucia list (in no particular order). I wonder how many you have been to..?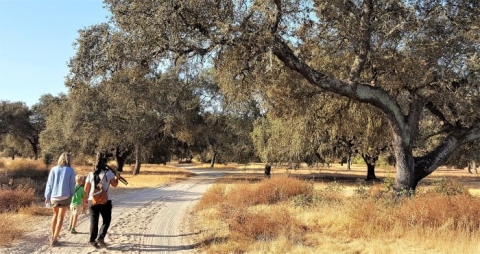 Photo: tracking Iberian lynx in Doñana National Park.   
* TOP 10 PLACES TO VISIT IN ANDALUCIA
1. Granada & the Alhambra – the single biggest draw in Andalucia (if not Spain) and with good reason. There are few sights in all Europe which can compare with THE view of Granada – looking across the Albaycín rooftops to the Alhambra Palace and snowcapped Sierra Nevada mountains. Simply breathtaking. Pre-booking your tickets for the Alhambra is essential.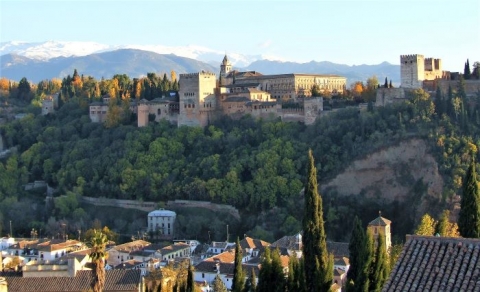 Photo: view of the Alhambra and Sierra Nevada from the Albaycin. 
2. Córdoba & the Mezquita – Cordoba is our provincial capital city and favourite city in Andalucia. Beyond the mesmerizing Mezquita (a must for any travel bucket list), there´s so much to see in the compact Judería old town, plus an exciting food scene. When the ancient ruined Caliphate city of Medina Azahara was added to the list (2018), Cordoba became the only city in the world with 4 UNESCO listings. Not even Paris or Rome can compete!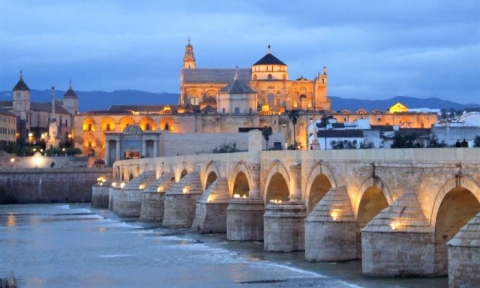 Photo: View across the Roman bridge to the Mezquita, Cordoba. 
3. Seville & the Alcazar – Seville is an intoxicating city. With many cultural sites, flamenco, gourmet tapas, artisan ceramic shops and a lively atmosphere, it makes a wonderful destination for a city break, especially in the quieter (cooler) autumn/winter months.  The Giralda (cathedral) is the iconic site, but our favourite is the exotic Royal Alcazar palace (pre-booking is essential), one of many Spanish filming locations for Game of Thrones.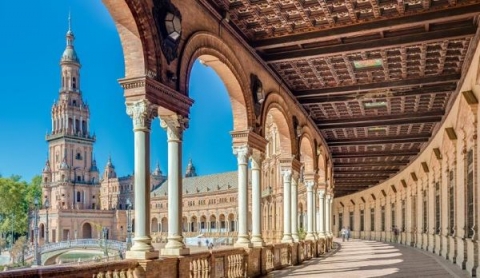 Photo: the stunning Plaza de Espana in Seville (Prodetur/Turismo Sevilla).
4. Ronda & white villages - justifiably one of Andalucia´s most popular rural towns, Ronda has been drawing romantic travelers since Victorian times. Surrounded by lovely mountain scenery and picturesque white villages like Setenil de las Bodegas. Combine Ronda with our area or Granada, and make a stop en route with the Caminito del Rey hike (pre-booking is essential), or visiting the atmospheric hill-top Roman ruins of Acinipo with its well-preserved theatre and unbeatable views.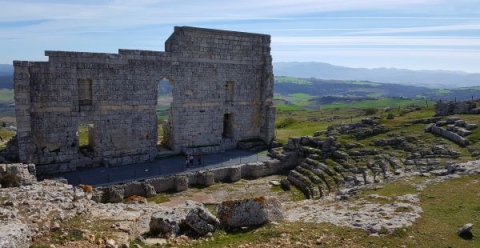 Photo: Roman ruins of Acinipo near Ronda.
5. Úbeda & Baeza, Jaén – two stunning Renaissance towns, located only a few km apart and both designated UNESCO World Heritage Sites. Fabulous architecture and still surprisingly quiet considering the newly-improved access. Don´t miss the fascinating Sinagoga del Agua and stop for lunch at Misa del 12, both in Úbeda.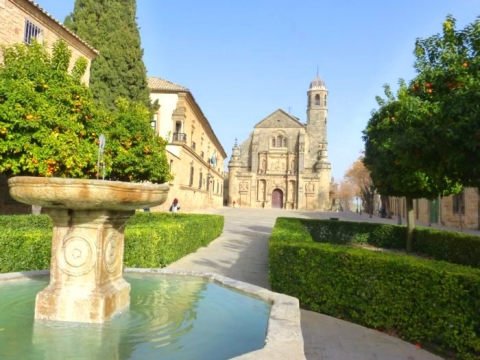 Photo: Renaissance architecture in Ubeda, Jaen. 
6. Tabernas dessert & Cabo de Gata (Almeria) – the only desert in Europe and filming location for Game of Thrones, Exodus: Gods & Kings and many a Spaghetti Western! The striking arid landscape and vegetation is different to anything else you´ll see in Spain and the coastline hides some of Andalucia´s best beaches too. Driving there from Casa Olea you will pass through the newly-designated Granada UNESCO Global GeoPark around Guadix.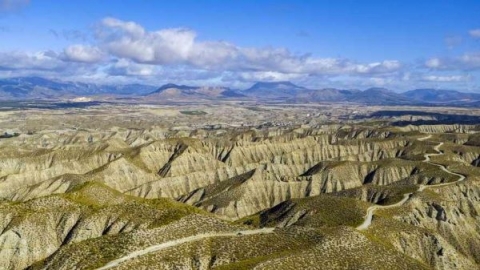 Photo: incredible arid landscape of the Granada geopark (Turismo Andaluz). 
7. Doñana National Park (Huelva) – Europe´s largest wetlands and one of Spain´s top birding hotspots. Also home to the elusive Iberian Lynx. We spent a couple of days in Doñana in 2019 and were very lucky to see a lynx - tracked and spotted by our 7-year-old son Max (see photo above), with a little help from our excellent tour guide! Despite the recent successes of a huge conservation effort, there are still only around 800 left in the wild, so that was a very special experience.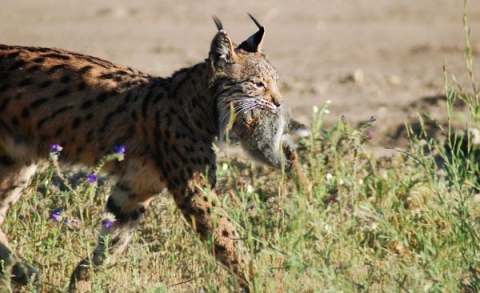 Photo: Doñana national park is one of the best places to see Iberian lynx (Wild Donana).
8. Costa de la Luz (Cadiz) – our favourite stretch of coast in Andalucia. Yes, some days it can be very windy, but the beaches are amazing. We think the best are Playa del Palmar (near Vejer de la Frontera) and Playa Bolonia, overlooked by the Claudio Baelo Roman ruins. If you are forced away from the beach one day, there are lots of great white towns and cultural cities to explore nearby, from Vejer and Arcos de la Frontera, to Jerez and Cadiz.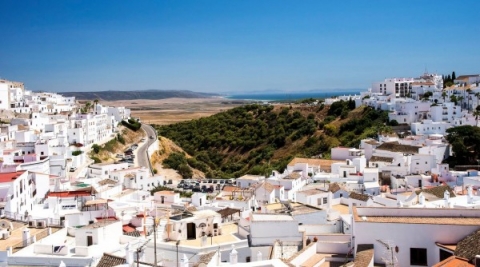 Photo: Vejer de la Frontera, Costa de la Luz (Annie B cooking courses).
9. Priego de Córdoba & Zuheros (Subbética / Cordoba) – our lovely home town of Priego and nearby white village, Zuheros (voted one of Spain´s prettiest villages), remain a great option for anyone looking for a quieter, off-the-beaten-track experience in rural Andalucia. More space, less people, big views, hiking, biking and the world´s best olive oils – say no more!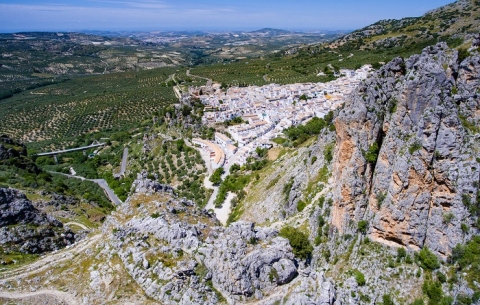 Photo: hiking the Rio Bailon trail from Zuheros, Subbetica. 
10. Fortaleza La Mota, Alcalá La Real (Jaén) – truly a hidden gem. A fabulous hill-top castle, once the gateway to the Moorish kingdom of Granada. See our Top 10 castles in Andalucía blog. We still can´t believe how it remains so "unknown" – must be the lack of marketing, as it is definitely up there on the list of Andalucia´s top historic sites. Combine it with the Ruta de los Zumaques walk from Alcalá and/or tasty tapas at Rincon de Pepe for a fantastic day out.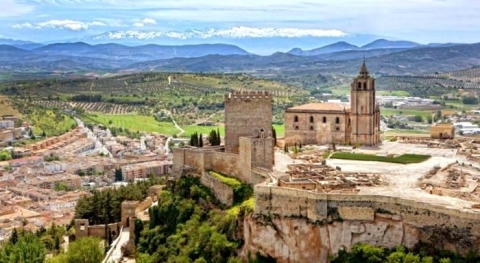 Photo: Fortaleza la Mota castle in Alcalá La Real (Jaen).
------------------
* SUGGESTED ROUTES – Best of Andalucia
If you´re thinking of taking a road trip next year in southern Spain, check our suggested itinerary for the highlights of Andalucia, including many of the places in our list: Vejer de la Frontera, Ronda, the Caminito del Rey, Priego de Córdoba, Zuheros, Alcalá La Real and Granada.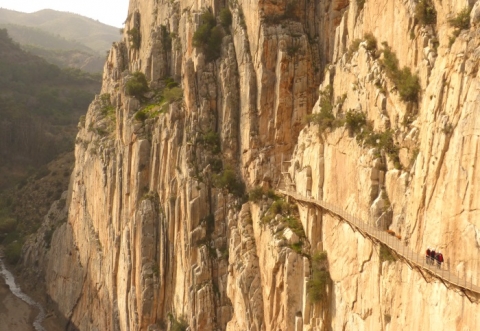 Photo: hiking the Caminito del Rey in Andalucia.
This route could easily be extended to make a longer trip, with a bigger loop including Seville, Cordoba and Ubeda & Baeza also. Or, if you´ve got loads of time and fancy "doing" Spain in a Grand Tour, then how about taking a journey from San Sebastian to Malaga. 
If you prefer to follow the A-list, then check out Harrison Ford´s trip to Spain, taken with his wife (Calista Flockhart) a few years ago. If it´s good enough for Indie…
Or if you´re travelling with young kids, take a look at our suggested Family road trip to Andalucia, based on locations which gave the inspiration for animation films Ferdinand and Tadeo Jones.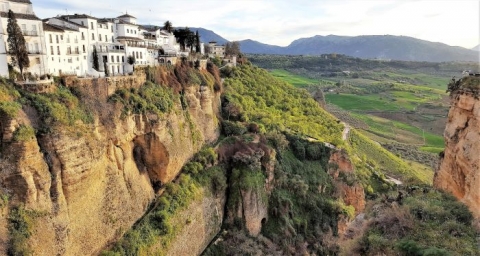 Photo: view of Ronda´s gorge from the Puente Nuevo. 
------------------ 
CASA OLEA is an award-winning "boutique B&B" which has been consistently ranked in the best small rural hotels in Spain. Located close to Priego de Córdoba in the unspoilt Subbética, half way between Cordoba and Granada, it is ideally situated for day trips to both cities as well as Ubeda & Baeza.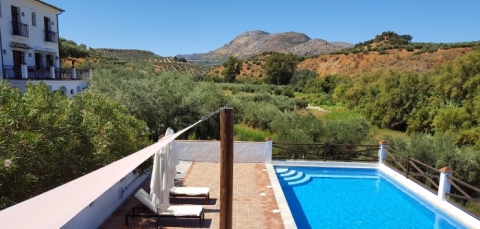 Photo: view from the pool at Casa Olea in Andalucia.